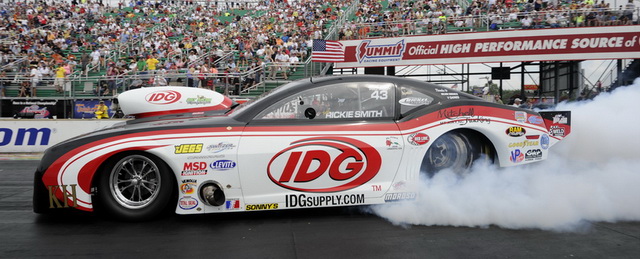 Rickie Smith won his second straight race in the NHRA Pro Mod Drag Series, took over the points lead, and shared a special moment with his son and Pro Stock Motorcycle competitor Matt Smith at the seventh annual Summit Racing Equipment NHRA Nationals at Summit Racing Equipment Motorsports Park.
The race was the sixth of 10 events in 2013 for NHRA's popular 250-mph doorslammer touring series.
Smith stayed red-hot in his nitrous-injected IDG Chevy Camaro, beating Mike Castellana and his nitrous-injected Al-Anabi Racing Camaro in the final with a time of 6.103 seconds at 240.77 mph. Castellana finished with a 6.159 at 238.60.
He then shared the winner's circle with his son Matt, who won for the first time in 34 races in Pro Stock Motorcycle. It also marked the first time they have ever won an event together.
"It's been a heck of a day and we worked pretty frantic the entire time," said Smith, who was also the No. 1 qualifier in Pro Mod. "I figured both of us may shake in the final and these cars are a handful, but once I got to around 1,000 feet I felt pretty good. When I didn't see him, I wasn't going to lift.
"I'm fortunate to have been blessed during my career. It's hard to pull these wins off at the same time, and it's just a major accomplishment to do this with my son."
The second straight victory also sent Smith into the Pro Mod points lead as he jumped past defending world champion Troy Coughlin, who lost in the first round in his JEGS.com Chevy Corvette.
The King, N.C. native's road to victory started with a 6.010 at 239.40 in a first-round win against Chris Juliano. He followed that up by going 5.924 at 243.85 against Danny Rowe and advanced to the final round by powering past Von Smith with a 5.933 at 242.80.
The next NHRA Pro Mod Series race takes place on Aug. 28-Sept. 2 at the Chevrolet Performance U.S. Nationals at Lucas Oil Raceway at Indianapolis.
(Photo courtesy NHRA/National Dragster)
NORWALK, Ohio — Final Pro Modified round-by-round results from the seventh annual Summit Racing Equipment NHRA Nationals at Summit Racing Equipment Motorsports Park, the race is the sixth of 10 events in the NHRA Pro Mod Drag Racing Series:
ROUND ONE — Danny Rowe, Chevy Camaro, 5.953, 242.19 def. Pete Farber, Dodge Daytona, foul; Clint Satterfield, Pontiac Firebird, 10.590, 86.65 def. Steve Matusek, Ford Mustang, broke; Chip King, Daytona, 6.613, 161.57 def. Troy Coughlin, Chevy Corvette, 7.328, 141.30; Tim Tindle, Mustang, 5.973, 228.61 def. Kenny Lang, Corvette, 6.062, 243.06; Von Smith, Camaro, 5.990, 237.80 def. Harold Martin, Corvette, 7.150, 161.56; Mike Janis, Camaro, 5.931, 243.85 def. Eric Latino, Camaro, 9.548, 86.56; Mike Castellana, Camaro, 5.878, 242.80 def. Bill Lutz, Camaro, 6.038, 240.21; Rickie Smith, Camaro, 6.010, 239.40 def. Chris Juliano, Mustang, 6.142, 226.73;
QUARTERFINALS — Tindle, 5.977, 243.68 def. King, 10.372, 87.59; R. Smith, 5.924, 243.85 def. Rowe, 6.027, 243.41; V. Smith, 6.001, 238.13 def. Janis, broke; Castellana, 5.912, 242.89 def. Satterfield, 6.578, 235.10;
SEMIFINALS — R. Smith, 5.933, 242.80 def. V. Smith, 5.986, 235.64; Castellana, 5.956, 242.71 def. Tindle, 5.990, 244.03;
FINAL — R. Smith, 6.103, 240.77 def. Castellana, 6.159, 238.60.