After a warm up outing at a Lucas Oil Regional event, Will Smith and Dave Hirata took the Hirata Motorsports Top Alcohol Dragster to this past weekend's JEGS Route 66 NHRA Nationals where they wasted no time in establishing themselves, going straight to the top of the pack with their first qualifying run.
"That run felt great. I could tell when the 'chutes hit that it was my best pass to date," Smith said of the run. "I knew the 5.33 may not hold for the number one spot, but it was a great pass that kept us solidly qualified in a tough field."
Smith's 5.33 pass came at an impressive 280 miles per hour, a number that would stand as the fastest mile per hour of the event.
"We fought some issues with the motor a couple of times throughout the weekend, but we were able to figure it out on race day and we made two good runs back to back," Smith told. "We won first round on a hole shot. Second round we got outran, but when you run the world champ, number one qualifier, you always have your work cut out for you. It was, all in all, a great weekend."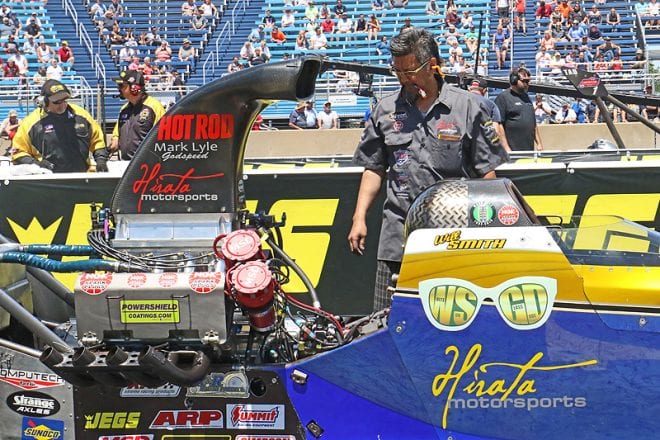 "Driver did awesome, saved us first round, obviously," added car owner and tuner, Dave Hirata. "I never had any doubt in that portion. We have some new parts, and we're trying to get them sorted out. We showed great progress from our first race to qualify where we did and go a couple of rounds. Overall, we're pretty happy. Just gotta fix hurting parts, and we'll be just fine. Now we're concentrating on perfecting our tune up to have a go at the last round."
Hirata and Smith share a bond that is likely a key to their immediate and long term success. "When Dave pulls me forward, he puts his hand out in front of me," Smith said, offering an anecdote that embodies their merged friendship and working relationship. "Every round he writes a message on his hand. Some of them I can't repeat here, but he'll always have something that helps me relax and focus. We're there to win and to have fun doing it."
The team is running a limited schedule this season as Smith gets his feet wet in TAD and the crew gels and establishes a rhythm. Their next event will be the Summit Racing Equipment NHRA Nationals at Summit Racing Equipment Motorsports Park, June 21-24.
Although there's surely greater things ahead for this team that's already showing incredible promise, Smith says he can now die a happy man, having achieved one of his lifelong dreams.
"It was a very, very humbling experience," Smith said of his first-ever NHRA National behind the wheel of a TAD. "It's been my lifelong dream to enter a national event, let alone qualify for it. That's been my goal since I was a little kid. To accomplish that this weekend, win first round on a hole shot, I mean, you couldn't wipe the grin off my face. It was also very humbling; after each round I was getting text messages and calls from people. Even after we lost second round, Larry Dixon sent me a text message and congratulated me. It's cool to have friends of that caliber that reach out and congratulate you, because they understand the hard work it takes to get here.
"I am so calm in that car. It feels like this is why God put me here. I think my driving showed. I never got left on in eliminations. I had good lights all weekend. I can't believe I did what I've worked towards for so long. This has been a dream since I was two years old. There were times I thought, I know I can do this, but will I ever get there? And now I've done it. I qualified at my first ever national. Even after I lost second round, I got out of the car and was smiling. It was awesome."
In addition to driving, Smith handles marketing for the team and bottom end on the dragster. "I probably go through four shirts a day," Smith laughed. "We hurt some parts, and we worked our tails off, but at the end of the day, we've got a great crew, everybody gets along and we have fun."
Will Smith Motorsports and Hirata Motorsports thank partners Lucas Oil, Protect the Harvest, NGK Spark Plugs, Schepel Motors, Hirata's Lowell Body Shop, Hirata's Lowell Automotive, Hirata's Hammer'd Customs, R&R Connecting Rods, and Strange Engineering.