Although the Hawkins sisters literally grew up at the dragstrip from the time they were infants, their love of drag racing didn't exactly develop at the same time, and their contrasting personalities can sometimes be on opposite ends of the spectrum. Hailey, 18, the oldest of the two by just over a year, was the one who loved drag racing instantly and wanted to do it practically every waking second. Camryn, on the other hand, had early aspirations to become a model.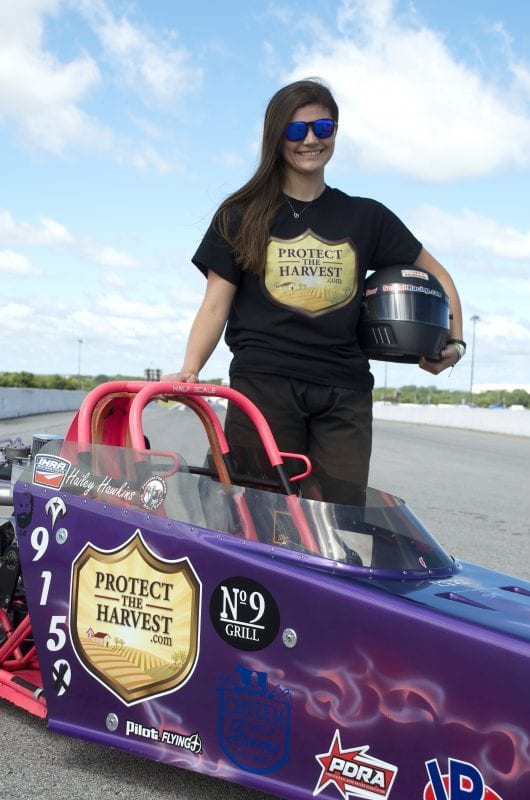 "Modeling was too girlie for me!" laughs Hailey, the original gearhead – and sometimes tomboy – of the two. If she wasn't racing or dreaming about it, she was riding her horse named Rose, or fishing, another great passion of Hailey's. To this day, if you stick a rod and reel in this girl's hands she can slay some fish on a moment's notice. Meanwhile, Camryn had a vast array of interests that were sometimes similar to Hailey's, but other times completely opposite. Along with her modeling interests, she also played various sports and cheered before the allure of racing captured her imagination, just as it did with Hailey.
The girls' father, Wayne, introduced his daughters to the sport of drag racing when they were each just weeks old. Almost every weekend, Wayne, his wife, Angie, and their two girls were at a dragstrip somewhere near their home in Rock Hill, South Carolina. Wayne had progressed far in Top Sportsman and was even entering his 2002 Camaro in competitive heads-up events when a devastating crash at North Carolina's Farmington Dragway ended his driving career in 2015.
After the crash, Wayne didn't have the same passion for driving and consequently had some pretty strong reservations about allowing his daughters to continue racing. "It was a real challenge for me to come to grips with," says Wayne. He finally decided he wasn't going to deprive them of life while trying to save their lives. "You can't live in fear…if you did you couldn't drive down the interstate, go to a restaurant or function at all," he says.
Wayne did, however, make several suggestions to the girls after his crash about spending time at the lake, perhaps buying a boat, or exploring other activities in an effort to lure them away from drag racing, but by this time, both girls were teenagers and had been completely bitten by the racing bug. "I suppose spending time together at the lake would have been fun, but it's not what we're accustomed to…it's not racing," Camryn says. Her big sister, Hailey, whole-heartedly agrees. "Sometimes when I make a pass in my race car, it gives me an adrenaline rush! Other times it makes me happy…and sometimes it makes me mad!" she snarls, with an intense look in her eyes.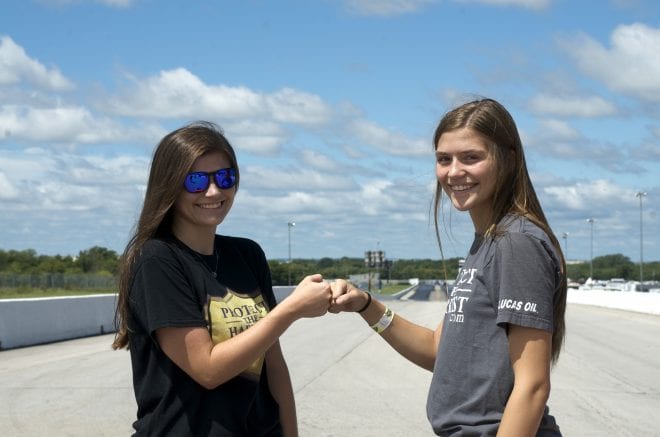 Regardless of the emotion that racing evokes, the Hawkins sisters wouldn't want to replace racing with anything else they know of. Curiously enough, the girls' love of race track life represents different things to each of them. "Hailey is the social butterfly who floats around and visits lots of different people at the track. Me, I just like to hang out with my daddy," grins Camryn. It was actually Wayne who suggested Camryn paint her race car "Tangelo Pearl in color", a suggestion met with approval. If Wayne has a preference on something, you can just about bet that his shadow, Camryn, is on board with it as well.
Understandably though, since Hailey was the first born, she was also the first to get some seat time behind the wheel of her very own Jr. Dragster, a 2006 Half Scale that she acquired at age 12. Her car is very well-known because of its trademark pink roll cage, and even though she's on the verge of aging out of the class, she still races the original car she started out with six years ago and loves it as much as she ever did. "The first time I ever made a pass in that car I came back to the pits and said, 'I want to go faster!'"
Hailey's fondest memory to date was her very first win during the Jr. Dragster Shootout at Farmington, which she achieved late in the season during her inaugural year in racing. On the night she won her first race she walked into the tower to give them her tech card for the following day's event, and that's when she spotted it: a giant check hanging on the wall of the tower, which read, "Jr. Dragster Winner." She blurted out with enthusiasm, "Hey, that's my check!"
"It felt pretty cool going back to the trailer with a big check on the golf cart," she beamed. When Hawkins got home she hung the check on her bedroom wall, where it remains to this day. In addition to her Farmington victory, she's also collected wins at Darlington Dragway and Union Dragway, both located in South Carolina.
As for the launch of Camryn's racing career, she was slightly more reluctant to get involved than was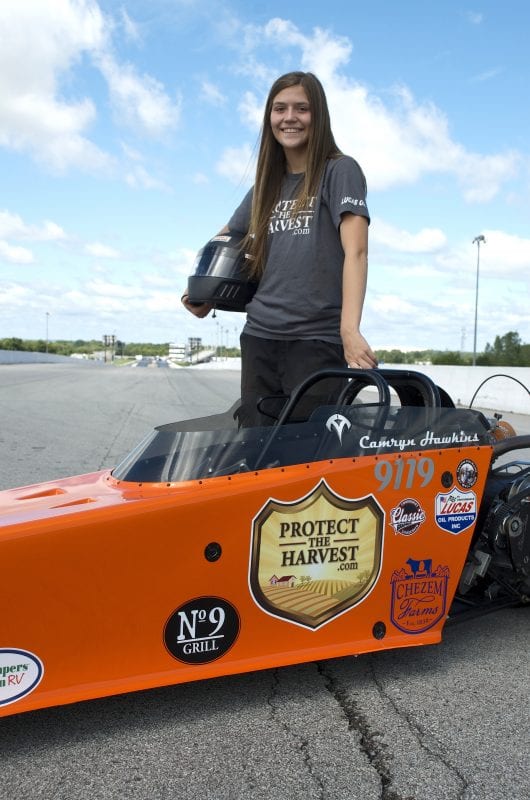 Hailey. Camryn was still cheering, playing basketball, taking karate lessons and dreaming of modeling gigs well past her 12th birthday, and she didn't even begin racing until age 14. "I think Camryn mainly started racing because Hailey was doing it," Angie laughs. After she started, however, Camryn caught the fever. "I don't really know what changed, I just became real interested in racing," Camryn admits.
Camryn and Hailey both compete in PDRA's Pro Junior Dragster category, a 7.90 index class, with Protect The Harvest on board as their major sponsor for both cars. Additional support comes from Lucas Oil, Chris and Donna King, Chezum Farms, Frank Valerio Motorsports and Carbon Fiber Manufacturing.
The girls had a memorable first-round meeting in eliminations at the PDRA Mid-America Indy Showdown this past July, with Hailey narrowly edging out her younger sibling with a .049 reaction time to Camryn's .053 light. It was high drama for the opening round, and neither sister was thrilled about having to race each other. They ran their race cars full throttle, never once patted the gas and neither driver broke out. Hailey's reaction time was the deciding factor. "I was disappointed with the outcome, but not mad," Camryn says. "If I'm going to lose to somebody I'd rather it be Hailey, so that our team advances and at least one Protect The Harvest car is still in eliminations." Hailey ended up having a strong outing in Indy and went to the finals with the eventual world champion, Amber Franklin.
Both Hailey and Camryn are big supporters of the PDRA series and will continue their careers there after they graduate to full-size race cars in the near future. Hailey already has a 2006 Tim Sloan-built mono shock dragster that she will be piloting in 2018. "It's a 245-inch-wheelbase car that we will outfit with a 602 ci motor," Hailey says. "It should run 4.60s, and I'll race the car in PDRA's Bracket Bash next year."
Camryn will likely follow the same path after she ages out of the Jr. Dragster ranks next season. While Wayne and Angie are understandably anxious about the transition, they place great confidence in the safety and integrity of the PDRA series. "Given my situation with my crash, safety is of the utmost importance and we'll only race at tracks that are adequately staffed with safety equipment," Wayne asserts.
As the sisters have grown older, entered the workforce and even enrolled in college, it's still the sport of drag racing that keeps this family collectively entertained, inspired and growing closer with each passing year.
This story originally appeared in DI #129, the Champions Issue, in January of 2018.