After a year of planning for a pulse-pounding production, the 46th Annual Cornwell Tools Night Under Fire was presented to a packed house on August 5, 2023, at Summit Motorsports Park in Norwalk, Ohio.
"This annual event meant a lot to my father, who wanted to see 50 years of it before he passed away," said Bill Bader Jr., president of Summit Motorsports Park. "Unfortunately, he didn't make it, but my family and I have no doubt that he was watching over this year's event and probably critiquing it from above. Our team worked tremendously hard all year long to make this a magical and memorable evening full of surprises, and our performers gave it everything they had. We hope our guests feel that we hit a home run."
In addition to touching tributes to Bill Bader Sr., who passed away last year, Bob Motz, who retired after performing at this event for 45 years in his jet truck, and Al Zukauskas, who recently lost his life in his jet dragster, the event was packed with entertainment through the finale.
Fans could hear engines roaring above America's Racetrack as the Hooligans Flight Team approached for a dramatic flyover during opening ceremonies, which included introductions of the entertainers.
On the track, professionally prepared by Summit Motorsports Park Track Manager Evan Bader, Total Venue Concepts owner Kurt Johnson, and their talented teams, exhibition passes were made by Hayden Proffitt, who put on a spectacular smoke and fire show in his jet truck, and Jim Brewer in his popular Peacemaker wheelstander and Steve Harper in his historic Cool Bus wheelstander.
Famous Funny Car racers John Force, Ron Capps, Robert Hight, Cruz Pedregon, Dale Creasy Jr. and Tim Wilkerson's son, Dan Wilkerson, put on powerful performances all day and night. Stealing the spotlight wasRobert Hight, who hauled to a 3.92 and the win in his Cornwell Tools Chevrolet Camaro SS over Ron Capps, who was close with a 3.96 in his NAPA Auto Parts Toyota GR Supra Funny Car.
Top Fuel Harley-Davidson added a ton of throttle-twisting action to this year's event, all the way to the final round of eliminations, which saw Ryan Peery use a better reaction time to pull off the win with a 6.45 to Randal Andras' slightly quicker 6.43
Jet Dragster drivers Ernie Bogue, Russ Glover, Jeff Hoekstra, Josh Graham, Dawn Perdue, David Gates and Scotty Heat Holdridge bumped in, lit their burners and blasted down track. By the end of the evening, Ernie Bogue earned the North American Jet Car Championship after a 5.28 rip in his Beast From the East jet dragster after Scotty Heat Holdridge, who had run well all day in his 50 Cal jet dragster, had an issue and had to shut off.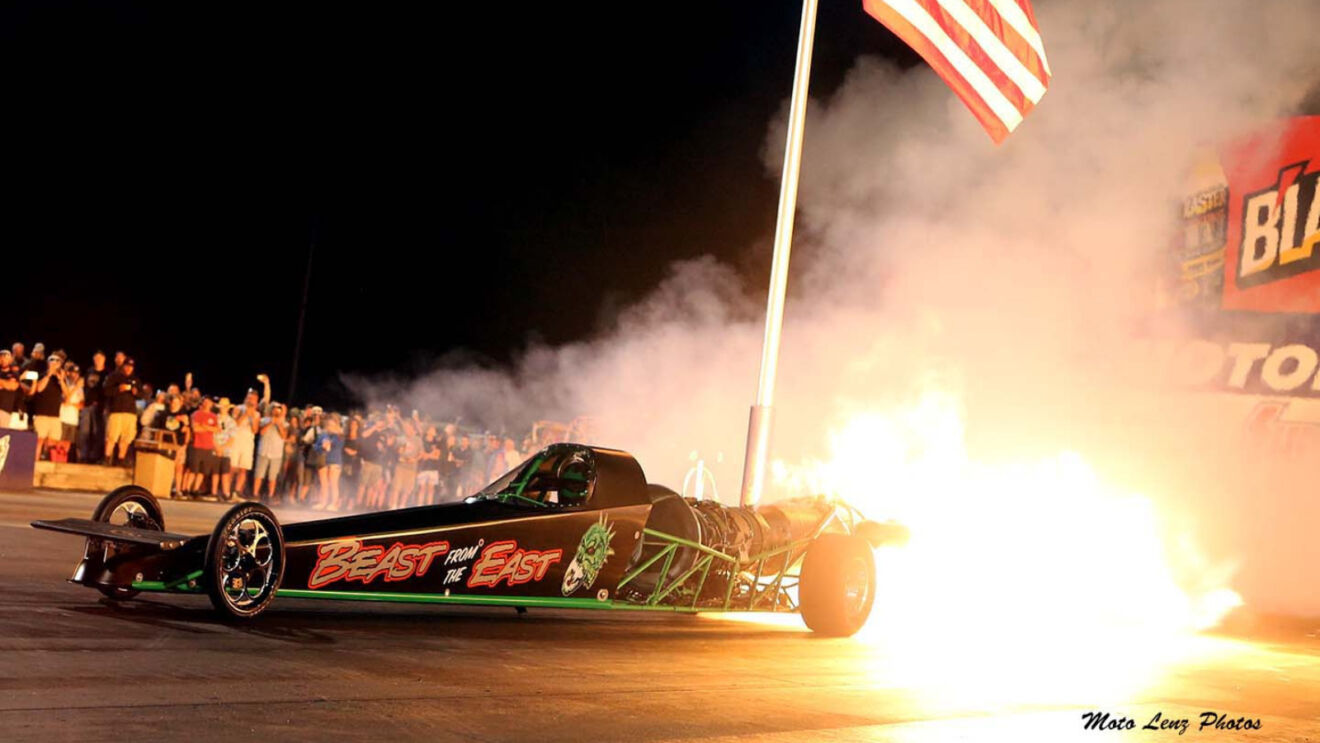 In an unusual Jet Dragster vs. Monster Truckpairing dreamed up by Bader Jr., Jeff Hoekstra, in his jet dragster, raced good sport and game-for-anything Joe Sylvester, in his Jeep-bodied Monster Truck, and Hoekstra took the win with a 4.02.
It was Gutierrez Brothers Racing against Michalek Brothers Racing when JP Gutierrez took the stage with Corey Michalek in Top Alcohol Dragster. Gutierrez, from the Great Lakes State, gunned to the win with a 5.25 after Michalek, from the Buckeye State, struck the tires at the starting line.
New for 2023 was the R&R Auto Body Top Sportsman Shootout, which featured eight of the finest Top Sportsman racers from the Midwest who were personally invited to race, and the always-tough Jerry Albert arrived at the win with a 4.25 against Dave Paone, who had Albert on the tree but was forced to pedal to a 5.69.
In KB Trailer Sales Outlaw Dragster, Bryan Keller staged against Paul Molnar, and Keller pulled off the win with a 3.69 when Molnar had to get out of the throttle.
The top 32 racers in Summit Motorsports Park's Edelbrock Super Pro, Edelbrock Pro and Edelbrock Sportsman Delivered on Time by TFC Transportation and the top 16 racers in Wiseco/Cycle Tech Super Bike as of Aug. 1 raced for a share of a substantial $75,200 guaranteed purse in the Edelbrock Super Series Elite presented by Lucas Oil and Rocko Machine. In Edelbrock Super Pro, Austin Lenz landed the win when Jeff Fenn turned on the red light, and in Edelbrock Pro, Jeff Hura, who ripped off a perfect .000 reaction time, defeated Bobby Gill with a 6.78 to Gill's 6.25. The Wiseco/CycleTech Super Bike final saw Craig Adams collect the win with a 7.60 over Ryann Miller, who recorded an 8.88, and the Edelbrock Sportsman Delivered on Time by TFC Transportation final saw Larry Strohscher secure the win over Scott Chitty with an 11.70 to Chitty's 11.85.
The Summit Racing Equipment Junior Dragster Shootout was an outstanding opportunity for the top eight Bear Motorsports presented by Wiseco Junior Dragster Advanced, Intermediate and Novice racers as of July 31 to be part of the Cornwell Tools Night under Fire. In Advanced, Leah Verner landed the win with a .006 reaction time and a 7.92 over Cruz Schafer, who clocked a 7.90, while in Intermediate, Brayden Baehr defeated Kace Shupp, 8.97 to 9.03 respectively, and in Novice, Abigail Baehr had a close race against Kendall Moreland and came out on top with a 12.104 to Moreland's 12.102.
Also putting on a show were theScottrods AA/Gassers, with their high-stepping hot rods.
The exclamation mark on the magnificent evening was a $125,000 Bader Family Signature Fireworks Finale presented by R&R Auto Body, followed by a concert in the staging lanes by Trainwreck Country Band.
"We already have some surprises up our sleeves for next year's event, so stay tuned," said Bader Jr.