If Texas is the home of no-prep drag racing, Shannon Morgan is its queen.
A racing purist from rural Arkansas, the founder of the Redemption No-Prep series doesn't necessarily want a crown, but she'll wear it proudly.
"I'm not sure who coined that phrase exactly, but it's a big hat to wear honestly," Morgan said. "I was just called 'Track Mom' and I really like that just as well because I'm kind of overbearing and try to look after the guys and I care about what happens to them and I do this for them."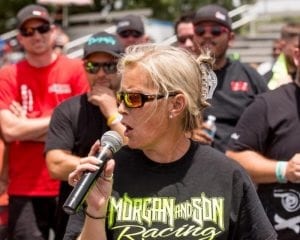 Part of being 'Track Mom' to her racers is providing a safe place for them to race in one of the more dangerous forms of drag racing. When she hosts an event, she makes it perfectly clear she doesn't want Pro Mods on her program. For Morgan, no-prep racing is for the small-tire racers, racers who for the first time, in some cases, are finally seeing the kind of crowds and purses the big name (and big tire) drivers are used to seeing.
"No, I don't allow them to race at my races," she said of the Pro Mods. "This wasn't made for them. It isn't about them. It isn't about who has the best 2,400-pound car with the biggest Hemi-headed engine with a big frickin' blower on it. This is about the guys who can build his car in his garage."
Having said that, Morgan felt the pressure of having the Pro Mods at her events based on their entry at other races, so she created a category for those drivers. She held fast to her belief in the small-tire racers and ensures they still get top billing.
"I put some rules in place to try and even it up a little bit and they're not perfect," she said. "If you all want to come, here you go. Not huge money. You have an entry fee. You come build yourself a fan base in the no-prep world and we'll build you up, too, but this other money for these other guys; they earned all this building this."
A street racer who cut her teeth in Texas during her summers there with her grandparents, Morgan would meet her future husband, Bud, at the race track. She would eventually move on from racing at Texas Raceway to promoting events there and it was then she and Bud started building cars for the drivers involved in the television show, Street Outlaws.
In fact, it has been the success of the program that has helped no-prep drag racing become mainstream, especially in the South. While no-prep has more than its fair share of dangers, it beats the alternative of street racing.
"I think, to give credit where credit is due, a lot of the fan side of it has been because of the work that the Street Outlaws guys have done, honestly," Morgan said. "(Drag Illustrated Publisher) Wes (Buck) likes to say 'Make Drag Racing Great Again.' Whether anyone wants to give us credit or not, those guys have turned people into fans who have never even cared about drag racing. And old fans, they've brought 'em back. Because it's interesting and exciting you never know what's going to happen.
"No-prep follows along the same lines. You never know what's going to happen. Off the trailer, gives the little guy a chance against maybe the larger guy because the track is a hot mess and it's who can get is car down. It's not just the rich and famous that gets a win anymore."
In Morgan's perfect world, no-prep racing would maintain its small-tire status. While she credits the success of STREET OUTLAWS in making the category popular, she does at least partially blame the show's break out star, Justin "Big Chief" Shearer, with the introduction of Pro Mods into her world.
"A perfect world is no one wrecking their car," she said. "But that's my perfect world in any kind of racing. And we get a bad rap that no-preppers just crash all the time and it's way more on other tracks than no-prep.
"Absolutely perfect world if we could go back two years, Chief would have never bought a Pro Mod to put on the street. And then all the other guys wouldn't have went and cut their back-halves up and made them not back halves anymore. That would be my perfect world."
Royal Purple Raceway, an NHRA-sanctioned track located near Houston, has hosted no-prep races this season. While the NHRA itself has not made a statement pro or con regarding no-prep, Morgan is adamant they need to stay out of it.
"I hope NHRA stays out of our field because that's all we need is Big Brother," she said. "But I think that they could do it and it would still do well and just like they are bringing Chief into the fold now. And a year ago, we would never be able to race NHRA again if we were seen or whatever.
"I think that they are waking up and realizing the cubic dollars that's involved with those guys and know that the popularity and the fan base they have it something they need to hook into."
For Morgan and her series, there is no rest for the wicked. She has teamed up with Keith Haney and Tulsa Raceway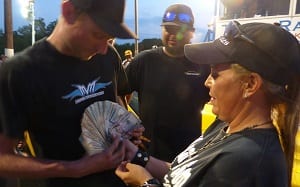 Park for a massive event the weekend after Thanksgiving called Redemption 2.0. The facility has become the home of some of the biggest non-NHRA shows in the country and Morgan said she's proud of how far her series has come in a short time.
Come see us Friday and Saturday after Thanksgiving," she said. "We're real excited about that. I wanted to do it within three years and this is our third year and our sixth race and all we need is sunshine and smiling God's weather on us. It's going to be one of the best no-prep races ever."
This story originally appeared in Drag Illustrated Issue No. 114, the Interview Issue, in October of 2016.