Pro Stock standout Shane Tucker announced today that he will be taking the wheel of a Gray Motorsports Chevrolet Camaro next weekend at the 17th annual NHRA Nationals at The Strip at Las Vegas Motor Speedway. The Shane Gray-owned Camaro was last contested at the U.S. Nationals with grandfather Johnny Gray at the helms where it qualified in the top half of the field.
"This deal started when I had an engine issue in Dallas last weekend in the second session," Tucker explained. "We fixed it for the third session but hurt it again and Shane [Gray] came over and gave us a motor to run for Q4 [final qualifying session]. We didn't get it in in time but we were able to run in the first round. After Dallas, Shane and I talked and kind of discussed where we were at with our program and I wanted to test before Las Vegas but since we don't have the chance to test, Shane offered to let me drive one of his cars until we sort our program out. That's pretty much it in a nutshell."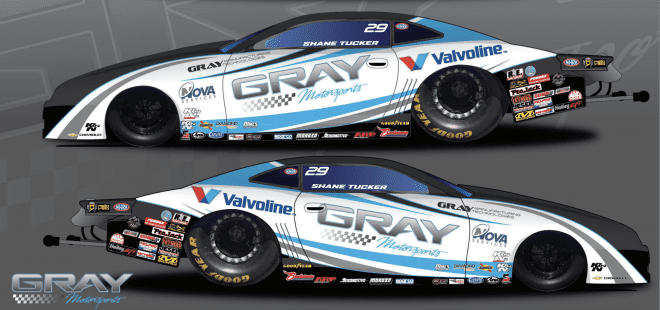 "We brought his car back to our shop and we realized there was some stuff that needed to be fixed on the car and we didn't have time to go out and test it before Las Vegas," Shane Gray said. "We decided that I have a car I know goes up and down the racetrack already and I've won Vegas in it twice. It's a pretty good sure-fire way so we made a deal with Shane [Tucker] to run our Gray Motorsports Camaro. He'll race Vegas and I think if he has a good time, he'll run Pomona too. I'm looking forward to him running with us next weekend."
Tucker's current plan is to run the Gray Motorsports Chevrolet Camaro in Las Vegas and test his own Hot Wheels™ Car Care Products Chevrolet Camaro on Monday following the event.
"We will test my Hot Wheels™ Car Care Products Camaro on Monday and if it tests really well, we'll run my car in Pomona," Tucker said. "If there's still some things that need to be figured out, we'll run Shane's car again."
"Collectively as a team, we decided that this was our best option for our race program," Tucker said. "We just need to test before we come back out with our car. I've got family and friends coming over from Australia for this race and we already committed to be there. Shane gave us an opportunity to drive his car and hopefully it's an opportunity we can take advantage of."