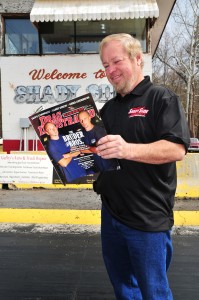 By Van Abernethy
Enjoyed visiting the legendary Shadyside Dragway this past Sunday and, of course, every bit as legendary is track owner, Ronnie Buff…whose likeness I would nominate to be carved into Mt. Rushmore!
Ronnie (left) is a huge fan of DI and always welcomes me, Ian Tocher, John Fore or anyone else from our magazine family when we're fortunate enough to be surrounded by the grass roots goodness of Shadyside. This backwoods gem of an 1/8 mile track was built in 1958 and really puts the "O" in outlaw.
Shadyside is located in Shelby, NC…just over an hour from my home in the Hickory/Newton area. I first visited Shadyside sometime around 1991…which would have placed me around 19 years of age.
This past weekend marked the 12th running of the Garland Buff Memorial race…a 2-day event that features heads-up racing as well as bracket and index, all while honoring the memory of Ronnie's dad, Garland. Thank you, Ronnie and Lenny for the hospitality as always!