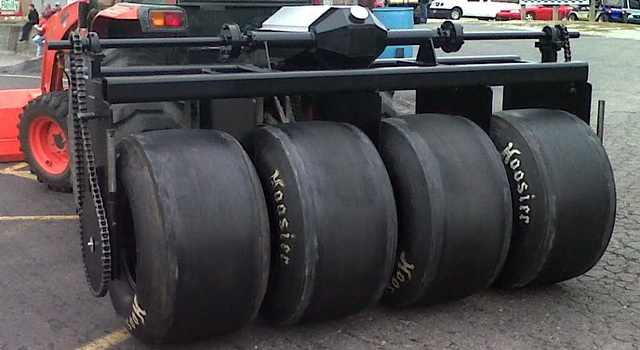 One of the biggest problems any drag strip has is the laying down of rubber onto the surface. Weather makes the rubber peel up and last year certainly taxed everyone's senses with weather-related problems.
To address this issue, South Georgia Motorsports Park is pleased to announce the addition of a Fast Chassis tire dragging machine to add to their arsenal of drag strip track preparation equipment.
"We're always trying to stay one step ahead of the curve and with this new piece of equipment, we'll be able to do just that," track owner Rowland Wood said.
The ability to re-apply rubber to the surface is key to race cars adhering to the track. Oftentimes the race cars themselves will put down enough rubber but in the case of the Drag Radial cars or motorcycles both of which race a fair amount of times at the Cecil, Georgia facility, they simply aren't able to do that.
Being able to accomplish that task in a short amount of time is sometimes impossible. Wood added, "We now have the ability to scrape the entire track in about four hours. But it always took longer than that to reapply the rubber and properly prep the track with the old method. This new machine will cut that time down considerably.
"There are also a fair amount pro teams who test with us during the year," Wood said, "and we wanted to be able to give them the type of consistent race track they run on the national event basis."
Expected delivery for the new machine is early February in plenty of time for the first Summit Points Race, The Chase Championship Playoffs set for February 8-9. From there, the radial tire racers will take to the track February 20-23 followed by the track's Ultimate Sportsman Weekend March 6-9. The NHRA pros will also take to the track for pre-Gatornationals testing the week of March 10th.
For more information, visit www.racesgmp.com or call the track at 229-896-7000.