A quick look around Steven and Jim Whiteley's pit area reveals the state-of-the-art layout one would expect from a top-tier NHRA Pro Mod team. Two new Competition trailers are lined up side by side, one for Steven's supercharged 2014 Cadillac and the other home to his father's supercharged Camaro. Both have brand-new Peterbilt trucks pulling them, impressive-looking beasts stocked with the latest luxuries to keep father and son at their best in a class loaded with talent. Both drivers have their own team members and resources, but share information with one another as the competitive level in the class continues to reach new heights.
A brief stroll over to the Pro Stock Motorcycle pits shows another grandiose set-up for Jim's stepson, 2016 NHRA Rookie of the Year Cory Reed. The rising PSM star didn't wait long to build his own two-bike team, an operation that includes three-time world champion Angelle Sampey as the second rider and team manager. That team continues to build, but one thing is certain: a lack of resources, which are readily available to both, won't be a problem.
One last short march will take you to the pit of Top Alcohol Funny Car driver Annie Whiteley, the wife of Jim Whiteley and owner of another spectacular looking pit. It has been home to a great deal of success in Annie's own racing career, including most recently sharing the winner's circle for the first time with her son, Steven, this past March in Gainesville.
It might not quite be John Force Racing with Force and his two daughters or the Coughlin family's JEGS conglomerate, but in many ways, it represents the epitome of racing as a family. All are successful, the variety of classes is impressive, and the family wholeheartedly works together to make it happen.
But it all started with Dino and Peppy.
That's the name a young Steven Whiteley gave close to 20 years ago to his father's truck, open-top trailer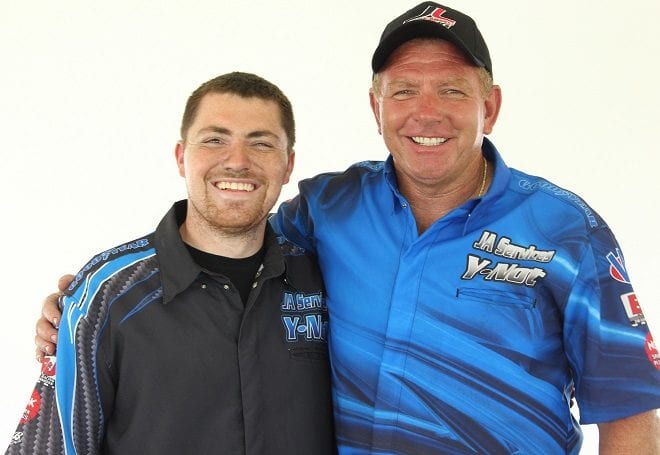 and car, a relatively plain-looking '69 Camaro that Jim raced on the local scene at Bandimere Speedway in Denver. Significantly, stacked in the bed of the 2002 GMC 3/4-ton Duramax, were as many Junior Dragsters as would fit, including rides for Steven and Reed that they raced extensively—and successfully—over a number of years.
It's a stark comparison to the extravagant drag racing operation the family has built these days, but very much represents the humble beginnings that started their foray of competing together. Without Dino and Peppy, there wouldn't be trailer upon trailer, and truck upon truck, and it's those early stages that Steven Whiteley has come to appreciate during his own journey in the Pro Mod ranks.
"It's pretty cool to see how we have the same passion," Whiteley says. "Not a lot of people have that luxury. You think of the Coughlins and the Force girls, and not many get to do this and race with their family at this level. I'm appreciative just to be there racing. We're just happy to even have the ability to do it.
"It's pretty cool Dad wants to run this car and hang out with his family, and it's very cool to see where we are now from where we started, running that '69 Camaro in that open-top trailer with the Juniors hanging out of the back. They've allowed us to chase our dreams."
Steven's racing dreams came in all sorts of shapes and sizes over the years, but driving his Pro Mod is distinctly his passion these days. He was the first in the family to drive a door car at that level, quickly taking to the volatile power and spectacular rush. It's a career that's prospering, yet still growing—highlighted by that first career Pro Mod win in Gainesville—but it's already a fascinating journey, perhaps most of all because of how closely racing has linked the family. For Steven, it started with Dino and Peppy, but has turned into so much more, with no limits as to what could still take place in his—and his family's—future.
Jim Whiteley's own drag racing origins stretch back far earlier than Dino and Peppy. Growing up in Liberal, Kansas, a small western town near the Oklahoma border, his mother would often drop him off at a nearby dragstrip, where Jim was perfectly content watching local bracket racers for hours on end.
"A dollar or two would put me in the bleachers and she would come back and pick me up in three or four hours," Jim says. "I just loved to see the cars do the burnouts and pop the wheelies."
The highlights in those years would come from watching Top Alcohol shows that would occasionally come by, though Jim got his first glimpse of an even bigger show when his family moved to Oklahoma in the late 1970s. He began making an annual trek to the AHRA Spring Nationals at Tulsa Raceway Park, watching legendary drivers like Shirley Muldowney, Don Garlits and Tom McEwen, furthering his passion for the sport even more. "That was my once a year treat," Jim recalls.
It eventually materialized into Peppy, the 1969 Z28 Camaro that Jim admits was nothing special to look at when he made the purchase. "It was a pile when I got it!"
Regardless, he worked on the car and built it into a pretty good hitter, running at his local track, which by then was Bandimere Speedway. Steven was born in 1992 and watching his father race that Camaro on the mountain are some of his first racing memories. For Steven, he quickly became the cool dad who raced, but even Jim is surprised it reached this level for the family.
"I never dreamed it would come to this," he says. "I still look back and then see what we have now, and it's overwhelming at times."
Watching his father race, it was only natural that Steven wanted drag racing featured heavily in his life. Racing became very much a part of his upbringing, competing in Junior Dragsters early and then jumping in bigger cars all through high school. To exemplify just how important it was to Steven, the first place he went when he turned 16 was not to the Colorado DMV, but rather a dragstrip: Famoso Raceway, just outside Bakersfield, California, to be exact.
Getting licensed in Top Sportsman and Top Dragster held more prestige to Steven than getting his actual driver's license and that didn't change for a while. "There for a little while I was racing my Top Sportsman car before I had my driver's license," he says.
But after high school, Steven went a different route, moving to North Dakota to work for his father's now prospering business, J&A Service. He kept busy with that, learning the ins and outs of the oil and gas completion business, leaving little time to race. For almost two years, from the fall of 2011 to 2013, Steven remained hard at work in North Dakota, racing only a handful of times. Those performances were far from memorable, though, as Steven kept focused on building his career away from the track.
He felt a return to racing more frequently was inevitable, but getting established in the business world was a priority. Watching his dad grow his business to help supplant growing racing budgets and goals was no doubt a motivation.
"I would try to hit a race or two, but I just wasn't on top of my game, so I would say, 'Forget the racing, I'm going back to work,'" Steven says. "There was nothing distasteful about drag racing at that time, but I was working on a career."
Racing, though, was too imperative to his life for it to fully escape Steven's grasp. After returning in 2013, it was time for a new challenge and nothing seemed like a bigger one than tackling the Pro Mod world. Little did Steven know, however, that the class was in the midst of a massive boom. Thirty-plus cars participating is the norm for the NHRA ranks now, with world champions at every turn, and Steven has jumped headfirst into the challenge, recognizing while it may be an uphill climb, he's enjoying the hell out of every second.
"It's crazy to see. It's like the class is turning into the new Pro Stock," Steven says. "When we were testing in 2014 before the Gatornationals we ran like a 5.98 and we were doing back flips just getting into the 5s. Now you need to be running in the 5.70s. It's just crazy. All of the interest in the class, it's just out of control. You can't quantify it. It's just growing and growing, but it makes sense to me. The class and these cars are just so crazy and wild, and it's just a new challenge."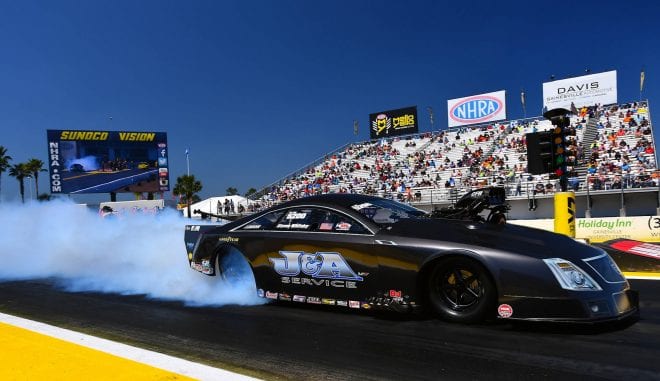 As businessmen, each of the Whiteleys has done well for themselves away from the track, with Steven also owning a trucking company that hauls oil and gas components for J&A Service.
Reed started his own team just a year after winning Rookie of the Year honors in the NHRA. Involving someone like Sampey was a no-brainer and an ideal move, with the primary sponsorship coming from Precision Service Equipment, a subsidiary of J&A Service.
But both Steven and Cory are quick to credit Jim's tremendous success in the business world as to why it has all worked out the way it has, especially on the dragstrip. J&A Services has grown considerably and has thrived in the oil and gas industry for the past decade, and that success enabled the racing operation to expand well beyond a truck and open trailer, also allowing the family to explore a multitude of different options when it came to different classes and cars.
For Jim, it was about driving in the Top Alcohol class that lit his passion decades ago as a child. As business took off, that dream became a reality. Then, as his racing operation increased substantially, he became a standout driver, winning Top Alcohol Dragster championships in both 2012 and 2013.
"When the business took off, it really helped my dad have success," Reed says. "I think it drove the whole family, too. Racing is fun; winning races is even better and winning championships is the best; everything kind of fell into place. My dad has always been the pioneer and willing to try whatever."
It helped that Annie Whiteley was fully on board, too.
"As we've grown our business, at the same time we've been able to grow our racing and step up into faster cars and faster classes. Jim wanted us to explore the things we wanted to explore. He didn't force us into one particular car. He was very open to all of it," she says.
Annie went from driving fuel altereds to Top Alcohol Funny Car, classes Jim believed were safer than Top Alcohol Dragster, while Reed chose the two-wheeled route, first as a professional motocross racer before jumping into Pro Stock Motorcycle. Annie admits that riding in PSM was the only way to convert Reed from motocross to drag racing, but the opportunity to choose their own paths was pivotal in each of their journeys.
"We all have the same passion, but everyone stands up for what they truly want," Steven says. "Dad really liked the alcohol cars and I really liked the door cars. Cory still has a passion for bikes and Mom took a liking to Funny Cars. Each person has their own unique interests."
But as each family member will attest, Steven's gravitation to Pro Mod seemed only natural. From racing in the Top Sportsman days to his immediate fascination with Pro Mod, racing a door car was undoubtedly his priority. "Steven always had a fast door car," Reed says. "I remember that badass Top Sportsman Camaro he had. I think he just liked the look of (the Pro Mod), that big blower sticking out of it."
Of course, racing a Junior Dragster was the first dream. After Jim finally relented and gave in to the constant requests, Steven and his brothers enjoyed immense success in the Junior ranks. That only fueled his passion when the cars got bigger and faster, first with the Top Sportsman car to eventually his first Pro Mod ride. That came in the form of a '53 Corvette that needed to be completed when Jim purchased it. It sat for a while as Steven lived in North Dakota, but when the opportunity arose, he jumped at the chance.
"I was just drooling all over it," Steven says. "We went testing with it and I drove it a little bit and I said, 'There's something to this.' The Pro Mod was very convenient and a lot rolled over from the alcohol cars. As a driver, I honestly think it was just a new challenge nobody in the family had tackled before."
Steven gladly became the first, but his father soon followed, as the allure of the powerful Pro Mod machines became too much for him. Steven had the new Cadillac by the 2014 NHRA Pro Mod season, racing the full schedule, while Jim competed in five races.
In 2015 and 2016, Steven continued to take steps forward, racing the full 10-race slate each season and finishing 11th in points last year. Meanwhile, his father won the family's first Pro Mod race in 2016 before finishing one spot behind Steven in the overall standings. For 2017, Steven appears to have taken a huge stride forward, though, as his victory in Gainesville to kick off the year created a massive boost and further validated the direction of the team's program.
"It sets the tempo. It took a little bit of pressure off, finally getting that first win, but it maybe adds some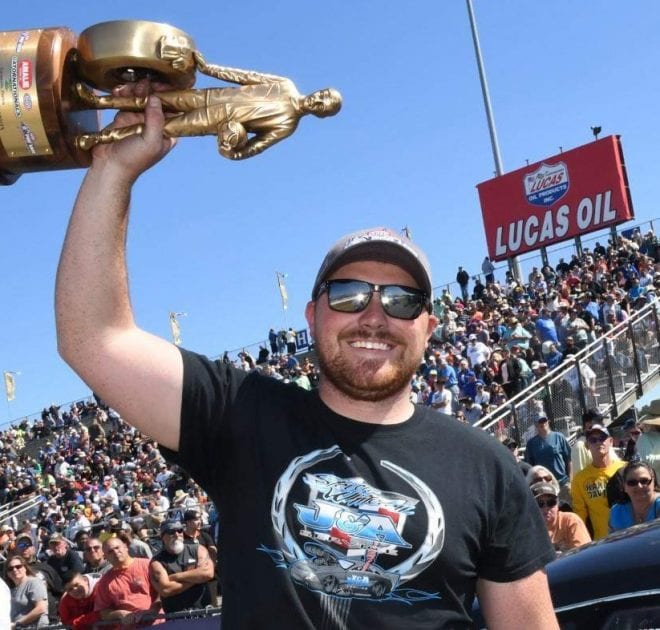 more (pressure) as well. Everybody is aiming to take you out now and we're going to have to work even harder," Steven recognizes. "In the past, there's been a lot of times where we've qualified well but struggled during race day. The big push has been to be better on race day. It's great to see the program starting to come together and it was a big weight off our shoulders."
Consistency can be among the hardest things to conquer in a Pro Mod car that often seems to have a mind of its own. That's been the big goal for Steven this year, and after three events he sits third in points. Being in the championship mix is all he's dreamed of and now the hope is to carry the hot start through an entire season.
"It's pretty humbling when you win," Steven says. "There's a lot of talented people in this class who have been doing this a very long time. The fact that we can qualify and have them look at us as a contender is exciting. I'm just some kid who is used to racing a Top Sportsman car now racing against some amazing drivers. To even compete with these guys, I'm very fortunate."
Steven's current travel schedule with J&A Services continues to be extensive, as is his father's, meaning the best place for everyone to congregate is usually at the race track. Doing well on the dragstrip remains serious business, but getting to do it together as a family has added an irreplaceable aspect to it.
"It's a great feeling having your parents so involved in your life still," Reed says. "I'm happy they want to be there and it makes everything better. We all appreciate the times we have together and we make the most of it. We've all been racing a long time and it's a good family environment. Everybody enjoys being there and hanging out. I see my family the most at the races. (Steven) and I live in different states and we're both doing different things, so the race track is when I see him. It's the same for Mom and Dad. I don't see them unless I'm at the races.
"As a teenager, you kind of drift away from your parents, but once you hit your 20s you realize how precious that relationship is. I'm fortunate and we're all very lucky to do what we do together. It's a great environment."
Reed's thoughts ring true with the rest of the family as well. Annie adjusted her Top Alcohol Funny Car schedule so it coincides almost perfectly with the NHRA Pro Mod and Pro Stock Motorcycle schedules. That means more time to race together as a family, which remains perhaps the biggest priority above anything that takes place on the track.
"It's very comforting knowing the majority of our family is there at the track," Annie says. "One of the things we noticed back when we were running Juniors is it was very family-oriented and it was a nice way to raise our kids. It teaches them a lot, more than people realize.
"It's very peaceful to me knowing they're doing something they love. It makes a mom happy and peaceful watching them grow like they have. It's very rewarding."
Congregating as a family at the track is something Jim once envisioned and hoped for, but it's gone far beyond his own dreams. Seeing the successes of his wife and sons has been surreal, especially being able to experience it at such a close proximity. "When we're all at the same track, it's pretty cool stuff," he says. "I would have to say it's some of the best times of my life."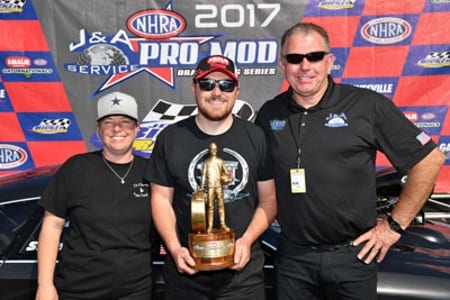 Jim and Annie had shared the winner's circle several times before, but just moments after running a blistering 5.41 at 273.22 mph in the Top Alcohol Funny Car final round at Gainesville to win her fourth national event, Annie watched her son roll to the starting line against Pro Mod titan Mike Castellana. Castellana shook off the starting line, while Steven Whiteley made a clean pass of 5.79 at 253.52 to secure his first NHRA Pro Mod win. It was something new, and by all accounts added another remarkably special layer to the family's incredible journey.
"I've won a lot and it's been great, but it doesn't get much better than that," Jim says proudly. "To see my family have success, that's real rewarding to me."
Reed hopes the next step is joining his father or Annie and Steven in the winner's circle. "Seeing them both win, it was pretty freaking sweet. You could feel it. There were some major emotions involved."
For Steven, there was shock and almost disbelief as he tried to process the moment. Not only had he won for the first time in the NHRA Pro Mod class, but his mother had done the same just minutes earlier. Maybe it was a rush of emotion and memories that added to it. Maybe Steven was thinking about Dino and Peppy, realizing just how far he and his family had come. Whatever the feeling, it was one Steven had waited his entire life for.
And he can't wait to experience it again.
"It took a long time for it all to set in," Steven says. "Even with the interviews and everything after, it wasn't until the following week when it finally hit home. It was pretty cool. One thing I always cherished growing up is when both Mom and Dad would win at the same time. To do that with Mom was pretty special. Not many people can top that."
For the Whiteleys, winning clearly makes all the hard work, money and time spent more gratifying, but in the long run, it's racing together as a family that matters the most.
Photographs by Rick Belden, Roger Richards, Ron Lewis and DI Archives
This story originally appeared in DRAG ILLUSTRATED Issue No. 120, the #Trending Issue, in April of 2017.