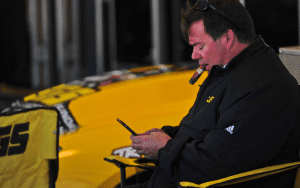 A two-time Outlaw Pro Mod winner of the JEGS Performance Street Car Super Nationals, Troy Coughlin knows how to navigate the quarter mile here at The Strip at Las Vegas Motor Speedway. After the second round of qualifying Friday morning, the two-time NHRA Pro Mod champ is at the top of the chart with a pass of 5.764 seconds at 269.03 mph.
High winds and cool temps at Bruton Smith's desert oasis of speed has challenged many of the racers at the 12th running of this event, but Coughlin and his crew seem to have a good grip on the right setup.
"We're starting to get ahold of the track," he said, between rounds Friday. "(SCSN Promoter) Mel (Roth) and the guys here have this track glued up to where you can throw the kitchen sink at it and you need it. We've just been pouring the coals to it to get it to get off the starting line and not start shaking. We spent a couple days testing, trying to get ahold of it.
"I think Steve (Petty) and Mike (Rees) and Kyle (Pettis) done a good job collaborating their notes and putting their best foot forward. We just went out and made a pretty decent run and hopefully we can improve off of that, which we should be able to."
The drag racing veteran, whose company is the title sponsor of the race, said the track so far has been "awesome," but that's not necessarily a good thing, because that awesomeness can help his opponents as well.
Having said that, Coughlin's is the only ride being talked about as a possibility of hitting the 280 mph mark. Only a few years ago, that number on a door car would be unheard of. When asked, he said it would be a career moment.
"We'll see. It's hard to say, that's for sure. I hope so. It would be cool as hell."
Coughlin, whose son Troy Jr., is racing Top Fuel in the NHRA Mello Yello Series next season with Kalitta Motorsports, finished second in the Pro Mod points this year behind fellow three-time title holder "Tricky" Rickie Smith. Fierce rivals on the track, Coughlin said the two actually get along pretty well.
"Actually, we have a really good relationship," he said, laughing. "A lot of people think there's a lot of controversy and stuff like that, and there's heated moments, there's no doubt about that. When he starts griping about rules and stuff like that, but he's not haven to take his car apart and put it back together. Whaddaya think about that, Rickie? (laughs)
"But he's a good competitor and we're a good competitor, definitely a five-star team on this side. I mean, Steve Petty and Mike Rees and Kyle Pettis work their asses off to make this thing as fast as it can be, even with the rule changes that NHRA makes."
Coughlin is already focused on a Pro Mod title for next season, but said NHRA is making things difficult with changes to the class rules package. Over the course of the past summer, his team found more power, but the Ohio native knows he's going to have to stay ahead of both the NHRA and his competitors.
"It's going to get tough next year with the rule changes going forward and there's going to be some fast cars, too. NHRA says they're going to penalize them if they go too fast, but we're going to keep after it and keep research and development going until we lose our health or income.
"We love it."