Jason Scruggs (above) scored his second-straight Pro Extreme win Sunday night (May 31), while Travis Harvey picked up his career-first Pro Nitrous title in the Professional Drag Racers Association (PDRA) Mid America Open. Also earning pro class wins at Gateway Motorsports Park, directly across the Mississippi River from downtown St. Louis, were Kevin Rivenbark in Pro Boost and Chris Garner-Jones in Pro Extreme Motorcycle.
In the sportsman classes Ronnie Davis also won his second straight PDRA Top Sportsman trophy, Lynn Ellison prevailed in Top Dragster, Aaron Philpot won Pro Jr. Dragster and David Roloff finished first in Top Jr. Dragster. Additionally, Bob Henry of Owasso, OK, won a consolation race for non-qualifiers from the Top Sportsman and Top Dragster classes.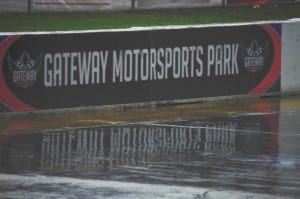 Rain unfortunately shortened Friday's planned program from three to two rounds of qualifying and the wet stuff returned the next day to preempt nearly all on-track activity. PDRA and track personnel, led by brothers Cale and Cody Crispe, the organization's nicknamed "Traction Twins, worked tirelessly all weekend to repeatedly dry and prepare what Scruggs called, "probably the best track I've ever raced on."
Though the race was scheduled to end Saturday night, with heavy rain continuing to fall PDRA officials reached the decision about 7 p.m. to return on Sunday to conduct a third and final qualifying session in the morning before running eliminations for all classes.
PRO EXTREME
It was no easy path to victory lane at Gateway for Scruggs, a past two-time class champion, who started his Saltillo, MS-based '69 Camaro an uncharacteristic 15th in NAS Racing Pro Extreme with a 3.79 at 207.88-mph qualifying lap. He admitted to feeling more than just a little worried about getting bumped out of the 16-car field as 25 entries made their final qualifying attempts.
"That was nerve wracking," he said. "I was the first car out this morning and we shook so I said to everyone then, 'Don't worry about adjusting the valves; we're not going to be in anyway.' And then to watch the rest of qualifying and nobody bumped me, not even one spot, I was amazed that happened. So we got lucky right off the bat this morning."
In round one of racing, though, Scruggs erased any concern he'd lost the handle on his ride by laying down a 3.54 at 217.84 to beat teammate and defending class champ Bubba Stanton, who got out of shape early and had to lift. After that Scruggs returned with a slightly quicker 3.54 at 219.08 solo pass when Todd Tutterow broke that also set low ET and top speed for the meet.
In the semis Scruggs left early by five thousandths, then lost traction and had to shut down, but still dodged a 3.61 at 183.69-mph bullet when Badir Ahli had a much worse redlight start (-.280), triggering drag racing's famous "first-or-worst" infraction and disqualification rule.
That sent Scruggs to the final round, his second-straight after winning at Shreveport, LA, just three weeks earlier. His opponent would be Texan Randell Reid, who qualified his 2007 Corvette fourth, then beat John Sullivan, Tommy D'Aprile and Ahli's NAS Racing teammate Mustafa Buhumaid, who went for a wild ride in the semis when he crossed from right to left into Reid's lane and took out the timing cones while Reid had to hug the wall at 150 miles an hour to avoid a collision.
"I was behind him so I saw him coming across and I lifted and got over as far as I could to give him space," Reid said.
In the final Reid and Scruggs left with reaction times separated by only a thousandth, but Reid's screw-blown Hemi engine almost immediately began smoking badly and he limped to a 4.42 pass at just 120.57 mph, watching Scruggs win with his own off-the-pace 3.79 at 181.03 effort.
"When it's your day it's your day is all I can say. We had a bad qualifying effort when everything that could go wrong did and then today it felt like we could do no wrong," Scruggs said. "In the final I was on a good run until it blew the burst panel out of the manifold about 200 feet out and then I just lugged it down through there because I didn't see him. I kept expecting him to come flying by me but he never did, so I guess it really was just our day."
PRO NITROUS
In Switzer Dynamics Pro Nitrous, Elon, NC's Harvey put on a clinic in domination at Gateway, qualifying his Sonny's Racing Engines-powered 2014 Camaro in the number-one position with a 3.72-seconds lap at 199.61 mph before setting low elapsed time in each of four rounds of racing to take his first pro class win.
With the entire field aiming for the first 3.60s pass in Pro Nitrous–along with the $5,000 bonus that comes with it courtesy of Bryant Industrial Crane–Harvey came close in round one of eliminations with a 3.707 pass at 200.98 mph to beat 16th-place qualifier Keith Haney. The run also delivered to a new official ET record backed up within the required one percent by his qualifying time.
Despite the loss, Haney also left St. Louis a happy man after running a career-best 3.76 at 201.10 mph in his own '14 Camaro powered by a brand-new Reher-Morrison powerplant.
"I'm not happy we lost, but I cut a double-oh-nine light, got my first 3.70 and my first pass over 200 miles per hour here, so this was a great race for us," he said. "We made a statement here that we're ready to play; nobody is going to take us for granted when they line up against us now."
Harvey–"The Carolina Kid"– stepped up in round two with a 3.704 pass at 200.74 mph to further lower his new ET record while eliminating Jim Sakuvich, then ran 3.71 at 200.80 in the semis to beat a traction-challenged Steve Jackson, whose team barely completed an engine swap in time to make the round. "That new Reher engine was a little more aggressive than the old one and we just missed the tune-up," Jackson explained later. "We'll get 'em next time."
Despite being a little slower, Harvey's 3.71 still gave him lane choice for the final over back-to-back reigning NHRA Pro Mod champion Rickie Smith in the final. Smith got there after qualifying 11th with a 3.80 pass, then getting by John Camp in round one, Jay Cox with a big nitrous explosion near the finish line in round two, and Tommy Franklin who also suffered a nitrous blast about halfway down the Gateway eighth mile.
Smith left first in the final with a .033 light, with Harvey posting .053 at the tree. Harvey said he knew Smith had left on him, but by just a couple of hundred feet out he saw Smith's '69 Camaro slip back. Once more flirting with the 3.60 prize, Harvey finished with another new record 3.703 at 200.65 mph against a 3.83 at 196.70 by Smith that put him a little over a car length behind at the stripe.
"It's an honor for me to run against Rickie Smith, never mind beat him. I would never have thought I'd ever get to race him," Harvey declared while waiting for his winner's circle celebration. "I grew up watching Rickie and Tommy Mauney, Charles Carpenter, guys like that, so for me to even be out here with him is an honor."
Harvey then credited his Boone Racing teammates for the win and putting him oh so close to the 3.60s.
"Well, I think we probably could've run a .60 here, but we didn't want to give the race away so we just ran what we knew we could get down the track," he said. "We didn't tear the engine down even one time today, so it gets tired and I think if it would've been fresh for the final that .70 with a three could've easily been a .69. But that's okay, I'm just glad we won the race; that's the important thing."
Harvey dedicated the win to team owners Jimmy and Brad Boone, as well as Vaughn Miles, a longtime friend who came on board this season as a team sponsor. "This is pretty exciting for me," he said. "I've won in Top Sportsman and Top Dragster, but never in a pro class before and I couldn't have done it at all without my team. I want them to know that."
PRO BOOST
Rivenbark said he was "kind of concerned" as he headed into qualifying for the PDRA Mid-America Open with his supercharged GALOT Racing '67 Mustang. He explained the team had made several changes to the car since finishing as runner-up at the PDRA's most recent race three weeks earlier in Louisiana and Thursday's test session at Gateway had yielded no solid passes down the track.
The challenge continued in Friday's two qualifying sessions, with the Wallace, NC-based driver posting a best of 3.94 at 188.99 that was good enough for only a 15th place start in the 16-car Precision Turbo Pro Boost field. And although his Sunday morning qualifying hit was much better, a timing malfunction meant it didn't move him up the ladder.
"That was okay, though, because at least we knew we had our car back. It showed 3.98, but our graphs showed it probably was a 3.83 run at about 194 miles an hour, which would've put us in the number-one position," Rivenbark explained.
His first elimination round result appeared to back up the assumption as Rivenbark went 3.81 at 194.18 mph to handily defeat second-place starter Brian Hicks. A nearly identical 3.81 at 194.12 then sent Ric Fleck home from round two and a 3.83 win at 194.35 mph over Kevin Fiscus sent Rivenbark to the final.
There, he met Michael Biehle, who was competing in his first PDRA event with his twin-turbocharged 2013 Mustang. Biehle started fifth with a 3.87 run at 202.94 and remained very consistent in elimination round wins over Scott Christoffel, Jim Bell and Steve Summers in the semi finals.
Unfortunately, the final was decided before it even started, as Biehle left far too early with a -.282 light, while Rivenbark put together another solid 3.83 at 191.21-mph effort.
"We had hurt it a little in the last pass, so that's why it slowed down a little, but after the start we had this weekend I couldn't be happier about how everything turned out," Rivenbark concluded. "My team never gave up and we all came together when it counted."
PRO EXTREME MOTORCYCLE
It took four races, but for the first time this season a new name sat atop the qualifying list and in the winner's column for Drag 965 Pro Extreme Motorcycle at Gateway Motorsports Park.
Chris Garner-Jones, the 25-year-old son of veteran rider and team owner TT Jones, rode his 2014 Suzuki to the number-one starting position in 4.04 seconds at 175.66 mph, then defeated Jack Young and Ashley Owens to reach the final against defending class champion Eric McKinney, who had won each of the previous three PDRA races held so far this season, each time from the top qualifying slot.
McKinney, who qualified his 2012 Suzuki second in the eight-bike field, beat Brad McCoy and Terry Schweigert to reach the money round against Garner-Jones. Once there, McKinney left with a .011 holeshot, but Garner-Jones was ahead by halftrack and won with a career-best 4.00 pass at 174.08 to McKinney's 4.051 at 177.23 mph.
"It feels great," Garner-Jones said. "The run went just as planned, shifted right when it was supposed to and we got the win. I'm really happy."
TOP SPORTSMAN
A race he won early this year in Florida helped Ronnie "The King" Davis seize his second consecutive PDRA MagnaFuel Top Sportsman race crown at Gateway Motorsports Park, near St. Louis.
Davis started his Kaase-powered '63 Corvette from the number-one slot after going 4.01 seconds at 180.84 mph in high-80-degree temperatures on Friday, but faced low- to mid-60s when race day finally arrived on Sunday.
"The track was really cold so I went back and took a run from when I won down at Gainesville in February and applied that same tune-up to the car here. I put that little, small tune-up in it, set the car identical to what it was there and it ran the numbers every single time," he explained.
Davis dialed in at 4.27 for the final and after posting a perfect light he ran 4.28 at 164.63 for the win. Glaser dialed his '69 Camaro in at 4.13, but after leaving with a .028 reaction time he broke out at 4.02 and 165.09 mph.
Davis powered his way through Dane Wood, Rick Corn, Cheyenne Stanley and Aaron Glaser with a series of 4.31 and three 4.28s to take the win home to Suwanee, GA. He posted reaction times of .001, .005, .022 and a perfect .000 in the final round.
"I had eye surgery in the off season and I don't even have to wear glasses of any kind now for the first time in at least 25 years," Davis said. "I never had any problem with wearing glasses, but I'm glad I had the surgery. I really think that has a lot to do with how well I'm seeing the tree now."
TOP DRAGSTER
After 31 cars made qualifying attempts, Jon Bradford resided first on the Dart Machinery Top Dragster list with a 3.87 pass at 188.52 mph. Starting eighth with a 4.05 at 174.93, however, was eventual race winner Lynn Ellison.
A redlighting Derrik Sholar handed the first-round win to Ellison, who went 4.06 on a 4.05 dial in. Round two saw a double breakout win for Ellison, followed by a 4.08 win on a 4.05 dial in for the semis against Laramie Reid.
That left only the final against number-seven starter John Scali Sr. Scali left with a .044 light, then broke out with a 4.03 at 170.90, while Ellison drove his Central City, KY-based M&M dragster to a 4.05 lap at 176.01 against a 4.05 dial.
JR. DRAGSTER
The PDRA Huddleston Performance Pro Jr. Dragster win at St. Louis went to number-three qualifier Aaron Philpot, who laid down an impressive .010 reaction time in the final, followed by steering his 2012 Halfscale machine to a 7.90 at 81.74 mph that exceeded his 7.90 class index by only two-thousandths of a second. In the opposite lane, opponent Andrew Green had a .032 light, then broke out by going 7.89 at 80.23 against the index.
In Huddleston Top Jr. Dragster, number-11 qualifier David Roloff won a double-breakout final over second-place qualifier Alexis Tanner.