Water from the sky and the ground attempted to prevent Friday qualifying action at the Professional Drag Racers Association (PDRA) Sunshine State Shootout presented by Mel Bush Motorsports, but the PDRA track crew fought back to allow the stars of the all-eighth-mile series to record some of the quickest elapsed times of the season. After two sessions of qualifying at Bradenton Motorsports Park, Jason Scruggs (NAS Racing Pro Extreme), Tommy Franklin (Switzer Dynamics Pro Nitrous presented by MoTeC), John Strickland (GALOT Motorsports Park Pro Boost), and Chris Garner-Jones (Drag 965 Pro Extreme Motorcycle) lead the fields in the professional classes.
In the PDRA's sportsman classes, Billy Albert leads the field in Ronnie Davis Top Sportsman presented by MagnaFuel, and Paul Daigrepont tops the Lucas Oil Top Dragster list. South Carolina's Hailey Hawkins is the provisional number one qualifier in Talbert Pro Junior Dragster with her 7.903 et, while local racer Jason Stewart used a .006 reaction time to top the field in MegaCorp Top Junior Dragster.
Palm Beach racer Troy Blake's 4.45 at 162.71 mph is the current best performance in Outlaw 632, a locally popular class that is joining the PDRA's touring regulars for this race. All but two drivers on the 24-car qualifying order hail from the Sunshine State.
PRO EXTREME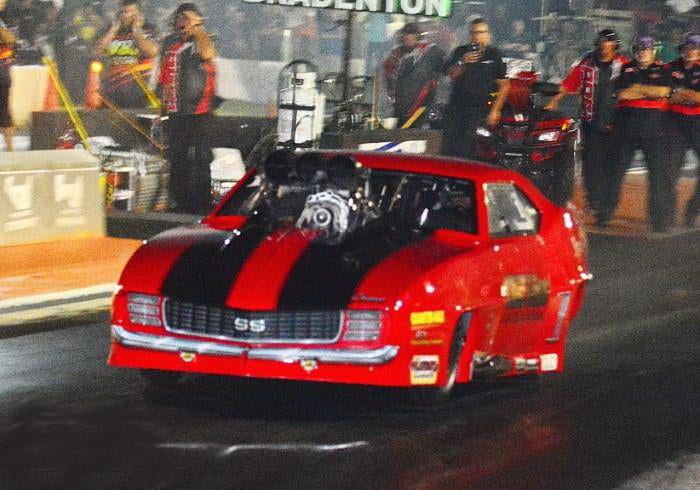 Defending world champion Jason Scruggs has been experiencing the usual ups and downs of professional drag racing this season. He'll win one race, then suffer a first-round exit at the next outing. As his championship defense season comes down to its final two races, the "Mississippi Missile" seems to be back on an upward trend. Scruggs drove his ScruggsFarm.com 1969 Camaro to a 3.526 at 217.28 mph to grab the provisional number one spot in the second session.
"We were really happy with that. The track was awesome tonight. A couple of the big guys didn't get down the track; Brandon (Snider) was a little behind the eight-ball trying to get qualified, and Frankie (Taylor) didn't get down. They probably would've run right there with me if they went down the track," Scruggs admitted.
Snider stepped up to a 3.602 at 211.16 to qualify fourth. Tommy D'Aprile and Texan Frankie "Madman" Taylor qualified second and third with their 3.591 ets from the first qualifying session. D'Aprile's Mel Bush Motorsports Corvette was just a tick faster than Taylor, giving the Port Charlotte driver the better qualifying position.
Scruggs, who currently trails Snider in the championship points standings, returned to a tried-and-true combination in an effort to successfully defend his 2015 world championship. After this weekend, he will only have the PDRA World Finals at Virginia Motorsports Park, Oct. 20-22, to defend the crown.
"We basically went back to everything old-school this weekend. We've tried some experimental motor stuff this year and just got behind the eight-ball. We knew we had to come out this weekend and run good. The first leg of it is done, but now we have to come back tomorrow and try to go some rounds and win the race.
"We only have six rounds of racing left this season, and I need to win three more rounds than Brandon to take over the lead. That's pretty tough to do as good as he runs. We just came here with the goal of winning this race, then it's just going to fall how it falls at Virginia. If we don't win this race, it's about over for us as far as the championship goes. It's a do-or-die race for us. Brandon has run good all year, so if he wins he deserves it, but we're going to fight until it's over with."
PRO NITROUS
Like the rest of his Pro Nitrous competitors, Tommy Franklin had to wait out a series of delays due to rain and groundwater seepage before he could send his Musi-powered 1969 Camaro down the Bradenton Motorsports Park strip. The wait was worth it for the Virginia electrical contractor, who fired off a 3.708 at 202.70 in the second session, bettering his 3.762 from the first session.
"I wasn't expecting that good of a run – I was thinking maybe a 3.72 or 3.73. The air improved and the track was super-tight. We didn't get after it too hard, but man, it surprised me a little bit. I had to do a double-take at the scoreboard," Franklin laughed.
A two-time winner this season, Franklin expects to continue his consistent 3.7-second performances as he enters Saturday's final qualifying session and more importantly, eliminations.
"I definitely think that run will stay low after the third session in the heat of the day. Maybe we can get back after it tomorrow night. We're just trying to hold on to the number one spot, then just do our thing and race one round at a time," Franklin said.
The second spot is currently claimed by Danny Perry with his 3.763 at 199.91. Points leader Jay Cox was unable to get down the track in the first session, but powered to a 3.771 at 199.11 to take the third spot in Q2. Steve "Stevie Fast" Jackson's 1969 Camaro was the picture of consistency, running 3.775 and 3.771 to qualify fourth.
PRO BOOST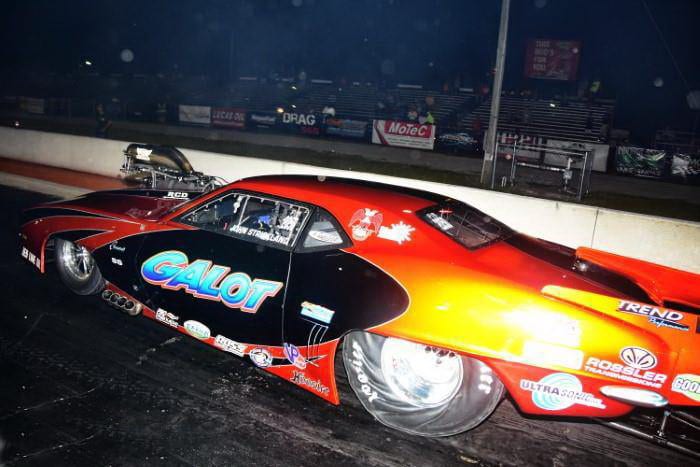 Three-time PDRA event winner John Strickland and his GALOT Motorsports team continued to impress in Pro Boost. While his Todd Tutterow and Jeff Bohr-tuned Camaro was only ranked 12th after the first session, it shot back up to its familiar spot at the top of the qualifying order with a 3.777 at 195.56 on the second run.
"We had high expectations for the first session, then Kevin (Rivenbark, teammate) and I both didn't get down the track. His car immediately got up on the tire and mine started driving toward the wall. Todd made some chassis adjustments and told me it would go down the track no problem. He wouldn't tell me what it was going to run, but I had a feeling that he would be going for it on that second run. When it pulled the front end up at the gear change at half-track, I knew I was on a good pass," Strickland commented.
The situation quickly changed when it came time for Strickland to decelerate his supercharged GALOT Motorsports entry. One of his parachutes was sucked under the car and got caught on the rear brake assembly, resulting in the loss of brake pressure and substantial damage to the car's carbon fiber body.
"I've experienced tire shake and the car going towards the wall, but I've never had problems with the parachutes or the brakes in my short drag racing career," said Strickland, who recently claimed a tractor pulling national championship. "To have both problems at the same time was a handful. I felt the one parachute come out, then I heard a big explosion. When I hit the brake pedal it went right to the floor. I didn't know what to think. It was happening too fast to be scared. I think there was just enough front brake pressure along with that one 'chute to get me stopped before I went off the end of the track. The first person I thanked was the Lord. It could've been ugly."
New York's Marc Caruso follows Strickland on the qualifying order with a 3.801 at 194.42. Tylor Miller is next closest with a 3.817 at 197.54, followed by Rivenbark's 3.857 at 169.81 in fourth.
PRO EXTREME MOTORCYCLE
Young drag bike sensation Chris Garner-Jones went from the bottom of the field to the top in a hurry. His Harvest, Alabama-based Suzuki struggled on the first qualifying attempt, then streaked to a 4.094 at 173.04 during the night session. He was the only rider to break into the 4.0-second range in Friday qualifying.
Ashley Owens and Lance Hines both recorded 4.127 ets during the second session, giving them the second and third spots. Canadian dairy farmer Terry Schweigert is fourth with a 4.137 at 168.35.
TOP SPORTSMAN/TOP DRAGSTER
Engine builder Billy Albert was the quickest driver in Top Sportsman on the strength of a 3.948. The Albert-powered entries of Buddy Perkinson (3.981) and Bruce Thrift (4.165) are second and fourth, surrounding the Musi-powered Corvette of past world champion Dan Ferguson (4.034) in third.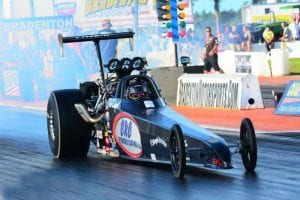 In Top Dragster competition, Paul Daigrepont piloted his supercharged CRC Powder Coating dragster to a 3.907 to grab the provisional number one spot. Justin Kirk, who earned his first win at the last PDRA race in North Carolina, is second with a 3.945. Phillip Sexton is third at a 4.073.
Qualifying for the PDRA Sunshine State Shootout presented by Mel Bush Motorsports at Bradenton Motorsports Park will continue on Saturday with a third and final session at 11 a.m. Pre-race ceremonies are slated for 3 p.m., followed by first round of eliminations at 4 p.m.