The Scrappers Racing team has had a season that both the Top Fuel team as well as the Pro Stock Motorcycle team can be proud of as well as making some history along the way. For the Top Fuel dragster team and driver/owner, Mike Salinas, the season boasts two national event wins as the series heads to the season finale in Southern California this weekend. One of those wins came just two weeks ago at The Strip at Las Vegas Motor Speedway where the Scrappers Racing team won in dominating fashion after securing the number one qualifier position. That win propelled Salinas to the fourth position in series points giving them a mathematical chance at the championship this weekend.
But the Top Fuel team has also achieved some impressive milestones in 2023 highlighted by becoming the first driver to go 300 mph to the 1/8th mile mark just a month ago at zMax Dragway near Charlotte, North Carolina. This came on the heels of a 338 mph pass in Brainerd, Minnesota giving Salinas the fourth-fastest pass in Top Fuel history – a mark he and the team want to break before the 2023 season comes to a close.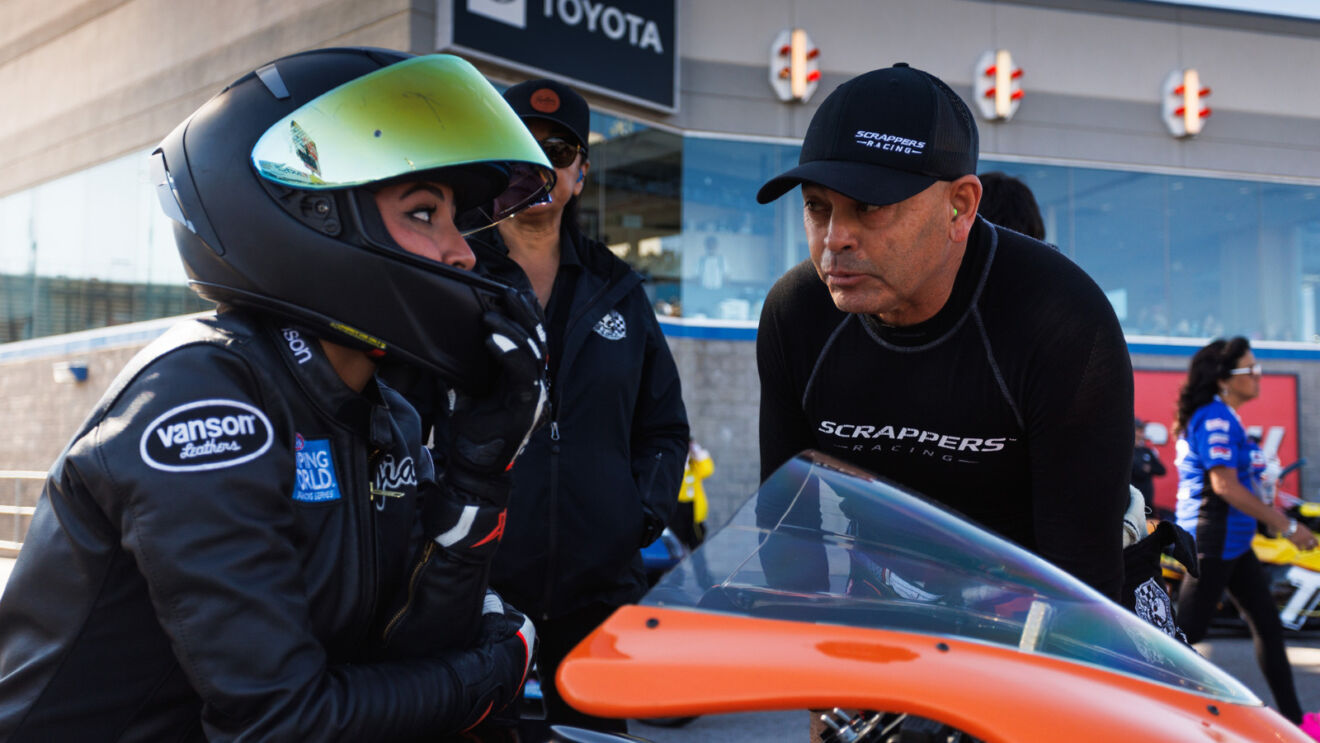 "We have high hopes to finish the season with a strong performance in Pomona this weekend," said Salinas. "Our team and our race car have really come to life in the past few race weekends and I think we really got to showcase that at Las Vegas. I'm so proud of what our whole team did that weekend from earning the number one qualifier position to running consistently with passes of 3.6 seconds on Sunday to get the win. The conditions at Pomona look like they're going to be perfect for a record-setting run and we would love to be the team to finish off the 2023 season with another pass for the history books."
Jianna Evaristo competing in the Pro Stock Motorcycle ranks has also had an impressive season with semi-final appearances during the season and a true achievement in the class when she broke the 200 mph barrier at Maple Grove Raceway in September. With regular round wins for Evaristo, she is tapped to be one to watch as the 2024 season kicks off.
"This season has definitely been a great learning year for me as a rider," said Evaristo. "We've made some great strides and I really feel like I'm riding as good as I have week after week. Hitting the 200 mph mark at Maple Grove was definitely a highlight for me personally and my goal for 2024 is to keep learning and focus on even more round wins leading to final round appearances and of course wins!"
The 2024 season will see Scrappers Racing field a second Top Fuel dragster as another Salinas moves up the NHRA ladder. Jasmine Salinas will pilot a second car for the team next season and plans to spend much of her off-season testing and continuing to work with the team principals to secure partnerships for her race car.
The NHRA Finals at Pomona Dragstrip will kick off on Friday with the first round of pro stock qualifying at 12:00 PM PT followed by the first round of nitro qualifying at 1:00 PM PT.