Tony Schumacher won the Top Fuel portion of the NHRA Traxxas Nitro Shootout on Saturday at the Chevrolet Performance U.S. Nationals at Lucas Oil Raceway at Indianapolis.
Schumacher, an eight-time world champion, powered his U.S. Army dragster to a 3.717-second pass at 328.86 mph to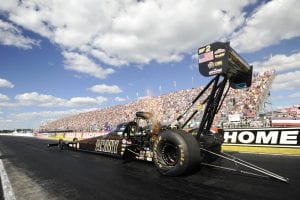 beat Leah Pritchett's 3.738 at 317.05 in her Papa John's dragster. Schumacher earned his second career NHRA Traxxas Nitro Shootout victory with the win. Schumacher, who won in Denver and entered the specialty event as the No. 5 seed, claimed a $100,000 prize. He outlasted Brittany Force and Antron Brown in the earlier rounds before facing Pritchett.
"It takes the points and what we work on all year long and gets rid of that," said Schumacher. "It is just 'Here is a pile of money and just go be a machine.' It makes it a lot on you. You come to the biggest race of the year, the Big Go, and have this thrown in the middle of it is fantastic.
"It is a magical place here in Indy," Schumacher continued. "This is actually the 11th time (I've won an event here) – two Shootouts and nine (event) wins. This is just something special and I'm sure glad it is here."
Pritchett entered the NHRA Traxxas Nitro Shootout as the No. 7 seed after winning her first career race in Phoenix earlier this season. She beat Doug Kalitta and Shawn Langdon in the earlier rounds. She received $15,000 as a runner-up prize.