Tony Schumacher raced to a milestone 80th career victory in Top Fuel Sunday at the Lucas Oil Route 66 NHRA Nationals presented by General Tire at Route 66 Raceway.
Tommy Johnson Jr. (Funny Car), Allen Johnson (Pro Stock) and Hector Arana Jr. (Pro Stock Motorcycle) also were victorious in their respective categories at the 13th of 24 events in the 2015 NHRA Mello Yello Drag Racing Series season.
Schumacher pushed his U.S Army dragster to the winner's circle with a 3.844-second pass at 320.20 mph, beating Larry Dixon's 3.932 at 298.93 in the final round. The win was Schumacher's third victory of the season and a category-high fifth at Chicago. Schumacher, the eight-time and defending world champ, now sits five victories from tying Pro Stock's Bob Glidden for third on the all-time wins list in any NHRA professional category.
"That was a fun race," said Schumacher, who moves into the Top Fuel points lead with the win. "Our crews are so good and win so many races. There are no easy races. Just proud to be in the position we're in. When we've had to win and it positively had to be done, we've been great at that. You have to be great every day and you have to be better than that some days."
Schumacher has faced Dixon 82 times with 20 of those meetings occurring in a final round, where Schumacher holds a 14-6 advantage. Dixon, a three-time world champ, was appearing in his fourth final of the season in the C&J Energy Services dragster and is closing in on his first win since Phoenix 2011. The result moves Dixon to third in points.
Johnson Jr. raced his Make-A-Wish Foundation Dodge Charger R/T to his first win since Bristol last season with a 4.259 at 245.27 victory over two-time and defending world champ Matt Hagan, who lost traction at the starting line. The finish marks Johnson Jr.'s 11th career victory (9th in Funny Car), first of the season and first at Chicago. With the result, Johnson Jr. rises to sixth in points.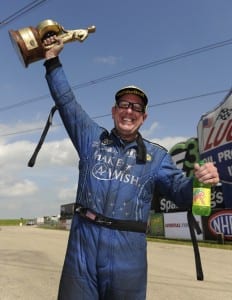 "The days you win, you get up and you feel it," said Johnson Jr., who drove past Brian Stewart, Jack Beckman and No. 1 qualifier Cruz Pedregon to reach the final. "I woke up this morning feeling like we were the car to beat. We've had a really good car, a really good performance but we couldn't get it to go our way and we kind of beat ourselves a couple of times with mistakes. I've got to hand it to our guys. They kept working. The last two races in qualifying the car has been flawless."
Hagan, who was attempting to win this event for the third consecutive year, had a consistent Mopar Express Lane Dodge Charger R/T all day from the No. 11 position, racing past Ron Capps, Tony Pedregon and Tim Wilkerson before his final round loss to Johnson Jr. Despite the loss, Hagan extends his points lead to 178 points over second place Capps.
In Pro Stock, Johnson drove his Magneti Marelli Dodge Dart to victory for the 25th time in his career with a 6.624 at 209.88, outlasting Charlotte winner Larry Morgan's 6.667 at 210.18. Johnson, who is now one win from tying Lee Shepherd and Dave Connolly for ninth on the all-time Pro Stock wins list, raced past Bo Butner, Chris McGaha and four-time world champ and points leader Greg Anderson before taking out Morgan in the final and earning his first career win at the facility. Johnson is now fifth in Pro Stock points.
"The team has really been digging these last three or four races and we pretty much got a handle on all the issues that have plagued us the first half of the year," said Johnson, who also has two runner-up finishes on the season. "I think we had a better car the last couple of races but just showed bad luck. Today we were able to make consistent runs and even when the heat came out there in the final and was able to pull of the win."
Morgan, who won earlier this season at the NHRA Four-Wide Nationals in March, ran his FireAde Chevy Camaro to wins over Shane Gray, Phoenix winner Rodger Brogdon and defending world champ Erica Enders to reach the final. Morgan, who moves to seventh in points, was attempting to win his first race at Chicago.
In Pro Stock Motorcycle, Arana Jr. defended his Chicago win from last season with a 6.918 at 194.66 on his Lucas Oil Buell, defeating two-time world champ Matt Smith in the final. The win was Arana Jr.s' 10th career victory, first of the season and second at Route 66 Raceway. He defeated LE Tonglet, Jerry Savoie and Chaz Kennedy before taking Smith out in the final. Arana Jr. sits second in points.
"This is one of my favorite tracks," Arana Jr. said. "We had the bike and I knew we had the bike all weekend but we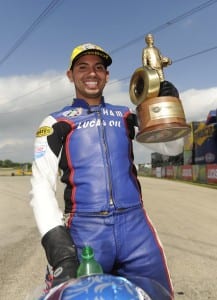 couldn't get it to leave the line well and we finally figured it out for the last session. We made a change and we felt good about it so we didn't change anything for the first round and from then on out we didn't touch it. We just went consistently down the track."
Smith, a two-time world champ, was looking to win his first race since the 2013 Fall event at Las Vegas. Despite getting his Victory Racing Gunner to a head start on the starting line against Arana Jr., Smith was unable to claim the win when Arana Jr. drove around him on the top end. Despite the loss, it was a positive points day for Smith who moves into the top ten in points at No. 8 with four Pro Stock Motorcycle events remaining before the Countdown to the Championship playoff.
The NHRA Mello Yello Drag Racing Series next embarks on the three-race NHRA Western Swing, beginning at Denver with the 36th annual Mopar Mile-High NHRA Nationals July 24-26.