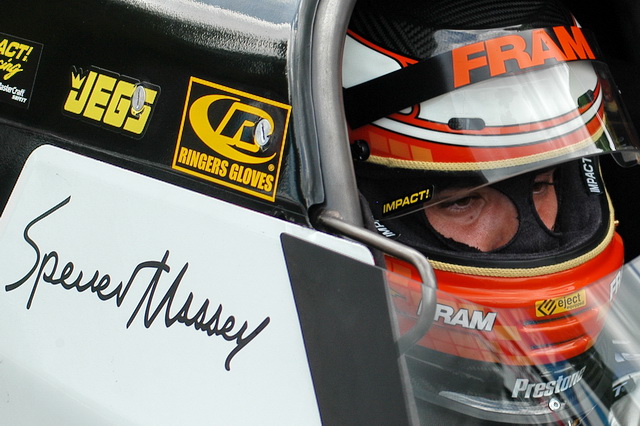 By Ian Tocher
NHRA mega-team owner Don Schumacher confirmed Feb. 8, that Top Fuel driver Spencer Massey was fired from his Don Schumacher Racing (DSR) position last November directly in response to Massey's conduct at the 2012 NHRA awards banquet after finishing third behind teammates Tony Schumacher and 2012 NHRA Top Fuel World Champion Antron Brown.
"I could not tolerate his actions at the banquet (on Nov. 12)," Schumacher said. "The same thing would have happened to any of my employees if they took a cooler with beer into a black-tie affair while representing DSR."
However, in explaining why he decided Feb.1, to return Massey to the seat of his third DSR dragster, Schumacher claimed not to know if a racial slur was ever directed at Brown by Massey. Regardless, Schumacher said he felt Massey "deserved a second chance," after facing up to the issue and taking the initiative to undergo anger-management counseling.
"I wasn't at the banquet because I was in Chicago tending to my mom's funeral, so I don't know what else happened and I don't go on rumors or gossip," Schumacher stated.
"I have spent a lot of time talking to Spencer, and he knows now how wrong it was for him do what he did. I believe people sometimes deserve a second chance and this is one of them. I'm impressed that Spencer made the decision to seek counseling for his temper."
For his part, Massey confirmed he brought a soft, six-pack cooler to the banquet and realizes "it was a dumb thing to do." He also insisted he meant no disrespect to Brown, claiming it was just a coincidence that led to a brief outburst at the banquet while Brown was giving his championship acceptance speech.
"When Don heard about it he was pretty mad that I took in the cooler with beer into our banquet, and he's right, that was not the way DSR should be represented," Massey said. "I like and respect Antron a lot and consider him a friend. I think he feels the same about me. Looking back, I shouldn't have disrespected him by getting up to go to the bathroom while he was speaking. I was happy that he won but, honestly, I was angry all day because my team didn't win it.
"I was sitting in the back of the (banquet) room and as I got close to the doors to leave a couple crew guys from another team—I won't say which team, but they know the truth—made a comment to me that I didn't appreciate and I used language I shouldn't have, but it was directed at them and had nothing to do with race. That was the boiling point for me and I threw my plastic bottle of Coors Light to the ground. It only had a few gulps left when I slammed it down, and some of the beer flew up and got on someone. I went right up to this man and kept apologizing."
Schumacher also said sponsorship issues played a major role in the decision to rehire Massey and keep the team led by crew chief Phil Shuler intact. After learning FRAM would not be returning this year on the Massey car, Schumacher said last summer that he would run the third team in 2013, regardless of having a major sponsor or not. However, he later was told that two other major DSR backers (Aaron's and Service Central) also would not be returning this year.
"That would have left me with three teams to fund," Schumacher explained. "Toward the end of last year I wasn't sure I could live by the commitment I made in the summer that I would fund that team myself.
"I never wanted to break up the team," he stressed. "Fortunately, Johnny Gray and his sister, Terry Chandler, decided to sponsor his Dodge Funny Car; Rocky Boots came on to join Mopar on Matt's (Hagan) car and Rodger and Karen Comstock decided to be the primary on Jack's (Beckman) car for seven events to promote their wonderful Mail for Wounded Warriors and Hire a Hero programs. Those commitments allowed me to keep my word to fund the No. 3 Top Fuel team through Schumacher Electric Corp. and our Battery Extender chargers.
He left the door wide open for new sponsors to come on board, though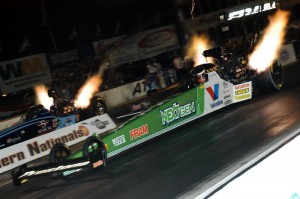 "Let me make it very, very clear: Schumacher Electric is funding this team and no one else. We still are talking with companies about coming on board with that team," Schumacher said.
Understandably, Massey is just feeling relieved and anxious to put last year's disappointing finish behind him.
"I've had a lot of time these past couple months to look back at how I've acted at times. There were a few times this year after a disappointing run that I walked away from my guys (team) at the end of the track and at Reading left the track before talking to my team. I stomped off like a spoiled kid," he admitted.
"My temper had gotten out of control, especially after we didn't win the championship, and that's why I've started to see a counselor to help me with some anger issues I have.
"I'm going to become a better person, that's for sure; I'll continue with counseling," Massey promised. "I'm so thankful Don is giving me another chance and I promise not to let Don or my teammates down again. I came close to losing the biggest dream of my life. I can't change things I've said or done in the past, but I will not repeat those mistakes."
(DI.com file photos by Ian Tocher; Click to enlarge)