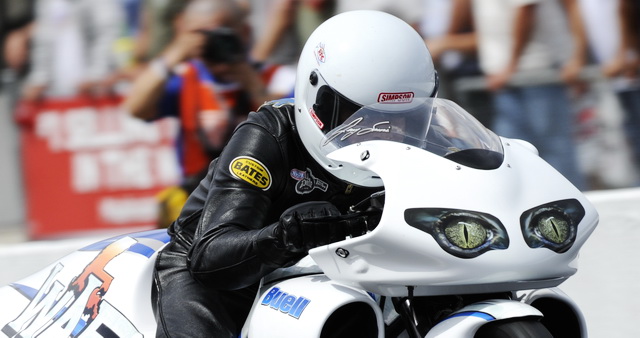 In an all-out effort to finish the 2012 season on a high note, Jerry Savoie has made major changes to his White Alligator Racing Pro Stock Motorcycle team in advance of this weekend's Big O Tires Nationals in Las Vegas. Savoie will not only return to the S&S-powered Buell motorcycle that he raced earlier this year, but he has also formed an alliance with former NHRA Full throttle Drag Racing Series champion Matt Smith, who will serve as his crew chief this weekend.
"My bike is on the way to Las Vegas in Matt Smith's trailer and I'll be racing with him and [teammate] Michael Ray this weekend," said Savoie. "Matt is a talented guy who can do just about everything. He is not only a great rider, but he also builds his own engines and he's a first-rate crew chief.
"Last week, we sent my bike to Matt's shop in North Carolina and he replaced the crankshaft and basically put his tune-up in the bike. Matt has been running really well lately so I'm pretty excited to go out there and see if we can make something happen."
Smith, currently ranked eighth in the NHRA Full Throttle standings, is a 13–time national event winner and the 2008 series champion. He currently fields a bike for second-year rider Ray, who became the only non-Harley rider to claim a victory this season when he raced to the Dallas title. Smith is also the son of Pro Stock/Pro Mod Hall of Fame driver Rickie Smith.  The new alliance with Smith's team has provided a strong reason for optimism in the White Alligator camp.
"I'm determined to build a winning program here," said Savoie. "In fact, I recently had a chance to sit down and talk with [championship winning team owner] Don Schumacher, and I asked him about the secret to his success. He simply told me to surround myself with good people, and I believe I've done that with Matt Smith."
Last year in Las Vegas, Savoie qualified in the No. 6 spot with a 6.95 en route to a quarterfinal finish.
(Photos courtesy NHRA/National Dragster)