Recent first-time Pro Nitrous winner Danny Sauro continued to impress when he topped Friday qualifying at the Professional Drag Racers Association (PDRA) World Finals at Virginia Motorsports Park. Sauro's near-record 3.658-second pass at 204.35 mph led the 18-car Switzer Dynamics Pro Nitrous presented by MoTeC qualifying order after two sessions.
The other provisional No. 1 qualifiers in the professional classes are Tommy D'Aprile in Moroso Pro Boost, Jeff Dobbins in Liberty's Gears Extreme Pro Stock, Ronnie "Pro Mod" Smith in Drag 965 Pro Extreme Motorcycle, and Johnny Pluchino in East Side Auto Transport Pro Outlaw 632. Tim Essick is the provisional low qualifier in Atomizer Racing Injectors Outlaw 10.5.
After two sportsman qualifying sessions, the provisional low qualifiers are John Benoit in MagnaFuel Elite Top Sportsman, Scott Moore in Top Sportsman 32, Camrie Caruso in Lucas Oil Elite Top Dragster and Tony Positano in Top Dragster 32. Defending world champion Amber Franklin holds the top spot in Coolshirt Pro Jr. Dragster with a 7.901, while Connor McGee leads Gilbert Motorsports Top Jr. Dragster with his .001 reaction time.
PRO NITROUS
Just a couple weeks after resetting the Pro Nitrous world record and earning his first career win at the PDRA Fall Nationals in Darlington, South Carolina, Danny Sauro nearly matched his record when his Tischer Auto Group '69 Camaro lit up the scoreboard with a 3.658 at 204.35 in the night session.
"The car is running really well again," Sauro said. "My crew chief, Justin Elkes, told me to hang on tonight because he was going to lean on it. The car was on a rail. It started to shake just a little bit but it drove out of it. The car was like a rocket ship. I'm just glad to get that No. 1 for the night – I knew everyone would be going for it tonight."
Veteran Pro Nitrous racer Jim Halsey is second with a 3.663 at 205.41 in his Fulton-powered Yellowbullet Nationals '68 Camaro. Jay Cox in the Buck-powered "Pumpkin" '69 Camaro round out the top 3 with a 3.675 at 202.94.
PRO BOOST
Tommy D'Aprile's remarkable season in Pro Boost received another milestone as the Florida driver came closer to meeting the Al Billes-led team's goal of recording a 3.5-second pass with their roots-blown '69 Camaro. D'Aprile, the current points leader, posted a 3.656 at 204.60 in the opening qualifying session, then broke the transmission on what was sure to be a quicker pass in the night session.
"Honestly, the car was on the smoothest run it's ever been on," D'Aprile said. "The 60-foot was .906. From what we see early, it'll run a bottom .60 for sure. Our goal is to run 3.5s with this car. We had the air to do it tonight, but when something breaks, it breaks. We stayed No. 1 and we saw what it could've run, but we didn't do it. We'll come back and race smart tomorrow so we can maybe have the opportunity to make that big run in the final round on Sunday."
Fall Nationals runner-up Melanie Salemi is the No. 2 qualifier with a 3.661 at 204.76 in the supercharged "Purple Reign" '68 Firebird, followed by GALOT Motorsports driver Kevin Rivenbark with a 3.696 at 200.74 in his supercharged '69 Camaro.
EXTREME PRO STOCK
Jeff Dobbins became the first mountain motor Pro Stock driver to dip into the 3-second range with a 3.988 at 181.26 mph in pre-race testing Thursday afternoon. He wasn't able to make the first official 3-second run in competition Friday, but he was the closest to the historic mark with a 4.01 at 181.20 in the opening session. Dobbins' Bears Performance/Curacao '14 Dodge Avenger missed the mark in the chilly night session, but he's confident in his team's ability to pull off a 3-second pass before the weekend is over.
"Every run is the same for us," Dobbins said. "Our motto is 'two for two: two feet or to the pole'. We swung as hard as we could every run. I think the track just got a little too cool for us. We missed a good opportunity. The good thing is the opportunity will still be there every round this weekend. Even the day session tomorrow should give us the chance to shoot for that three."
Season opener winner Elijah Morton in his Allen-powered Morton Brothers Motorsports '18 Mustang is second with a 4.035 at 178.54. John Bartunek is third after his 4.048 at 177.98 attempt in the Eman family's Aruba.com '18 Mustang.
PRO EXTREME MOTORCYCLE
Points leader Ronnie "Pro Mod" Smith added to his reputation as the quickest nitrous-assisted Pro Extreme Motorcycle as he rode his Innovative Performance '16 Hayabusa to a 3.975 at 175.41, nearly beating his own national record of 3.973. He wasn't only the quickest nitrous bike, he also beat out a handful of turbocharged entries for the provisional top spot.
Chasing Smith in second is Canadian dairy farmer Terry Schweigert with a 3.979 at 179.97 on a turbocharged '18 Hayabusa. Another turbocharged motorcycle, piloted by Williford Racing rider Ehren Litten, is third with a 4.004 at 182.30.
PRO OUTLAW 632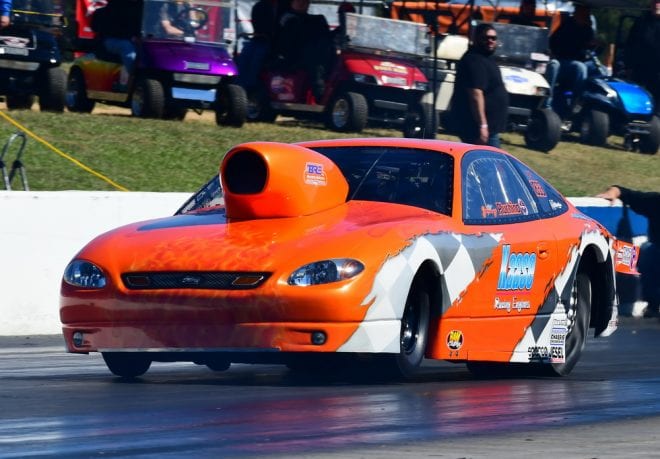 Commack, New York's Johnny Pluchino entered the World Finals with the goals of clinching the Pro Outlaw 632 world championship and resetting the national record held by rival Dillon Voss. Pluchino came one step closer to achieving both of those goals when he crossed the eighth-mile mark in 4.163 seconds at 170.19 mph in Dominic Addeo's '06 Ford Escort to lead Friday qualifying and set himself up for a new record.
"The record coming into this weekend was a 4.19, so we took it with style," Pluchino said. "But we have to back it up and hold it through the event. That alone, I think, would be enough to clinch this championship. But we can't rely on that; we need to stay consistent and go some rounds."
Jeremy Huffman is closest to Pluchino with a 4.214 at 167.36 in his Chevy-powered '10 Cobalt. Former mountain motor Pro Stock standout Tony Gillig is third with his 4.269 at 166.79 in the Gillig-Warner Motorsports '96 Oldsmobile Cutlass.
OUTLAW 10.5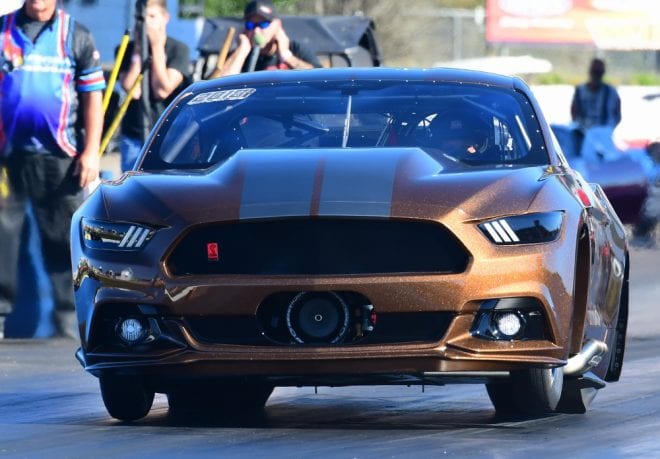 A diverse mix of power adders raced to the top of Outlaw 10.5, as the popular small-tire class competes at its fourth PDRA race of the season. Tim Essick's new ProCharged-boosted '18 Mustang tops the list with a 3.921 at 191.81, followed by Mo Hall in his nitrous-assisted '07 Corvette with a 3.927 at 190.08 and Ken Quartuccio Jr.'s 3.945 at 201.04 in his turbocharged '17 Corvette.
TOP SPORTSMAN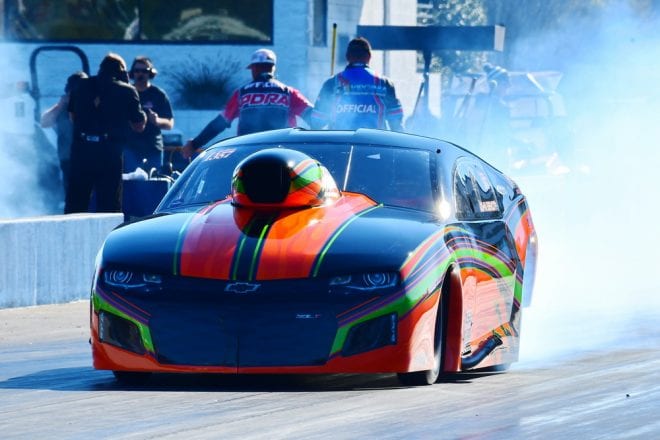 Vermont electrical contractor John Benoit went into the weekend as the speed record holder in Top Sportsman in his Buck-powered '15 Camaro. He added the elapsed time record to his résumé Friday night when he backed up his 3.74 at 202.76 with a 3.76 in the second session. He's followed in qualifying by former record holder Billy "The Kid" Albert with a 3.755 at 200.95 in Stan Nance's nitrous-assisted '17 Camaro and Derrick Brown's ProCharger-assisted '14 Camaro with a 3.887 at 186.54.
TOP DRAGSTER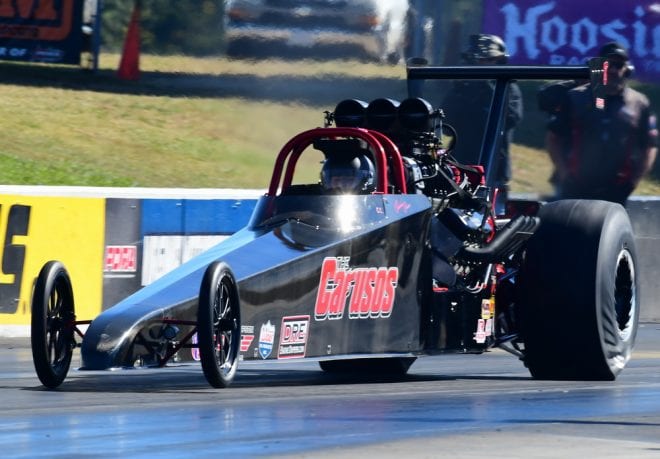 Championship contender Camrie Caruso ended Friday qualifying as the No. 1 qualifier for the first time in her supercharged Caruso Family Racing four-link dragster. Caruso's career-best 3.682 at 201.91 would also reset the speed record if she can back it up over the course of the weekend. Jody Stroud's pass of 3.70 at 199.49 in his supercharged "Zombie" dragster is second, followed by the ProCharger-boosted dragster of Jeremy Creasman with a 3.707 at 193.60.
The 4th annual Brian Olson Memorial PDRA World Finals will continue Saturday morning with sportsman final qualifying at 9:45 a.m. Pre-race ceremonies will kick off professional eliminations at 7 p.m.