Mike Salinas sent a message at the preseason test session in Phoenix, one he hopes lasts for all 24 Top Fuel races during the 2019 season.
He's coming strong and he's not going to let up.
While most would be satisfied with finishing seventh in points, advancing to a final round and qualifying No. 1 at Indy in their first full season in the loaded class, Salinas was anything but.
He has much bigger goals in mind for 2019 and he's not letting off the gas until he reaches them. That was evident already as Salinas boasted an impressive 3.747 at 296.24 mph during Friday testing.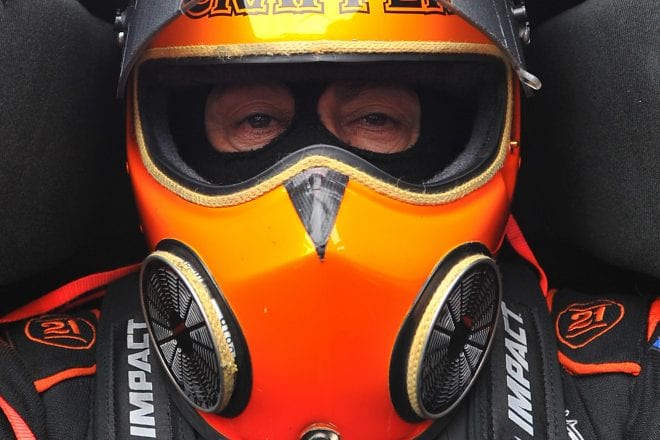 "We've got brand new cars, new trailers, all the parts we need," said Salinas, who advanced to his first final round in just his 25th career start. "We're stocked better than we've ever been in our racing career. We've got the right tools, the right people and there's no excuses this year."
Salinas had that mantra a year ago as well, feeling unsatisfied despite a more than respectable showing and finish to his Top Fuel season.
Adding the likes of tuner Brian Husen and tuning consultant Alan Johnson to the mix in 2019 has raised the bar that much more for the Scrappers Racing team, but that's the way Salinas likes it.
An ultra-successful businessman, racing might be Salinas' hobby. But with a competitive streak that rivals anyone, he's not going to the track for a leisurely weekend, especially with marquee names like Husen and Johnson on board.
That includes this week's test season, where Salinas hopes to accomplish a great deal heading to next weekend's 2019 opener, the NHRA Winternationals at Pomona.
"We're looking forward to making sure our combo and data is all ready to go," Salinas said. "We want to go out and be smooth and competitive right away. This whole class, all of us are stepping our games up. That's the exciting thing for this year. You're going to know right away at testing and at Pomona who has their stuff together."
Salinas is confident he'll be in that group and he'll look to take the next step as a driver in 2019.
Having full trust in Husen and Johnson's tuning abilities should be a major benefit, and Salinas believes will help a great deal with his confidence.
"We all have something to prove, but now I can go drive my car and I don't have to worry about anything being wrong," Salinas said. "I can just jump in the car and concentrate on driving and I don't have to worry about anything else."
Salinas showed great potential at times a year ago, advancing to the final round in Bristol and moving into the top 10 at Brainerd. He qualified No. 1 at the U.S. Nationals and advanced to the semifinals at the Countdown to the Championship race in Charlotte, but now Salinas hopes to be more consistent in 2019.
Bringing over Husen, Johnson, Arron Cave and a number of team members from Brittany Force's 2017 championship Top Fuel team, Salinas is preparing for a big season.
His two daughters, Jasmine and Jianna, will start their seasons in Gainesville in Top Alcohol Dragster and Pro Stock Motorcycle, respectively, adding another exciting level to the year.
But for Salinas' own success, he knew keeping that team intact was critical and he believes that will be evident as soon as this week in testing.
"They've been together a long time and in the little time been around them, I've watched how they've worked and interacted with each other, and they have something pretty special," Salinas said. "Breaking these guys up would have been a mistake and keeping them all together has been really a good thing."