Ryan Haag has enjoyed many racing achievements over the years that easily could be considered "highlight reel material," but the 27-year-old racer from Columbus, Indiana, emphasizes that simply getting to drive this bumper-dragging '67 Camaro is the true pinnacle of his career.
"It's a highlight every time I let off the button and see blue sky," he laughs, describing the way the car launches each and every time it leaves the starting line.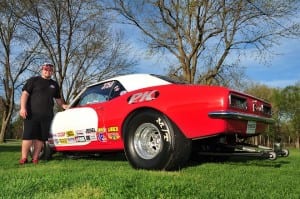 For many years prior, Ryan watched his dad, David, race this same Camaro, a car that's actually been in the Haag family much longer than Ryan has been alive. "Dad and Bill Felker originally owned the car together for the first few years before Dad bought the car outright in 1974," he says. When David and Bill first took this car off the street to cut it up and make a race car out of it, the odometer was showing just 3,258 miles. "We kinda' have mixed feelings about that now since this was an original big-block, four-speed 1968 Camaro," Ryan admits.
Indeed, the original car they cut up all those years ago would be worth a mint to car collectors in its factory condition, but it eventually was transformed into a 1967 model when the team wanted to run a different class, so they simply changed the grill, headlights, hood louvers and other trim items in an effort to alter the car's factory model year.
Long before Ryan became the driver of the family Camaro he came up the same way many other exceptional young drivers did. "I'm the youngest of three kids and I found myself on the receiving end of my older brother and sister's hand-me-down Junior Dragsters," he explains. Among his most notable achievements from the Junior ranks was winning the Eastern Conference Finals at Bristol back in 2004 at age 15, which is the equivalent of the U.S. Nationals for Junior Dragster racing—and even includes an ESPN interview in the shutdown area. "You could barely understand a word I was saying during that interview. I was running my mouth like John Force," Ryan recalls with a laugh.
Eventually, the inherited race cars came to a screeching halt when his older siblings either got married, relocated or went off to college, never really pursuing drag racing very much past their teenage years. That wasn't the case for Ryan, though. Sure, he also did all the normal things like go to college, get married, and recently even welcomed a new baby to the Haag family, but all the while the sport of drag racing has remained a central fixture of his life's passion.
His biggest transition as a driver happened when he was 17, the night he very memorably made his first pass in the family Camaro at Ohio Valley Raceway in Louisville, Kentucky. He regards this event as the very day his Junior Dragster career came to a close. After just his second pass in the Camaro, he was completely hooked on Super Stock doorslammer racing. Considering he was used to clocking 7.90s in his Junior Dragster, the wheel-standing Camaro was understandably a shock to his young system, not to mention a rush he never quite got over.
"I clocked 6.15 on my second pass and I didn't know if I was going to be able to get the thing stopped; it feels like you're going so incredibly fast, you know? I pretty much kicked Dad to the curb after that night, and I've been the driver ever since," he declares with yet another laugh.
In all honesty, though, Ryan says he's offered to surrender the driver's seat back to his dad on a number of occasions, but David Haag consistently declines. "Dad reminds me that he got to do this for 40 years, so he says it's my turn now. He completely enjoys working on the car, building engines, and, of course, watching me race," insists Ryan, who eventually dipped into the high five-second zone with the car.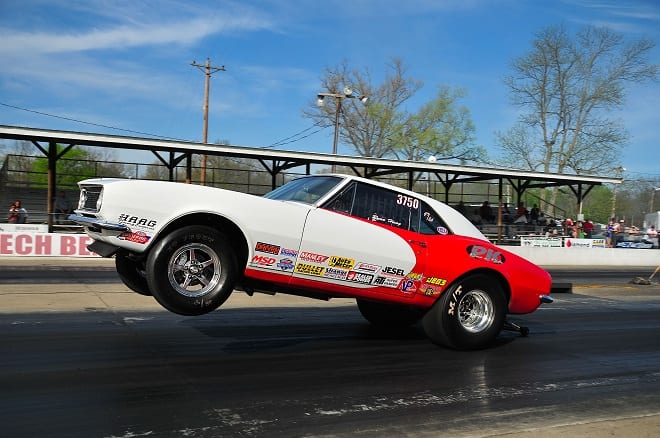 After honing his skills in the Camaro for several seasons, Ryan eventually became a fierce competitor in Super Stock, winning his first race with it in 2010 at the NHRA Lucas Oil series event in Joliet, Illinois. He finished third in points that year and many other race titles followed, including winning class at the U.S. Nationals and also the NHRA Sports Nationals at Beech Bend Dragway in Bowling Green, Kentucky.
"For years me and Dad used to consistently travel to eight divisionals and six national events every season, but with a new job, wife and a brand-new baby girl, the schedule had to be rearranged somewhat," Ryan says.
These days, in addition to attending select divisional meets, the Haags enjoy competing in various Stock/Super Stock combo races that many area tracks offer in conjunction with their regular bracket program. It makes for an exciting day of racing for fans as well as competitors, when often upwards of 50 to 60 Stock/Super Stock cars turn out for their respective categories. "We love these combo events and hope to attend many more of them this year," Ryan says.
No matter where or when he races, though, you can be sure Ryan Haag will be looking forward to adding to his own, personal highlight reel.