As autumn approaches and the weather begins to turn cooler, Roy Hill is heating up.
Entering a stretch of races he considers to be the most critical of the year, the 69-year-old drag racing legend is simultaneously competing in Super Stock and spearheading the launch of a brand-new Jr. Dragster program at Roy Hill's Drag Racing School.
"I've never been shy about trying new things, and I'm diving back into Jr. Dragsters head-first. I've been involved with Jr. Dragsters since their debut in 1992 and I've worked with Bob Tasca IV and the Tasca family on their Jr. Dragsters for the last several years, but this will be a much more extensive program," Hill said. "Many graduates of Roy Hill's Drag Racing School progress into full-size cars, and I'm launching a new program where I purchase their Jr. Dragster and offer them a package to attend the school again, this time to earn their 'big car' license. In addition to that, Jr. Dragsters will be a primary focus of Roy Hill's Drag Racing School going forward and I'll be selling Jr. Dragsters as well. Working with these youngsters is something I enjoy and I'm really excited about it."
To kick off the new initiative, Hill has teamed up with zMAX Dragway in Concord, NC, as well as a host of supporters to stage a Jr. Dragster exhibition at the upcoming NHRA Carolina Nationals on September 12-14. A field of six Roy Hill's Drag Racing School Jr. Dragsters will take to the track, with three of the cars raising awareness for children's charities.
Cameron Gibson of Chaptico, MD, will be behind the wheel of the Roy Hill's Drag Racing School Jr. Dragster sponsored by Victory Junction and FireAde 2000. "I sat down with Austin Petty, Chief Operating Officer for Victory Junction, and he loved the idea of being involved with this program," Hill said. "Cameron's goal is to raise enough money for Victory Junction to receive a 'Dream Car' and he's selling FireAde 2000 products to achieve that goal."
Kayleigh Love from Durham, NC, will pilot the Roy Hill's Drag Racing School Jr. Dragster sponsored by Speedway Children's Charities and FireAde 2000. Burlington, NC's Trey Bradsher will drive a car featuring the Ronnie Thames Foundation, the charity founded by FireAde 2000 owner Ron Thames in memory of his son. The Ronnie Thames Foundation supports children's burn hospitals around the country.
The Moss brothers from Elon, NC, round out the six-car Jr. Dragster field. Twelve-year-old Harris, nine-year-old Hunter, and seven-year-old Hudson will each compete in cars backed by their family's auto center, Wilson Tire & Automotive in Elon. The Moss brothers are third-generation racers; their grandfather, Mike Moss, began racing at Piedmont Dragway near Greensboro, NC, in the 1960s and their father, Steven, started racing in 1989 and currently competes in Top Sportsman. All three generations race together nearly every weekend, collecting numerous IHRA Ironman trophies along the way.
NHRA has expressed interest in possibly expanding the field beyond six cars; if that comes to fruition, Hill will be prepared with additional cars and drivers, including the two sons of Herb McCandless Jr.
To help manage this new Jr. Dragster program Hill has added Derrick Beach to his staff. Beach is a graduate of the Jr. Dragster division and currently races a Super Comp dragster at NHRA Lucas Oil Drag Racing Series events.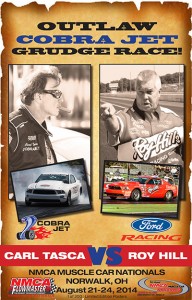 "Before we get everything going at zMAX Dragway we've got two very big Super Stock races on the schedule," Hill said. "This weekend during the NMCA Muscle Car Nationals and Ford Racing Cobra Jet Showdown at Summit Motorsports Park in Norwalk, OH, we have round two of our match race series with Carl Tasca in the Ford Mustang Cobra Jets. The first race was back at the start of the year in Bradenton, FL, and I took the win. I'm sure Carl will be coming after me in this one!"
Upon returning from Norwalk, Hill will host a Roy Hill's Driving Experience corporate event at zMAX Dragway on Tuesday before traveling to Indianapolis for the biggest race of the year, the 60th annual NHRA U.S. Nationals.
"There's nothing bigger or better than winning Indy," Hill said. "We're only running one of our James Finch-owned Super Stock Cobra Jets this year, and I think that will allow me to focus better on my driving and tuning. I won Super Stock B/Automatic at Indy in 2010 and 2011, and Charley Downing won AA/Automatic in 2011 in one of our cars. It would be great to do it again for FireAde 2000, Hughes Oilfield Transportation, Alsco, Ford and Coca-Cola."