Without question, a top-notch crew chief is a necessity to be successful in drag racing. But in 2018 can that person also double as the driver? The sport was built on the do-it-yourself competitor, someone who made the tuning calls and then got behind the wheel. Of course, technology and the rapid advancements in the sport have made that DIY role nearly extinct.
There are a variety of factors as to why. The maintenance program is different and far more complex. The rise of torque converters has forever changed things, and there's a bevy of specialists and variables that add to the complexities of being a crew chief. Doing that and driving has become a rarity and when all the responsibilities are considered, it may be understandable.
The old expression "bringing a knife to a gunfight" comes to mind with the DIY role, and yet some have still managed to thrive and take great pride in doing so. As those in that particular situation explain, it usually comes down to work ethic and a willingness to adapt while also recognizing the odds are stacked against them.
DRAG ILLUSTRATED talked to a number of crew chiefs – including some who double as drivers – to get their takes on if it's still possible to be both tuner and driver, and how dramatically the role of crew chief has changed with the technological advances in the sport in recent years.
Brad Personett
Pro Mod

Brad Personett was one of the top DIY guys in Pro Mod at one time, tuning his car and then driving it to great success for a number of years. But those days are far removed for him. His days of driving are done and now he's the hired gun, making the tuning calls for top racers, including Pro Mod standout Shane Molinari. He trusts Personett to make the proper calls in key situations and more often than not, he delivers. It's a far different role, but in Personett's mind, doing it all is no longer feasible.
"It's what the sport has become. There's not enough time in the day to keep up with it. That's the deal in Pro Mod. If you can't put together the budget to do it, you might as well not even go.
If you can't go out and make runs and eliminate problems, you're just wasting your time and money. You're just not magically going to go down the track. I have customers overseas and they see everybody go fast, and they think they can just do it.
But everybody has experience now. You're not just going to show up on Friday and be successful. There's so many more variables other than just seeing if the track is good. You have to make gut calls of what you can and can't get away with. The people with the most experience and the most runs, they have the upper hand.
It's pretty much stayed on the same plane as far as maintaining these things and putting parts on them. But you can't afford not to. The stuff has to be stayed on top of and cars have to have a full-time guy. You can't come unprepared.
With the torque converter, you get smarter with every run. It's evolved so much, now you can go up and go down the track every run and just destroy someone on the starting line. There's no advantage to having a clutch.
(Torque converters) are only getting better and better. Things are just evolving and there's a lot more variables to juggle and stay on top of. If you had a competitive car back in the day and show up running that now, you're racing for spot 18-24 or worse, guaranteed. That's just the way it is."
Rickie Smith
Pro Mod
The king of DIY, at least in the Pro Mod ranks, Smith has done it all, mostly because it's the only way he knows how. The track record of wins and championships speaks for itself, showcasing a work ethic unmatched in the sport. But even Smith has enlisted help, working with Brandon Switzer as his team includes a second car with driver Khalid AlBalooshi.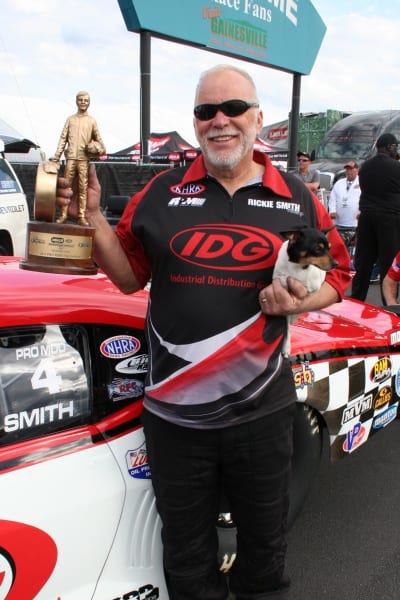 "I make my tune-up calls, drive my own 18-wheeler, drive the car and go out and get most of my sponsors. I just don't roll in and get out of the way. I try to do my own work. I guess it's become I've done it all years ago when I came up through the Pro Stock ranks and I helped a lot of the Pro Stock guys in the early 2000s.
I had my own engine shop, I built my own engines, I know how to read spark plugs and all that stuff. It's just being able to stay on top of it. If I had to quit for a couple of years, I would have gotten pretty lost. I've stayed involved and it's kept me up to date.
The last 4-5 years it's advanced so much. I just didn't want to get into having to hire a crew chief with a turbo car, that's the reason I stayed with nitrous cars.
(But) what's helped me some is I hired Brandon Switzer. He's taken over (Khalid AlBalooshi's) car and I can focus on my car more. We share information, we try stuff, we go back and forth and that's helped me with the automatic. It helps to have someone to bounce things off of and we've got confidence in each other.
A lot of it for me is old-school driving, being able to feel it in the seat more than looking at the computer. You feel what the engine is doing and a lot of things you'll feel that a computer won't tell you. A lot of drivers can't tell you that, understanding what the engine is supposed to feel like. I've still got that old Pro Stock mentality. That's just the way I've always raced and it's saved me a lot over the years.
The torque converter was a learning curve and it still is. I have a little more confidence in it, but I didn't have a clue what to do with it. I've definitely come a long way the last few months. It definitely made (the car) more consistent. But a pro in my book runs clutches. An automatic is for people who don't want to work on cars, thrash on them. You have to have a better crew chief to run a clutch."
Tim Wilkerson
Funny Car

In many ways, Wilkerson is living the American dream. He runs an auto repair shop and also goes 320 mph in his Funny Car, a dream that Wilkerson made reality. He runs his race team out of his shop and Wilkerson has managed to stay successful in a world of super-teams. It's never been easy, but Wilkerson has 10 straight top 10 finishes, living the dream while always managing to persevere.
"I would say I'm the only guy who does all of it. Maybe Del (Worsham) and I. Fans tell me it's cool I do that, but probably in the next 2-5 years that will be over with.
More than anything, it's just a necessity. I can't really afford to hire a full-time crew chief. Richard Hartman has been a lot of help and I've had good job offers, but I really enjoy doing what I'm doing.
The coolness of doing it all, it's really intriguing to me, the tune-up part of it. The psychology part is the hardest part anymore, but I really enjoy racing the bigger teams.
It's good for the sport. I probably heard it 50 times (in Seattle) and I didn't even really get a chance to stand around. But it's good to see a privateer running well and I think that's NHRA's goal to try to keep it close.
The whole sport is trying to have a progression where people end up in Super Comp and then go to Comp and then to Alcohol (Dragster or Funny Car) and then to nitro. That's always been the sport's goal, but the nitro cars have just gotten so expensive.
I got in this because I like to go fast and I do it because it's exciting and I want to be at the top of the sport.
It's people, it really is. I know that in my own business. I've got quality people in my auto engine shop and machine shop and this has gotten that way, too, where we train them and somebody else hires them. It seems to start over every couple years.
I'm not bad-mouthing anyone. I get it. But it shows. It takes us 6-8 races to get going and we went through a terrible start to the season where everything went wrong.
The parts attrition (now) is just awful. It goes up 10-15 percent a year. You used to get 10 runs on a rod, now it's five. At Denver, you throw half the rods away every run. You used to get 10-12 runs out of crankshafts, now you get five and it's a much more quality piece now.
It's a good show for the fans, but we know the costs are out of control. At the end of the day we're in the entertainment business and it's such a unique experience. It's a tightrope you walk, trying not to screw that up.
But this and how we've done it is a huge source of pride. My wife came to me about 20 years ago and saw I had nitro Funny Car in my veins. I owned six gas stations at one time and this is way more fun than selling tires and batteries every day. We started at the bottom and we haven't gotten to the level of John (Force) or Kenny (Bernstein), but we're really enjoying ourselves. We go there to win the race and it's a great source of pride for me and a great source of pride for my guys at the shop."
Todd Tutterow
Pro Mod

Good luck trying to take the tuning reigns from Tutterow, who has prospered despite taking on every role he can. That's just the way he likes it and the track record speaks for itself. But Tutterow has also been flexible and open to new ideas, a major reason why he's stayed relevant and at the top of the heap for decades. It's also gone a long way in earning the respect of fellow drivers and legions of fans.
"There are just a few of us (DIY guys) left. There's very few of us who drive our trucks, set up, drive and tune. There's been enough money that's come in the sport that you can buy a car and pay someone else to do all that.
I've been doing it for years. I tune my own car because I drive it and I also tune other people's car. That's something I've always done, basically do everything but paint the car.
Yeah, it may be a dying breed. There are very few people that can still do it all. Brad Personett is one. There's a few left, but teams have gotten bigger.
It's such a long process to pick up stuff, gain that knowledge and learn, and continue to add to it. It has gotten more specialized and there's so much technology involved.
I try to keep an open mind and I'll try anything. But you have to think out of the box. Just because you used to do something that way doesn't mean it still works. I go off the hip and adapt, and it's really gotten easier as far as the driving because it's all automated. The tracks are perfect and that's the reason the cars have gotten faster – the tire technology and the track prep technology.
The torque converters are getting better and better and the tuning windows open way up. I'm a clutch guy by heart, but when something is available and it's better… If you don't have it, you're at a disadvantage.
For me, it's a personal satisfaction. I've never had anybody tune my stuff. It's just a matter of experience."
Rick Jones
Pro Stock
The noted car builder is also a top crew chief for Elite Performance, making the calls on Erica Enders' two Pro Stock world championships. But there's nothing DIY about Pro Stock these days. Instead, it's like a 2,000-piece jigsaw puzzle that must be put together every hour several times a weekend. Having it all click is never easy, but getting it to do so is part of the thrill for Jones.
"It's definitely very sophisticated anymore, especially with the EFI stuff. You've got an engine tuner, an engine guy who does all the maintenance, a clutch guy, a back half guy and so on. When we come back after a run, there's a lot going on, and Rickie (Jones, Rick's son) and me look at all the data.
EFI has made it more difficult. You have a tuner just for that. It didn't really used to be that way. It has gotten way more sophisticated. There's more data, more things to pay attention to and more things to watch.
After we come back from a run we're always tuning to the track because the car changes. The racetrack gives you 'X' amount of grip. When it's good you make changes, when it's bad you make changes. That means you have to work on transmission ratios, clutch, get the optimum power to the rear and you need really good notes. It's very hard. You have to have a lot of experience to know what to do.
The driver comes back and also tells you things and you have to tie it all together and make a decision. You make a list on every run and you make the best, educated guess you can.
At this level, that's a lot of pressure, so you have to have a really good group of people, a good core of people. Everyone works well together. Everything has to jive together. The engine guy has to believe in the crew chief, and we have to pull from everybody.
Ultimately, drag racing is about grip. The hotter it is, the less grip it has, so when the track gets hot that goes away. When the track is hot, you have to put more bite in the car. If you go up there and it's 85 degrees, you may pick up 50-80 pounds of grip. The rubber gets tighter and you can't go up there with the same amount of bite because your car can have too much grip and be slow.
It's all about grip and how much available grip the track has to how much bite you have in your car."
Dean Marinis
Radial Tire

The class was every bit DIY for a number of years, but like everything in drag racing, things change and they change in a hurry. The top teams have hired tuning guns, all centered on finding an extra performance edge. Marinis still goes the DIY route, but his opinion is highly regarded by others, too. Still, Marinis likes the workmanlike nature of the class and it's something he won't ever change when it comes to his approach.
"I consider myself a DIY'er from chassis to the engine to whatever else. I specialize in the nitrous end and it's become a lot more involved. Everything has to be in place to make it run well.
The competition is so close your brain has to be in overdrive the whole time. Every round has to be a good round, so it's definitely challenging. It's one of those deals if you had a job to do and didn't love what you're doing, you would never do it. The hours we put in, we leave the track and the wheels are still turning on the way home, planning for the next week and the next race.
But I always give 100 percent. The day I give 95 percent, I'm going to call it a day.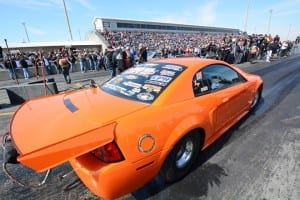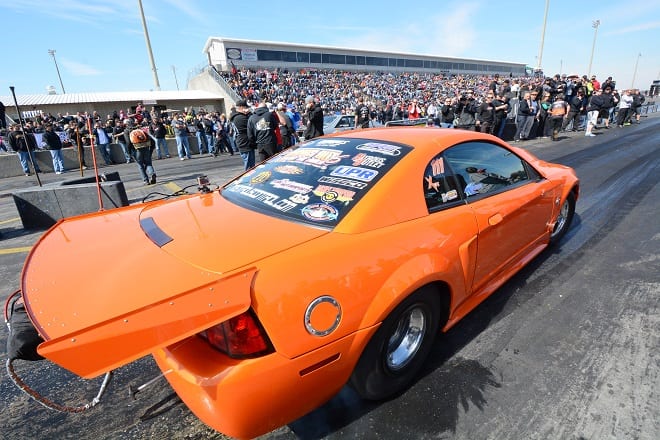 Things have definitely evolved and you have to look at all aspects of it. Every single aspect has become critical. Your bottles are filled to the ounce. You want the last check on the tires right as the thing is hitting the water box. As the competition has grown, it really puts a premium on the details. There are so many variables – shocks have come a long way, new struts, the way the car launches at the starting line – there's so much stuff on these cars now, it's crazy.
The converters have come a long way, but again if you want to be up front you have to be locked in on every aspect of it. Now we're changing turbines, pumps, and all that. There's different clutch clearances in the lock-ups and there's no longer one converter that does it all.
One key that remained the same is power management. I'm lucky to have the right people behind me helping out, getting me the proper tools. One of the advantages of the radial tire has always been about power management and knowing how the track is going to react."
Photographs by Joe McHugh, Cole Rokosky, Rick Belden and Sadie Glenn
This story originally appeared in DI #136, the Crew Chief Issue, in September of 2018.