While the internet was busy focusing on the Keith Berry versus Brad Edwards rivalry, another radial tire driver was on the hunt for notoriety. Rob Valden, pilot of the maroon '90 Mustang owned by Andrew Alepa, clicked off so many jaw-dropping 3.96- and 3.97-second passes during a recent test session that he could be mistaken for a bracket racer.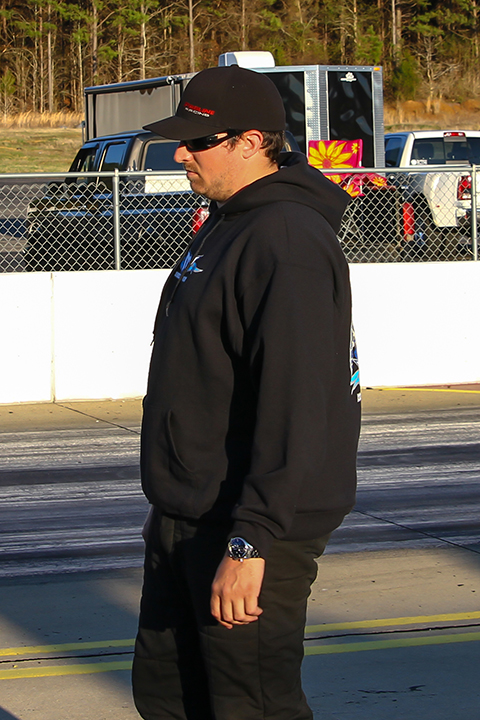 Valden's Fox Body has been a major player on the radial scene for several years, although it wasn't until the early February test session at Florida's Bradenton Motorsports Park that the team really got a handle on its combination. Valden and Alepa are quick to admit that no expenses were spared when they originally built the 25.3-certified car which features a host of stock-style suspension components from Racecraft, Inc. At the heart of the Mustang sits a 572ci Stage 3 481X engine from Pro Line Racing, complete with a set of 98mm Precision turbochargers. Coupled with a transmission from Mark Micke at M&M and a ProTorque converter, Valden and Alepa's configuration really isn't anything too out of the ordinary.
Both Valden and Alepa confirm that nothing major was changed on the car during the off season that would have impacted its performance so significantly. Valden explains that they "made some changes to the rear end, but really didn't touch much else." PLR freshened up the motor, the car was rewired, and a few odds and ends were cleaned up to make it easier to work on. What made the biggest difference, they say, was simply having Pro Line Racing's turbo tuner extraordinaire Steve Petty around for tips. "Petty sees things everyone else doesn't. He is the MAN when it comes to turbos. He got our tune cleaned up a lot, and it showed in the performance of the car," Valden confirms.
On Tuesday, February 3rd, Valden unloaded the car and put down a 4.07-second run in the eighth-mile, followed immediately by a 4.01 at 199 mph. "I knew we were right there," he says. "Only a handful of people have been in the 4.0s, let alone that deep, and we were really excited." To prove it wasn't a fluke, Valden made a second 4.01-second run in the heat of the day on his Mickey Thompson 315 radials, and was shocked to eclipse the 200 mph mark as well with a 202.06 mph trap speed. Shortly thereafter, Valden was initiated into the radial tire three-second club (as the third driver to ever do so) with a 3.987 at 201.88 mph pass with a 1.085-second 60-foot time.
"On the 3.98, it didn't 60-foot as hard as it did on the 4.01 pass, but ran harder in the middle," Valden says of his car's first trip to the threes. That insight, though, told him that they still had a bunch of potential left on the table, and the guys didn't quit until they took advantage of every bit of power they could. The two, along with Steve Petty and crew chief Brandon Stroud, worked to make the necessary adjustments to the tune, and the very next morning, their efforts paid off.
Fresh off the trailer on the morning of February 4th, Valden clicked off an even quicker 3.97-second run, and then soon bested himself with a 3.967 ET at 201.70 mph. Excited by their progress, Valden started making hit after hit, but his car eventually began to misbehave. "It started doing weird stuff. It would wheelie, then go left, or go right, and it was getting hard to drive. It was almost uncontrollable once we got to the 300-foot mark on our last run," Valden recalls of the tough time he had controlling his Mustang as it ran wild down the track. Before finally calling it quits, Valden put down more 3.97s and 200+ mph runs than he could keep track of that Wednesday, further proving the legitimacy of his achievement. However, an inspection of the car resulted in the discovery a broken front strut. Once that's fixed, though, the guys fully expect the car to run even harder.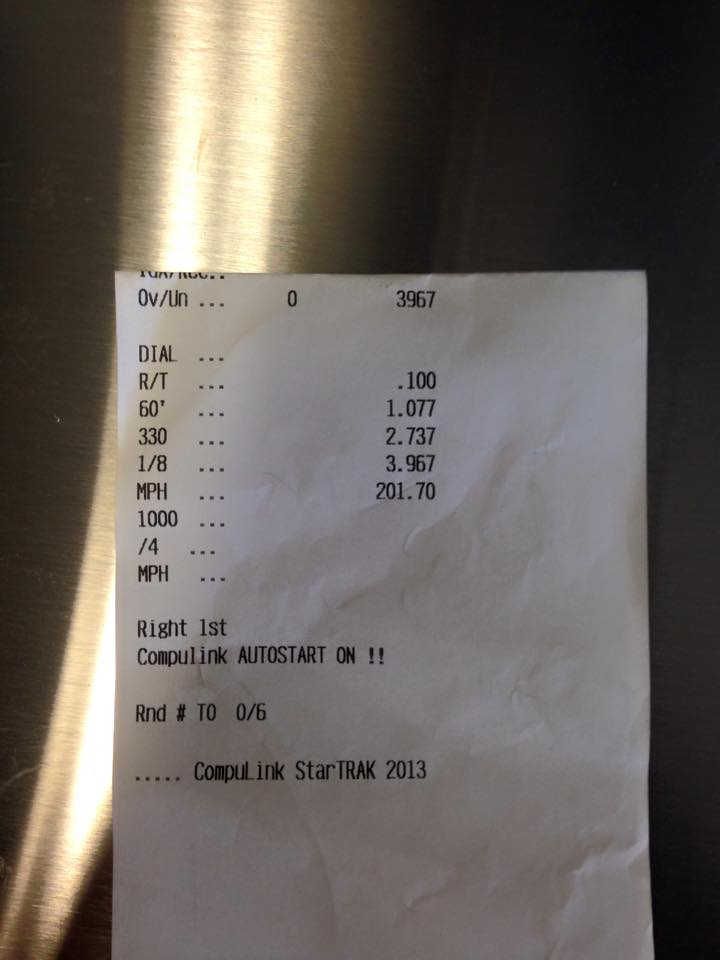 Next up for the hot shot duo is Donald "Duck" Long's "Lights Out 6" radial race at South Georgia Motorsports Park on February 19-22, 2015. Valden and Alepa are planning to make a big impact at the event, and have set their expectations on winning. "Why even go otherwise, if you're not trying to win?" asks Alepa. "We fully expect to run in the 3.90s. Legitimately. We race the track, as do our competitors, but we like it when it's a driver's race. If that's the case, I've got the best one out there!" he notes, fully confident in Valden's skills.
After Duck's, Valden and Alepa will make the rounds on the radial tire circuit, attending some of the big-name "King of the Hill" style events across the country, and possibly some NMCA events as well. "We had been missing out on the action recently, waiting on people and parts. Now, we've got everything in place and expect to be very competitive," says Alepa. Given what the two accomplished in testing, they just may be the car to beat in 2015.
Photos courtesy James Sisk