The sophomore edition of the Lucas Oil Pro Mod Shootout was this year presented by E3 SparkPlugs. The rules allowed Big Dog/EOPM rules, which basically means any power adder but NO screw blowers. That said, there were also eight pre-qualified cars allowed – four from Big Dog and four from EOPM. These were, from Piedmont's Big Dog Shootout, Travis Harvey, Chris Cline, Tommy Mauney, and Zach Hauser. From the Extreme Outlaw Pro Mod series, Jay Cox, Chris Rini, Ty Tutterow, and Tommy Franklin. Since Tommy was staying home to get ready for the PDRA event upcoming in Virginia, Todd Howard was the fourth car.
With half the field established, we will follow the qualifiers, from 16th up to the number one qualifier, who just happened to win the event. As there ended up being 15 cars on the property to take a time, we will follow from there and see how their day progressed. At number 15, the GodFather of Pro Mod, Charles Carpenter had a tough day with only a 6.15 qualifying et. Charles ultimately drew Jay Cox first round and ended a frustrating day. At 14th was Todd Howard, who actually drew a bye in the first round but lost to Stevie Jackson in the second round. With a 13th qualifying spot was Brian Schrader at a 4.16 et. Brian was no match for Tommy Mauney's 3.82 in the first round. Number 12 was engine guru, Billy Albert, in Earl Farmer's beautiful '69 Camaro. Billy lost to TM in the second round. Bubba Turner's supercharged entry ran a best of 4.062 and did not make the first round call after qualifying number 11. In the 10th spot was Chris Cline's "Christine", having found his footing in the horsepower department, running a 3.893 only to lose to Randy Weatherford in the first round. Last year's winner, Chris Rini, finally ran a 3.870 for the 9th spot. Chris's ATI sponsored '69 Camaro drew Rivenbark in the second round and lost to Kevin's barrage of 3.70's.
In the top half of the field was Jason Harris in 8th at 3.848. Jason's Drag 965 "Warbird" lost on a redlight in the first round. At seventh was Randy Weatherford's WS Construction '69 Camaro. Randy broke in the second round to Cox's equal barrage of 3.70 ets. Sixth was Stevie " Fast" Jackson, making his first appearance at historic Piedmont Dragway, with a great 3.846 ET. Stevie "Fast" got to the semis where he slowed to a 4.46 and lost to Cox. Travis "The Carolina Kid" Harvey, in the Boone Motorsports Camaro, was fifth with a 3.829 only to lose to Billy Albert in the first round. Travis left knowing he was the points champ in Piedmont's Big Dog Shootout – no small task.
The top four began with veteran Tommy Mauney, having eliminated past gremlins with a stout 3.809 et. Tommy got to the semis, only to face eventual winner, Rivenbark. In third was the 3.794 of young Ty Tutterow's GALOT Motorsports entry. With each pass, this young man is becoming more of a force in our sport, just like his famous dad, Todd. Second was the Bryant's Crane & Rigging '69 Camaro of the Jay Cox family. With Charlie Buck power, Jay set a new MPH record of 202.06 MPH, running high 3.70's all day only to slow in the finals to an off-pace 5.29. With a number one qualifying ET of 3.730, Kevin Rivenbark drove John Strickland's Team GALOT Camaro as though it was a bracket car running an incredible string of seven runs in the low 3.7 range. His slowest ET was a terrific 3.74 in the semis and a 3.716 in the second round. Great job to the whole GALOT Motorsports group. In the finals, Kevin ran an incredible 3.716 for a new track ET record. Mr. Earl Wells is surely proud and I am equally sure that "Tater" is very proud of all of you.
The Super Clean Renegade crowned a points champ in Brett Nesbitt who, in addition to the title, set a new MPH record for the class at 178.64MPH and qualified number one with a 4.058. Eventual number two finisher in points, Charles Richards, Jr. won the event, defeating Tim Lawrence. The Renegade eliminator had two notable additions with John Moretz, coming from Jr. Dragsters to Renegade, just missing the field. Also of note was the Mountain Motor Pro Stock Car of Mike Kennedy and Larry Overby. Driven by RCR engineer, Andy Street, they qualified the car still running a clutch and a five speed. Notice that, Mountain Motor guys….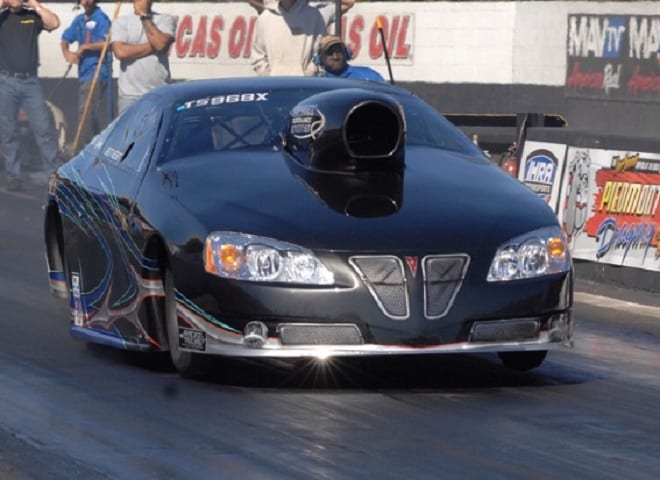 Other winners were Gerald Thomas over Robbie Stone in MT 6.0 Raiders. Outlaw Doorslammer eliminator was taken by Jordan Wike over Sean Morrison. Rico's Real Street 7.49 ET was won by Garry James over Dwayne Bowman and the EOPM Jr. Dragsters class was won, again, by Sierra Eure over Nick Reavis.
As this is the final Pro Mod event at Piedmont for the season, let's be sure and thank a lot of people. First, Gilmer Hinshaw, Ron Senecal, Kevin Shipmon, and Joe Robertson for all the work they put in at the track this season. Thanks to all the sponsors, first and foremost, ATI. After losing their patriarch at the beginning of the season in Jim Beattie, they hung tough and we all hope they will be back next year. Last, but not least, enormous amounts of gratitude to Jamie Devney and Lucas Oil, along with Protect the Harvest and E3 Spark Plugs for being the title sponsor for this event for the second year and allowing the fans to see the best in Pro Mod racing at the "DoorSlammer Capital of the World" Piedmont Dragway.
Story and photos by Greg Burrow