For the third race in a row, PDRA Pro Boost racer Kevin Rivenbark left Saturday eliminations as the race winner and points leader. The North Carolina native stayed undefeated this season when he won the Professional Drag Racers Association (PDRA) Texas Nationals near Dallas this weekend. Also victorious were Jason Scruggs (Pro Extreme), Jay Cox (Pro Nitrous), and Chuck Wilburn (Pro Extreme Motorcycle).
Texan drivers won the PDRA's sportsman and Junior Dragster categories, with Lubbock's Monte Weaver winning Top Sportsman and Orange's Chase Murray scoring his first-ever PDRA event win in Top Dragster. The Pro Junior Dragster win went to Ty Casey and Trent Augustyn won in Top Junior Dragster.
Pro Boost
GALOT Motorsports drivers Kevin Rivenbark and John Strickland swept the GALOT Motorsports Park Pro Boost class for team owners Earl and Peggy Wells. Strickland was the number one qualifier, Rivenbark was number three, and the two drivers marched through eliminations to meet each other in the final round. The win was Rivenbark's third victory in as many races this year.
"No words can describe it," Rivenbark said of his undefeated season so far. "I never imagined this. We just came out of the gate the first race of the year at Tulsa and struck it good. We found a few things over the winter and towards the end of last year. It's worked out for us so far. I'm sure everyone else will catch on, but right now I'm enjoying it. You win three in a year and it's unbelievable. Three in a row is something else."
The win was also meaningful to Rivenbark because it came against his teammate. The North Carolinian had previously faced tuner and GALOT Pro Extreme driver Todd Tutterow in final round competition, but this marked the first money round meeting for Rivenbark and Strickland.
"It turned out my way this time, but it could go the other way next time. We run them to the end and whatever happens, happens. An all-GALOT final means GALOT won, no matter what."
The two GALOT cars were running in the mid-to-low 3.8-second zone throughout eliminations, running within just thousandths of a second of one another. Rivenbark's 3.832 at 197.48 mph run bested Strickland's 3.847 at 196.30 in the final round, the closest race of the day.
Pro Extreme
Twice the runner-up this season, defending NAS Racing Pro Extreme world champion Jason Scruggs earned the PDRA Texas Nationals victory with his final-round win over local favorite Frankie "Madman" Taylor. Scruggs, the "Mississippi Missile", used a .044 holeshot and 3.589 at 217.25 pass to defeat Taylor's quicker 3.583 at 212.06.
"I had a worry going against everybody today," stressed Scruggs, who qualified number two with a 3.618. "We weren't really running as good as we should be running. Frankie was running good. Brandon Snider, the round before, was like a final round [3.571 to Snider's 3.572]. Every round was tough today. Everybody out here in Pro Extreme right now is so tough. You have to be on your game on every end and then have a little luck on top of all that."
Scruggs, who thanked sponsors ScruggsFarm.com, RJ Race Cars, Hoosier Tire, Flatout Gaskets, and MVM wheelie bars, saw the victory as redemption from the first two races of 2016.
"You don't need to be the runner-up. You start getting in that little rut. I needed that win pretty bad. I got beat on a holeshot at the last race so that's been eating at me for five weeks."
Pro Nitrous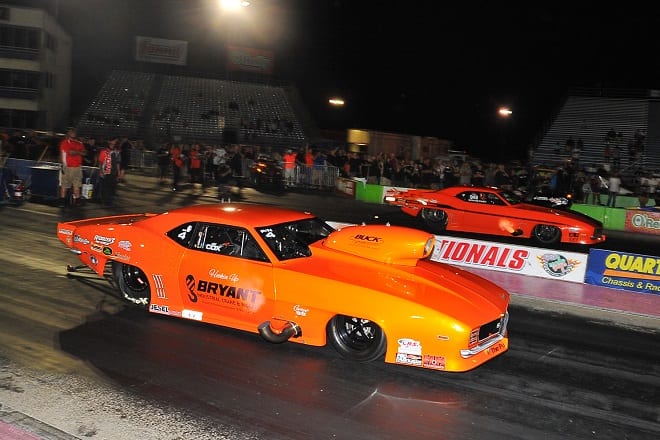 The "Nitrous Wars" of the Switzer Dynamics Pro Nitrous class heated up on Saturday when Jay Cox scored the first PDRA Pro Nitrous victory for engine builder Charlie Buck.
"I'm tickled to death that I could do it for him. I don't care, whatever it takes, we'll do it. Charlie Buck – great guy, works harder than anybody and is the most deserving engine builder in my opinion," Cox said.
The Bryant Industrial Crane and Rigging team seemed to thrive in the hot Texas conditions that plagued others.
"I like hot weather racing. Anybody can win then and it's more of a tuner's race. I like that style of racing. This far away from home, I'm shorthanded on help. I just have my dad, Bryant and Dennis, which is fine, but when it's hot like this you just get beat down real bad."
Cox was one of the quickest cars during the hot qualifying sessions, but went into violent tire shake on a first-round bye run. Surprised by the shake, the North Carolina driver went conservative for his quarterfinal match against Keith Haney.
"I was going into second round not really knowing where I was at with the tune-up, so I put something in there that was safe. Once you start a race you get in that race mode. It's hard once you've shook the tire first round to get back into that race mode. You want to play it too safe."
Cox won that round with a 3.819, then stepped up to a 3.802 to send Jim Laurita back to West Virginia. The final round was a battle of orange '69 Camaros, with Cox's Buck-powered entry lining up against number three qualifier Steve Jackson and his Reher-Morrison power. Cox was quicker on both ends of the track, winning the 3.865-to-3.912 decision.
After thanking supporters Mark Micke transmissions, Neal Chance Racing Converters, RJ Race Cars, and Hoosier Tire, Cox offered well-wishes to journalist and photographer Ian Tocher, who is recovering from injuries sustained during an April racing incident that claimed the life of Top Sportsman legend Ronnie Davis.
Pro Extreme Motorcycle
Longtime drag bike rider Chuck Wilburn scored his third career victory in Drag 965 Pro Extreme Motorcycle. He was one half of some of the closest pairs of racing in the class during eliminations, improving each round to defeat Jeff House, multi-time PXM world champion Eric McKinney, and Jay Fisher before finding Chris Garner-Jones in the final round.
Garner-Jones led Wilburn in the points standings after the last race in Rockingham, but Wilburn was the man to beat this weekend. The Tupelo, Mississippi-based rider slowed to a 4.132 in the final round, but his starting advantage was enough to secure the win over Garner-Jones' 4.105 effort.
Top Sportsman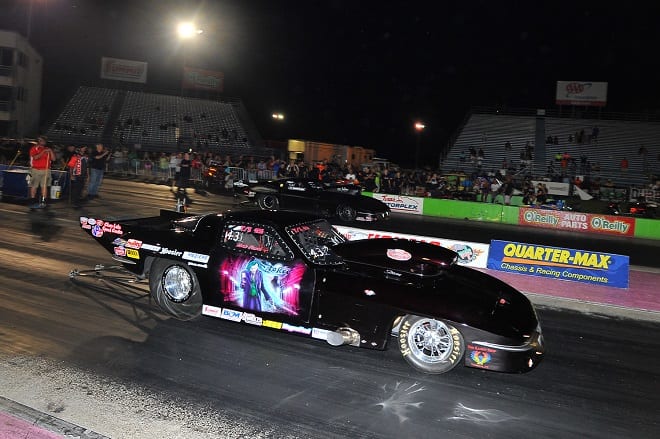 Ronnie Davis Top Sportsman presented by Magnafuel saw a local driver take the upset win over Dan Ferguson, the 2014 world champion and Dallas number two qualifier. Ferguson was better at the finish line, running 4.015 on a 4.01 dial-in, but Monte Weaver's .009 helped him take the trophy.
Even though Weaver and his Carpenter Race Cars-built '63 Corvette faced some of the class' most feared opponents, like engine builder Billy Albert and number one qualifier John Benoit, he was most worried going into the semifinal round.
"In the semifinals I had to run my good buddy from Lubbock, Jimmy Dickey. We've known each other for 25 years and raced against each other for all of them. That was probably my most difficult round because I love him like a dad. He's been a figure of that magnitude in my life. That was my toughest round for sure," claimed Weaver, a journeyman lineman.
Top Dragster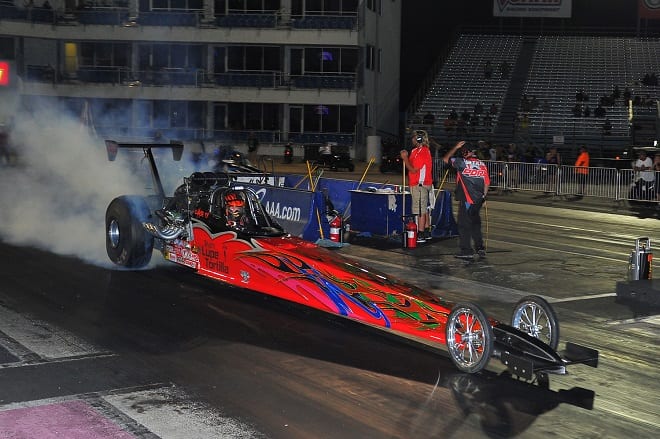 In Lucas Oil Top Dragster competition, qualifying was an accomplishment in itself as 29 drivers fought for 16 spots on race day. Chase Murray nabbed the 13th spot and earned himself a spot in the semifinals after round wins over Justin Kirk and J.R. Baxter. The Lupe Tortilla Mexican Restaurants-backed driver ran dead-on his 4.14 dial-in against Tulsa winner Bob Henry in the semifinals, then slowed by just two thousandths to a 4.142 to beat Wylie, Texas' Dillon Bontrager in the final round.
"We were worried during qualifying that we weren't going to make it because we have our back-up motor in and we were just really worried about it. It was difficult going through eliminations with the heat in the track and then as soon as nightfall came in the track got cooler and the car wanted to go faster and faster. At the end of the day we pulled it all out," concluded Murray, who races with his father, Walter.
Iowa Park, Texas' Laramie Reid won the PDRA Bracket Bash race over Dillon Bontrager. The Talbert Pro Junior Dragster victory went to Ty Casey over number one qualifier Amber Franklin. MegaCorp Top Junior Dragster event champion Trent Augustyn prevented a Casey family double-up when he defeated Trace Casey in the final round.
The PDRA teams will have two weeks off before heading to Martin, Michigan's U.S. 131 Motorsports Park for the PDRA Summer Drag, June 9-11.