Kevin Rivenbark is about to accept a new challenge this weekend. For the first time in his storied racing career, the 2016 PDRA Pro Boost world champion and NHRA Pro Mod racer will arrive at South Georgia Motorsports Park with a pair of radial tires tucked beneath the rear fenders of his GALOT Motorsports '69 Camaro.
And though he may be a stranger to most of the Radials vs. the World regulars at promoter Donald "Duck" Long's Lights Out 10 event, Rivenbark is coming to compete, backed by the vast tuning knowledge of veteran crew chief Steve Petty and armed with the latest in electronic race car wizardry from FuelTech USA, based in Ball Ground, Georgia.
Fresh off a brief test session in Orlando just days before Lights Out that yielded progressively quicker runs of 4.08, 3.88 and an impressive 3.71-seconds blast at 201.10 mph on just his third pass ever on radials, Rivenbark remains cautious, but confident.
"You know, this is a whole different deal for us, I mean, new avenue we never went down, so I'm not sure exactly what to expect. I've never been to one of Duck's races before, but I'm sure it'll be culture shock," Rivenbark remarks. "This is a whole new deal for us, too. New car, new combination, but I feel good. Real good. I like the way the car feels on the small tires. It's different, a solid feel compared to the bigger slicks."
Rivenbark's Jerry Bickel-built ride originally carried a screw blower when it belonged to PDRA Pro Extreme racer Johnny Cobb, and later a twin-turbo setup as part of Proline Racing's stable. Then, in its first outing with a ProCharger in place late last fall, Proline's Eric Dillard drove it to a number-one start and finished runner-up in the Elite 16 Pro Mod race at the Texas Motorplex, near Dallas.
Rivenbark says he and Dillard actually talked about the car nearly a year earlier with the intention of running it as a twin-turbocharged entry, but maintenance-wise and financially he didn't feel it was a good fit. However, after Dillard's success with the new combo in Dallas, Rivenbark says he was convinced to take the plunge.
"This deal came about with FuelTech and ProCharger being really energetic about being involved in it, and I liked the less maintenance, so it was just a good fit. I pretty much sold all our blower stuff to finance this," he says, adding that GALOT teammate John Strickland also will be switching to a similar combination. "His car is getting converted right now and should be through in the next week or so. Then we can start testing it and we'll debut it in March at the Mad Mule race at GALOT (Motorsports Park), and then we'll have the two '69s campaigning in PDRA."
Much of the car's consistency can be traced directly to FuelTech USA, a spinoff from the original company in Brazil.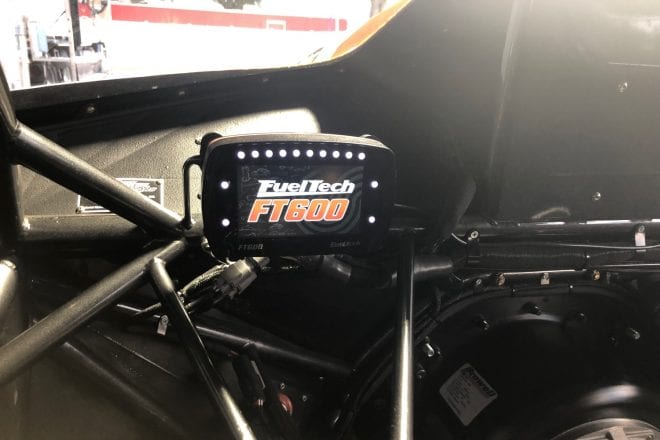 "Kevin has our new FT600 ECU which is one-hundred percent the brain for the whole car. So it manipulates all the fuel, all the timing, traction control, gear shifting, any time-based stuff it's on the unit," FuelTech Technical Director Luis de Leon says. As an example, he describes sensors placed all over the chassis and suspension that allow the FT600 unit to interpret ride height changes and almost instantaneously manipulate engine timing to maintain the desired ride height.
"That's what we call wheelie control," de Leon says. "And even on a Pro Mod that uses a wheelie bar it can be useful because it can have a lock-up mid-track, but you can make sure that if the lock-up is too aggressive and the car tries to do a mid-track wheelie the unit takes some timing to calm it down and it goes straight forward, not up high into the sky. So that can be helpful even in a Pro Mod, but even more useful on a radial car.
"So Kevin is going to radials this week and even though he's going to take the wheelie bar off, the car will be safer. We will not be wheelie-ing like crazy like we see so many cars do in Duck's races."
He points out the car also carries a FuelTech spark-aid module that provides power to eight coils, explaining each coil can deliver more than 120 amps to its dedicated spark plug, compared to a traditional magneto ignition that typically provides up to 44 amps per plug.
"The mag has a long spark, so that's useful for lower RPM nitromethane engines and stuff like that, but on ultra-high revving alcohol engines you don't want a long spark," de Leon says. "You want a shorter spark with a ton of current , so the spark is a shorter duration, but way stronger. That's where we see power gains on any kind of engine that revs more than 7,000 RPM."
In addition to Rivenbark, de Leon says several other top RvW competitors employ FuelTech ECUs and systems to cover the SGMP eighth mile, including overall ET and top speed records holder Mark Micke with his twin-turboed '78 Malibu, Jeff Sitton and his supercharged 2018 Camaro and nitrous racing star Jamie Hancock with his '68 Firebird.
"Micke, he still has the FT500 on that car, but Jeff Sitton, he's the record holder for a blower car and Jamie Hancock has the record for nitrous cars, they both use the FT600," de Leon says. "So the quickest ever with turbo, blower and nitrous on radials, all three guys use FuelTech. And maybe Rivenbark is next as the fastest ProCharger radials guy."
If it happens, RvW competitors may have to get used to the North Carolina native rolling through their racer gates.
"Right now I feel good, but we'll see how it goes from here," Rivenbark says. "After this I'll be switching back to PDRA and the big tires, but, you know, if we do well and time permits … "
Photos courtesy of Kevin Rivenbark/GALOT Motorsports Park