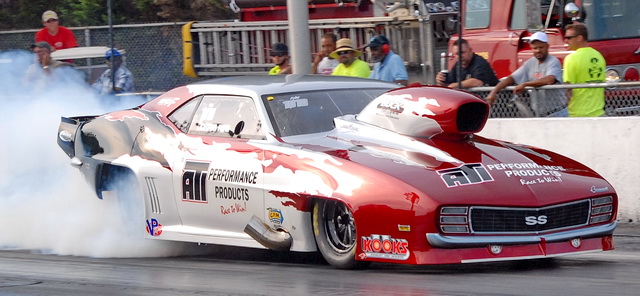 The September 2013 version of the ever-popular Big Dog Shootout presented by ZZD Plus at North Carolina's historic Piedmont Dragway, fell victim to a scheduling conflict against the ADRL event at nearby Rockingham Dragway, but the competition remained fierce with a full field of eight cars.
Present were points contenders Danny Perry, Chris Rini (above), Matt Giangrande, and Ed Hoover, along with Ernie Everett, Sandy Wilkins in his beautiful new '69 Camaro, Jeff Blasi and Brian Schrader.
As Jason Harris was not present, the top three points competitors advanced to the semis, along with Jeff Blasi. Perry and Rini advanced to the final which was anti-climatic as Perry slowed to a 5.49, while Rini blasted a 3.833 with top speed for the event at 195.77 mph.
The show ended up being with the Renegade Eliminator that had Jamie Chappell setting a new mark at 4.105 to show the 4-ohs were very close. Eliminations had Chappell running very consistently at 4.11, 4.10 and a 4.110 in the final to easily defeat a 4.27 pass by Jay Cox.
October rolled in with beautiful weather and a great field for the next Big Dog Shootout. Perry had already won the points battle, but the competition was just as heated as in the day when the pit area for the historic 1/8 mile track, in continuous operation since 1957, was all dirt.
It turned out to be the fastest field ever with Rini number one at 3.849 and eighth-place starter Blasi at 3.99 seconds. In between were Perry, Randy Weatherford and Harris in the top half of the field. Fifth was Hoover, with Travis Harvey sixth and Ed Burnley seventh. The non-qualifiers alone could have been a terrific show with Schrader, Todd Tutterow, Matt Giangrande, Dave Leonard, Bobby Baucom, and Jr. Ward all missing the eight-car cutoff.
Most consistent was Weatherford with a 3.843 in round one to defeat Ed Hoover before setting low ET and top speed for the event with a 3.832-seconds win at 197.022 mph over Perry in the semis. Meanwhile, Harris had an easier time on his side of the ladder as Hoover slowed to a 5.75 against him in round one and then Rini broke to set up a final that ultimately was called off because of the track's 11:30 p.m. curfew. Weatherford and Harris then split the purse and all went home satisfied.
The Renegade class in October saw Brett Nesbitt as number-one qualifier, followed by Chappell, Lassiter, Larry Peace, Tim Lawrence, Charles Terrell, Sandy Wilkins and Wayne Hawkins. Non qualifiers were Cox and Billy Albert. The final featured a new winner, as Peace ran a 4.12 to defeat a 4.15 by Chappell.
All this leads up to the North-South event next month, when the top five Big Dog cars will run against the top five from the Northeast Outlaw Pro Mod Association. Moved to Nov. 9, this event also will be the final points race for Renegade competitors, as well as all other eliminator brackets at Piedmont Dragway. As it stands, the Big Dog competitors will be Perry, Rini, Harvey, Giangrande and Harris, with Hoover and Kevin Rivenbark as alternates.
(Photos by Greg Burrow)