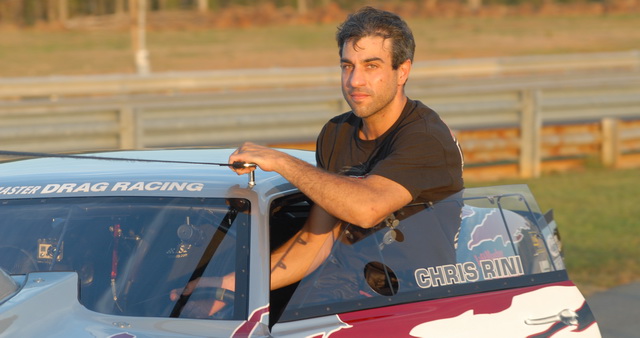 At the end of the 2012 season, Piedmont Dragway's management decided to make major changes in the rulebook for the 2013 season. With new title sponsor ZDD Plus and other sponsors such as, Mickey Thompson tires, the time was right so all power adders were allowed, as well as tires.
Qualifying was a moot point as many cars left for the ADRL event in Georgia, only to get rained out, so the eight cars that were on the property made the field. General Manager Kevin Shipman thanked each driver that came and supported the show and assured them their loyalty would not be forgotten.
Final order of the eight-car field ended as follows: Chris Rini above) at 3.949 at 187mph. Travis Harvey, second at 3.961. Danny Perry at 3.982, and Andy Beal rounded out the top side at 3.999.  The second half of the field had Ed Hoover at 4.09, JR Ward at 4.13, Matt Giangrande's new Camaro at 4.15 at 187 MPH, with
Round one had Beal defeating Ed Hoover, Danny Perry defeating JR Ward, Travis Harvey defeating Matt Giangrande and Rini took out Jason Harris with a holeshot 3.99 to Jason's 3.95.
Semi-final action had Perry over Travis Harvey, 3.98 to a 4.72 and Chris Rini over Andy Beal with a 3.94. Unfortunately Beal damaged his powerplant and could not return so Rini took a shot for lane choice.
The finals had 2012 Champ, ATI sponsored 1969 Camaro of Chris Rini ran a bracket like 3.96 to defeat Danny Perry's off pace 5.77.
So much for new rules, two nitrous cars in the final…..
Renegade had a full field with 12 cars on the property. When qualifying ended, the same group showed the way with John Lassiter at 4.173, Jay Cox at 4.175 and Jamie Chappell at 4.197. The balance of the field had Wayne Hawkins at 4.22, Darrell Williams at 4.24, Brett Nesbitt at 4.26, and Brian Shrader at 4.28. Tracy Lawrence slid in at 4th with a 4.20.
The final had Jay Cox' Studebaker taking the measure of Tracy Lawrence. Jamie Chappell and John Lassiter were semifinalists.
OReilly Auto Parts Outlaw DoorSlammers was won by Leonard Langhorn.
The Mickey Thompson 6.00 Raiders was won by Billy Baker.
Deep Creek Motors 7.49 eliminator was won by Austin Garner.