Weather delays and an incredible car count at the Professional Drag Racers Association (PDRA) Brian Olson Memorial World Finals pushed the third qualifying session well into Saturday evening, but the wait was worth it for Switzer Dynamics Pro Nitrous presented by MoTeC number one qualifier Chris Rini. The New York native ran a career-best 3.694 at 199.26 mph to earn his first low qualifier award with the PDRA.
Also qualifying number one during Saturday's third and final qualifying session at Virginia Motorsports Park were Brandon Snider in NAS Racing Pro Extreme, John Strickland in GALOT Motorsports Park Pro Boost, Eric McKinney in Drag 965 Pro Extreme Motorcycle, Randy Perkinson in Ronnie Davis Top Sportsman presented by MagnaFuel, Jody Stroud in Lucas Oil Top Dragster, John Carinci in DiSomma Racing Engines Outlaw 10.5, and John Pluchino in PDRA Extreme Pro Stock.
PRO NITROUS
Chris Rini was sitting seventh when he pulled his ATI Performance Products 1969 Camaro into the stage beams for his third qualifying pass. He pulled off one of the quickest runs in Pro Nitrous history, a 3.694, to shoot right to the top spot for the first time in his PDRA career.
"I said if the car makes it past a hundred feet it's really going to be a good run," said Rini, who struggled with electrical gremlins earlier in the weekend. "You always hope for a good run, but I knew this one would be exceptional. The thing got out there and picked the front end up at 100 feet and just kept on truckin'. I looked over at the score board and I didn't think I read it right. I knew we had the right power, I knew we had the right parts – a Charlie Buck motor in a Jerry Bickel car with an ATI transmission."
The personal-best performance and corresponding qualifying position were a timely morale boost for Rini and his team as they enter the offseason. He'll face fellow New Yorker "Mean" Dean Marinis in the first round of eliminations on Sunday.
"I'm super happy that we made that run. My team's been down and out. We usually do real well and run at the front, but this season has been trying. Hopefully we're moving in the right direction now," added Rini.
Recent GALOT race winner Lizzy Musi is qualified second with her 3.717, followed by Steve "Stevie Fast" Jackson's 3.719. Jackson ran his representative performance in the final round of the rain-delayed Bradenton race, defeating Travis Harvey's 3.745 to claim the event win.
PRO EXTREME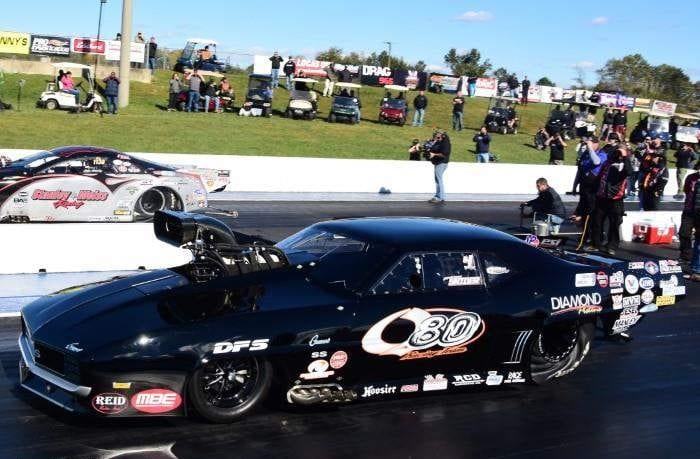 Atmore, Alabama's Brandon Snider faced mechanical issues of his own during the initial qualifying sessions at the PDRA World Finals. The current points leader finally caught the issue before the final qualifying session, allowing him to jump up to the number one spot. A stout 3.533 at 215.17 was good enough for the top spot, but Snider had an even lower elapsed time planned.
"We got the car back to where it should be and had it set up to run a high 3.48 to low 3.49," Snider claimed. "It went through to half-track and the car nosed over. I knew right then that it was eating up a gear in the back. I barely made it to the finish line stripe before the engine RPM got so high to get on the rev limiter. We had to pull the axles out of the car to get it back to the pits since it was just chewing itself up. Honestly we would've had a .48 or .49, but we're happy with the number one spot. We're ready to go some rounds tomorrow – we got our hot rod back."
Snider is one round away from clinching his first Pro Extreme world championship. The Q80 Racing driver tunes his own car with support from his small crew, led by longtime crew chief Jimmy Crenshaw.
"Jimmy and I have worked so hard back at the shop at night. People don't realize the amount of time that goes into these cars. I pretty much live and sleep with this thing within 60 feet of my house. I'm working on it every day and every night, and it's paying off."
A six-time number one qualifier this season, Snider will face Monte Grace in the opening round. He's followed in the qualifying order by Frankie "Mad Man" Taylor (3.543), defending world champion Jason Scruggs (3.546), logger Terry Leggett (3.548), and Swedish racer Mikael Lindahl (3.565).
A tense moment arose in Pro Extreme as Tommy D'Aprile and Terry Leggett battled for the Bradenton event win during the third qualifying session at Virginia. D'Aprile and Leggett each suffered severe engine explosions near the half-track mark, leaving their supercharged machines to coast to the finish line. Leggett edged out D'Aprile with a 4.118. Both racers will not return for eliminations in the Virginia race.
PRO BOOST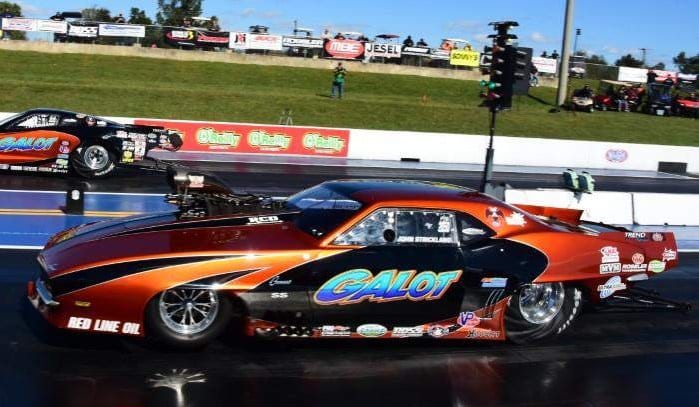 Pro Boost standout John Strickland is no stranger to quick runs in his GALOT Motorsports 1969 Camaro, but the North Carolina driver was on cloud nine after recording a 3.713 at 200.11 mph in the final qualifying session. The blast was quick enough to lead the 30-car qualifying order and for a potential national record, though Strickland was most pleased with the speed – his first time over 200 mph.
"Brad (Schmidt, car chief) told me that it was probably going to be a 200 mph run," Strickland recalled. "I didn't know if it would be a 3.71 or not, but I knew that they would try to get everything out of it. I was expecting it to be good, but I wasn't expecting that good. I'm just tickled to death to go 200. I never really thought that I'd see 200 mph in the eighth-mile.
"Running at the top like this makes you feel like the team you've got is just the right bunch of guys to make it all happen. I'm so proud of the guys I'm associated with and the team Mr. and Mrs. Wells have put together. It's just great to be a part of it."
If Strickland and his Todd Tutterow and Jeff Bohr-tuned Camaro can run within one percent of the 3.713 performance, he'll take the Pro Boost national elapsed time record from teammate Kevin Rivenbark. The driver of GALOT Motorsports' 2016 Corvette reset the national record and qualified number two with his 3.721 while completing eliminations from the rain delayed Bradenton race. Rivenbark defeated Marc Caruso in the Bradenton final round to earn his fifth event win of the season and clinch the 2016 Pro Boost world championship.
PRO EXTREME MOTORCYCLE
A third PDRA Pro Extreme Motorcycle world championship isn't out of the picture for Eric McKinney just yet, but he has a tough and narrow road ahead of him. The Ohio rider is about two rounds behind points leader Chris Garner-Jones entering Sunday eliminations, which he'll start from the number one spot.
"It's just amazing to be number one with three 4.03s at the top, and ours was the quickest," McKinney quipped. "To go number one is always awesome, but especially now since we're still chasing the championship. I think I'm two rounds and eight points behind Chris, so we need him to lose first round and we'd need to win the race in order to take the championship."
McKinney stressed the tight competition in the class. Teammate Ashley Owens and Canadian dairy farmer Terry Schweigert closely followed McKinney in the qualifying order with their identical 4.034 passes. Owens grabbed the second spot since his run was just over one mph faster than Schweigert's.
"This PDRA Pro Extreme Motorcycle class is just unreal. The first three guys ran 4.03, and it took a 4.10 just to qualify. It's amazing to be a part of it, let alone be the number one qualifier."
McKinney also appeared in the final round from the Bradenton race, falling to Garner-Jones in a 4.059-to-4.065 race.
EXTREME PRO STOCK/OUTLAW 10.5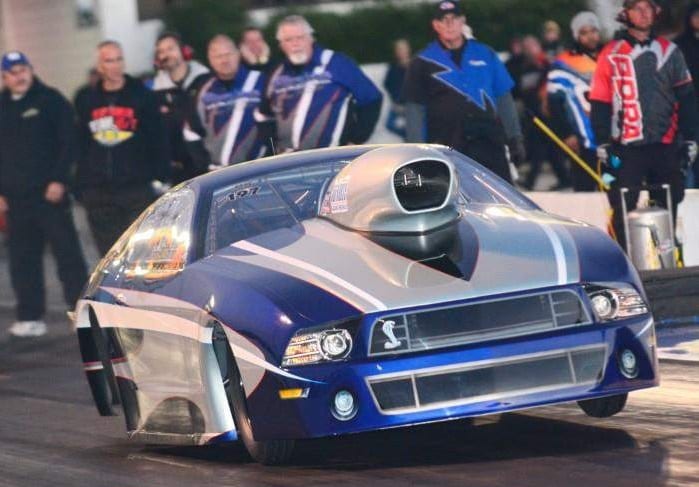 For the fifth time this season, the mountain-motored Extreme Pro Stock class joined the PDRA's usual line-up of four professional classes and four sportsman categories. Longtime XPS racer John Pluchino scored the number one spot, running a 4.03 at 177.91 to narrowly edge out Elijah Morton and his 4.035 at 178.07. Steven Boone (4.05), Doug Kirk (4.055), and Frank Gugliotta (4.065) round out the ultra-competitive top five qualifiers.
Also racing with the PDRA on a part-time basis this season was the DiSomma Racing Engines Outlaw 10.5 class, made up of nitrous assisted, turbocharged, or supercharged doorslammers racing on 10.5-inch wide slicks. Canadian John Carinci powered his 2004 Corvette to the number one position with a 4.034 at 190.08 mph. Baltimore's Mike Decker Jr. is second with a 4.041, followed by Ron Green's 4.083, Dale Collins Jr.'s 4.089, and Martin race winner Frank Pompilio's 4.101.
TOP SPORTSMAN/TOP DRAGSTER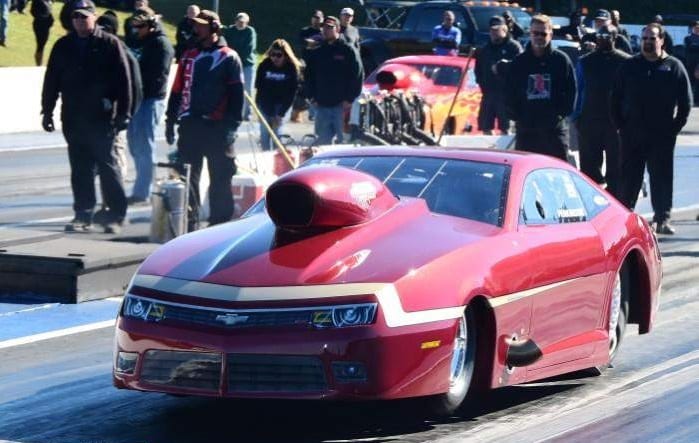 While the Top Sportsman class has been named in memory of class forefather and world champion Ronnie Davis since he succumbed to injuries sustained at the Rockingham race earlier this season, the PDRA decided to expand the World Finals Top Sportsman program to include two Top Sportsman races in memory of Davis. An astounding 85 cars attempted to qualify for the Quick 16 and Elite 32 fields, with Virginia's own Randy Perkinson taking the Quick 16 number one spot with his 3.855 at 191.65. His cousin, Buddy Perkinson, qualified number two and won the Bradenton final round over Dan Ferguson. William Brown III leads the Elite 32 field with his 4.129.
Chesterfield, SC racer Jody Stroud earned the Top Dragster low qualifier award with a blistering 3.664 at 197.33 in his supercharged "Zombie" dragster. David Brown's Musi-motored entry qualified second with a 3.84, followed by David Jordan (3.852), Alan O'Brien's unique AMC-powered dragster at 3.865, and Matt Sackman (3.885). Justin Kirk earned his second win of the season when he won the Bradenton final round.
Eliminations at the PDRA Brian Olson Memorial World Finals at Virginia Motorsports Park are scheduled to begin at 10 a.m. on Sunday, October 23. Tickets are $20, though fans who attended Friday or Saturday will be admitted for $10 with their Friday or Saturday wristband.