Outlaw Pro Mod racing is alive and well at the famed Texas Motorplex, where 12 entries showed up June 2, attempting to break into the eight-car O'Reilly Auto Parts Outlaw Pro Mod show. After two scheduled rounds of qualifying, veteran nitrous racer Doug Riesterer secured the top spot with 4.01-seconds blast at 187.52 mph, and then went on to score his first Texas Outlaw Pro Modified Association (TOPMA) win of the year.
"We've been racing with TOPMA forever and it's really great to race with them at the Motorplex this year because the track is always in good shape and there's a lot of room out there," said Riesterer, a chemical engineer from Victoria, TX. "It makes it a lot easier for us to put on a good show."
Driving a wild, multi-colored '68 Camaro, Riesterer got his personal show going with a win over Eddie Roach in round one of eliminations before overcoming a sizable holeshot by Brandon McKinney to prevail again in the semis. Meanwhile, third-place qualifier Bob Alexander beat Phil Binkley in the opening round, then defeated Steve Wiley, winner of the previous TOPMA event at the Motorplex last month, to also reach the final round.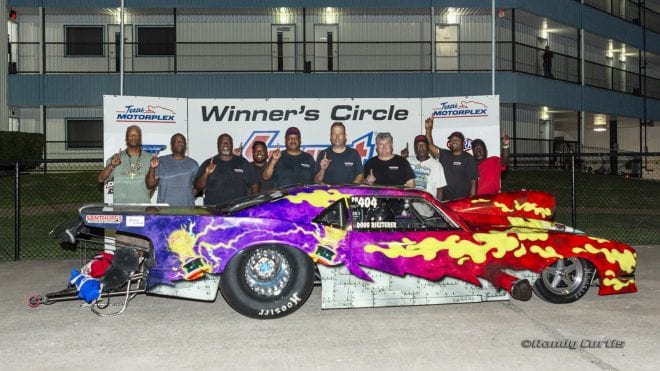 Alexander obviously came ready to race, posting a .014 reaction time in his C5 Corvette to Riesterer's .029 off the start, but that lead soon disappeared and Riesterer won with another solid 4.08 effort at 180.50 mph.
"I had to pedal the car a little off the line, but then I started to catch him and I knew he had to be having trouble because it's not too often I'm going to be catching a screw-blown car," Riesterer said.
As it turned out, Alexander crossed the finish line in 4.23 seconds at 158.04 mph, just as he lost control and sideswiped the right guardwall. Track rescue personnel reached his side within 30 seconds of the car coming to a stop and helped Alexander to emerge unscathed from the wreck.
"I pulled the chutes and could feel it slowing down; I didn't even hit the brakes. It's like the front of the car dug in and went left," Alexander recalled. "Then I hit the front, hit the back and came back into the center of the groove."
Texas Motorplex General Manager Andy Carter praised the efforts of each TOPMA racer in attendance, emphasizing their skill and dedication while coping with soaring temperatures.
"It was another great O'Reilly Auto Parts Outlaw Pro Mod race. The heat index reached about 105 degrees and all the teams did a great job in dealing with track temps that ran as high as 145," he said. "So it was a very hot day but we still had a full field of Pro Mods, which just shows the commitment of these badass drivers to come out and battle on the track all day. We have some of the best racers in the country right here in North Texas and the fans know it."
Also visiting victory lane at the Texas Motorplex this past Saturday were Tommy Platt with a win over Scott Davis in the 5.0 Index final, Tim Henry in the 5.50 class, Jay Casey in 6.0, and past Top Fuel pilot Spencer Massey with his '70 Nova in 7.0 Index action. The 7.90 Jr. Dragster final belonged to Daniel Jones, while 8.90 Jr. Dragster honors went to Audrey Wiley, daughter of defending TOPMA series champion Steve Wiley, and Brody Tigue claimed the 11.90 Jr. Dragster title.
TOPMA will return July 7, to the Texas Motorplex, just south of Dallas, for its third of five scheduled O'Reilly Auto Parts Outlaw Pro Mod Shows this year.