Rico Dragstrip continues to forge ahead with ongoing renovations, which have dramatically improved the facility in recent years. Famously, this unsanctioned eighth-mile track located in the southeastern North Carolina town of Clarkton once featured a wobbly deer stand for a timing tower in the 1980s, and for a racing surface it utilized a pair of narrow asphalt lanes with a wide, grassy section that separated them.
While the track remains completely outlaw in its affiliation to this present day, the overall condition of the facility is far and away the best it's ever been, with recent updates including new racing surface, restrooms, concession stand, timing system and scoreboards, return road and, yes, even a brick and mortar timing tower eventually replaced the crude, wooden deer stand. One man who has seen Rico's dramatic facelift firsthand is brand-new track manager, Buddy Blow, who began racing here 30-years ago and has remained active ever since.
"Rico was actually the first track I ever raced at," recalls Blow, who resides in nearby Fayetteville. As of April 2016,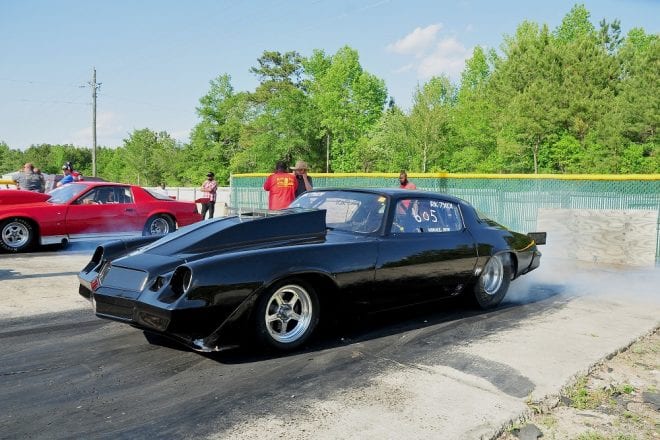 he took over managing this fabled track, which is, in fact, the first drag strip he's ever operated. He brought to the table lots of racing experience, but also a fresh perspective of ideas and goals, not to mention a magnetic enthusiasm for taking the track's operations to the next level. "One thing I want to do is spread awareness about Rico. There are so many people who've never even heard of this track once you get out of the eastern North Carolina area," explains Blow, who also grudge races in multi-state locations each year.
Not surprising, Blow intends to feature a huge grudge show on the first Sunday of every month, with lots of great match ups and shootouts on tap. That is one way he says he intends to spread awareness to the out-of-town masses that would otherwise never have heard about Rico.
"I plan on having some guys come down from the north to grudge race our locals for a big money payout which should generate a lot of interest," says Buddy, who believes the consistent monthly feature will dramatically increase awareness about Rico Dragstrip. Realizing the importance of the grass roots sportsman scene, Buddy also intends to take care of his weekly dial-in participants as well.
"Each Sunday I payout $1,500 with just a 10 car minimum, and if 25 cars show up, I'll bump the purse to $2,000," he says. Blow says he would also like to show some additional love to the bracket racers by putting together a big money race with no entry fee for the guys who've came out and supported the track all season long. Motorcycle and 4-wheeler events are also being worked into the schedule for the 2016 season.
Buddy assumes many roles at Rico ever since he took over as manager; everything from track prep to promoter to occasionally announcing from a wireless microphone that is positioned on the starting line whenever Buddy feels compelled to personally call the next class to the lanes, or simply greet the fans and welcome one and all. He believes the fans at Rico are among the best anywhere, and says no one gets treated like a stranger at this friendly, laid-back drag strip.
"I was actually stunned when 1,200 people came through the gate on a particular Sunday afternoon in May – Mother's Day no less – we typically don't have that kind of turnout," he admits, while also acknowledging his early success as track manager surprised a few people, himself included.
Rico's geographical location is also a thing of beauty, positioned not much more than a hour drive from the North Carolina coast, which makes it favorable for year-round operation. The track typically enjoys mild weather late in the year, and has often held successful events during the week of Christmas and New Years.
As for his first impressions of track management, Blow is upbeat about the feedback he's been getting. "I love it," says Buddy enthusiastically, clearly anticipating a monumental year for this ever-improving drag strip.