There's been a lot of hype lately about the takedown of the 3-second, eighth-mile barrier in radial racing. The hottest trend in door car racing definitely seems to be radials, and recently Rick Thornton decided to jump on the bandwagon for his 2015 season.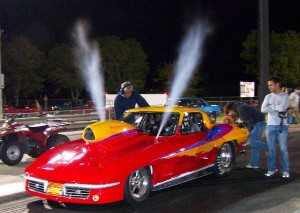 All through the 1990s and into the early 2000s, Thornton was a die-hard Super Comp racer. When Outlaw 10.5 competition began gaining popularity around the turn of the millennium, Thornton decided to try his hand there as well. "We started building our car back in '04 and ran it straight through '08 in Outlaw 10.5," Thornton tells of his time spent behind the wheel of his vibrant red and yellow 1965 Chevy Corvette.
In 2010, Thornton wanted to have his own facility from which he could operate his racing program. He teamed up with his longtime friend and fellow racer, Grant McCrary, to found Fast Forward Innovations in Haslet, Texas, and business quickly took off. The two found themselves quite busy focusing on customer cars and growing the shop, and, as a result, the Corvette wound up parked for several years.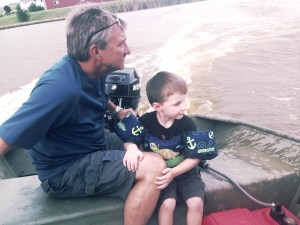 As the radial tire movement gained attention, McCrary began to get involved with tuning outlaw drag radial cars. McCrary, quick to identify the growing trend, realized it would be a smart move for FFI to have a flagship shop car. The two discussed some ideas, and, towards the end of 2014, the Corvette was dug out of the back of the shop where it had sat for six years.
"The car was originally built by Larry Larson, but we front-halved it and rebuilt everything we could from front to back," explains Thornton of how they breathed new life into the "old" vehicle. Its nitrous system was yanked out and scrapped, and a 460 CI Alan Johnson small block Chevy motor equipped with twin 94mm Precision turbochargers was installed in its place. The car's new boosted power is transferred to the track surface via a Liberty two-speed transmission mated to a Neal Chance torque converter. Thornton also shares that "Grant's real big into our Bruno lock-up for this particular car." Additionally, a BigStuff3 powertrain management system was selected to give McCrary the tuning control he needed.
With the car's resurrection complete and the new set of Mickey Thompson 315 drag radials mounted, Thornton and McCrary targeted a late January test session at Bradenton Motorsports Park in Florida for their first outing. Although their goal was simply to test the car and spend a week figuring it out, the pair wound up achieving something much greater. "Mark Menscer came by to help us work out some shock issues and get through a few other things. It went better than we anticipated, and it wasn't nearly as much work as we thought it would be to get a handle on the car," says Thornton. As the 2015 U.S. Street Nationals race just happened to be on the schedule at Bradenton the weekend following the test session, Thornton and McCrary opted to stay and race.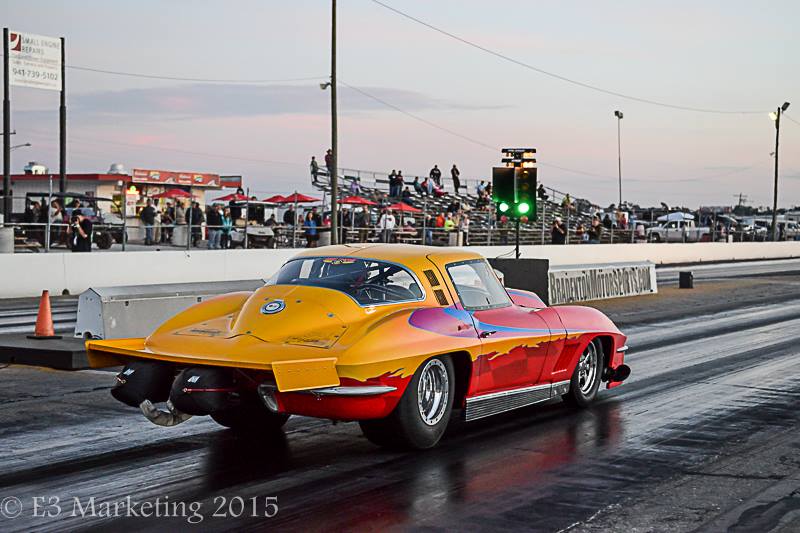 As luck would have it, the race turned out to be a big bonus to their main mission. Thornton qualified fourth in Pro Drag Radial with a best ET of 4.141 and a top speed of 187.22 mph. In eliminations, he clicked off a smooth 4.121 at 189.55 mph pass to take the first round win. He then put down an almost identical pass in round two, and his 4.128 at 189.51 mph gave him the win yet again. In the semi-finals, Thornton lined up against Keith Berry, one of the top radial tire drivers currently on the scene. Not letting nerves get in the way, Thornton was all business as he staged his Corvette. The lights dropped, and Thornton actually ran both quicker and faster than his opponent, going 4.043 at 192.96 mph to Berry's 4.074 at 190.03 mph run. Unfortunately for Thornton, his .120-second reaction time gave Berry the hole shot advantage and consequently killed his shot at taking the win, but the 4.04 was a new personal best for the Texan and that was victory in itself.
Inspired by how well their rebuilt and repurposed race car ran, Thornton and McCrary opted to extend their trip and continue their testing the Tuesday following the early February event. "We're not saying just yet what those numbers were," McCrary says, although he admits to having one run where they shut down early and still went 4.05 to the eighth-mile marker, which hints at there being a whole lot of potential left in the little Corvette.
As for what it's like to race on the unfamiliar tires, Thornton is definitely happy. Gone are his 10.5 slicks, and, instead, this racer is planning to stick with the radials for quite some time. "The car is very stable, and I've really enjoyed myself over the last few weeks. The tire is totally different from slick racing, nothing transfers over," he says excitedly about the finesse required to get the most out of a radial set up.
Thornton confirms that the team plans to do quite a bit of radial tire racing in 2015, although they do have a new '69 Camaro twin turbo Hemi Pro Mod car that they are debating campaigning in the PDRA's Pro Boost class as well. "We're talking about running some of the NMCA events with the Corvette, and hitting up the big deal radial races in Memphis, Holly Springs, and elsewhere. Either way, our main focus will definitely be on drag radial this season," he reiterates.