The 2019 Pro Mod season hasn't gone as planned for Rick Hord.
Four win lights on Thunder Mountain would change all of that.
Hord will make his second trip to the DRAG ILLUSTRATED World Series of Pro Mod presented by J&A Service, Elite Motorsports, Big O Tires and benefitting One Cure on Aug. 9-10 at Bandimere Speedway in Denver, anxious to get back on track after ending his 2018 season on a great note.
That included a quarterfinal finish on Thunder Mountain, his first career NHRA Pro Mod win and a number of killer runs in his Xtreme Racing Engines Hemi-powered C7 Corvette.
That hasn't carried over to the 2019 season yet, perplexing Hord and a team that includes defending WSOPM champion Carl Stevens Jr. in the process. But all of that could be wiped away with a memorable weekend in Denver.
"A victory here is like winning all NHRA races when you think of the purse," Hord said, referencing the $100,000 WSOPM payday. "It would mean a lot. A win in August after a lot of disappointment in 2019, it would go a long way towards putting all the wheels back on the wagon. It would put a lot of energy back in the whole program and it would go a long way for us."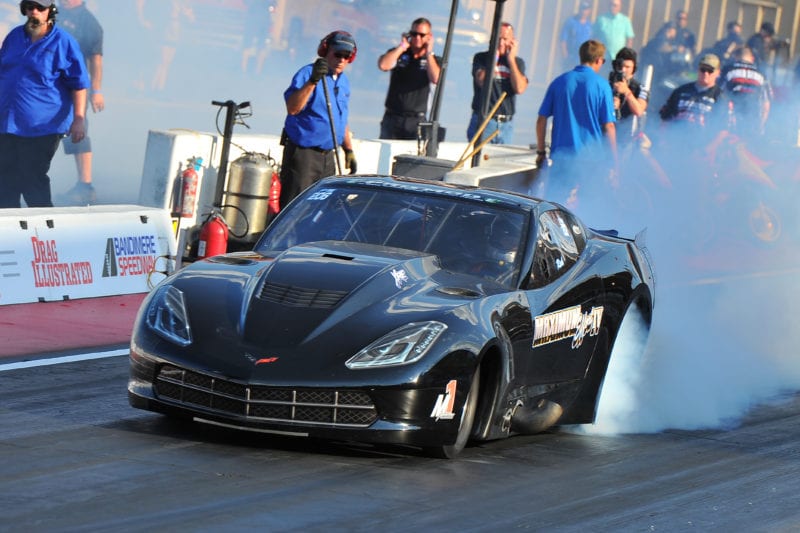 Along with the struggles in the car, Hord and his manufacturing business has recently taken on a bunch of new work, causing him to sit out the last four NHRA Pro Mod races.
In truth, it gave Hord an opportunity to reset and take a break from a disappointing start to the year. He qualified No. 1 a year ago in Charlotte, won the race and then pulled off a blast of 5.697 at 254.14 mph in January at Orlando, giving Hord plenty of evidence it's a car capable of performing on a high level. It hasn't happened lately, but Hord knows it's not far off.
"We had some good success the year before and when that doesn't happen the next season, the frustration factor quadruples," Hord said. "We just needed to take a break. Sometimes when you're not doing well, you start pushing way too hard. We know it's there. Carl has made that point to me many times over. That's just part of the ever-challenging part of racing Pro Mod, and that's why I love the class."
The impressive talent will be evident in Denver, but after some initial struggles last year, Hord found his way on Thunder Mountain.
He went from not being able to start the turbocharged Corvette to not getting it to spool to not being able to stage. But little by little, Hord found his way and had one of the best cars the rest of the weekend.
That wouldn't have come without making a multitude of test runs on the mountain leading up to the race. Hord and Stevens have made some changes to the car during the time off, and they plan to test at the end of the month before getting to Denver early to repeat last year's process.
"We made 12 test passes out there just trying to figure things out," Hord said. "I really feel like Denver is kind of a build-block type place. You go one year and get all that behind you, and when you go back you should progress.
"I feel like we can make progress, and we're going to do the same thing, go out early and test. You just have to try to give yourself a chance. I would expect to go back there and have a chance. The track prep is phenomenal, so you know you're going to have a good track, and it's up to you to try to throw something at it."
The altitude presents a massive challenge, but Hord saw first-hand how the weekend can turn magical. He watched Stevens make one incredible run after another, capped off with the winning run in the final. A championship belt and a $100,000 check followed for Stevens, but Hord can envision a scenario where he's the one coming through in the clutch on Thunder Mountain.
It won't be an easy challenge, but that's what makes the weekend so special.
"We had a really good time there last year," Hord said. "Winning is never guaranteed and we still have room to improve a lot. It was certainly great to stand down there at the end of the evening and see Carl get that giant belt and hoist that giant check. I was excited for him, but maybe this year it's my turn."
For more information on the Drag Illustrated World Series of Pro Mod presented by J&A Service, Elite Motorsports, Big O Tires and benefitting One Cure, please visit 
www.WorldSeriesofProMod.com
.