Larry Smiley, who for the last 11 years has served as President of Team RFC®, and his wife, Linda, who with him has ministered to racers, friends and family members before, during and after events in the NHRA Mello Yello Drag Racing Series, will end their service with the 2017 season.
During his farewell tour, Smiley, 66, will mentor NHRA National Chaplains Craig and Beverly Garland of Ennis, TX at a minimum of seven NHRA national events. He will also mentor RFC's new Executive Director, Eddie Baugher, who lives in Mesa, AZ with his wife Kelly.
The Smileys will then retire to their home on a concrete stretch of the old Route 66 in Arcadia, OK, and will still indulge their passion for racing on both land and water.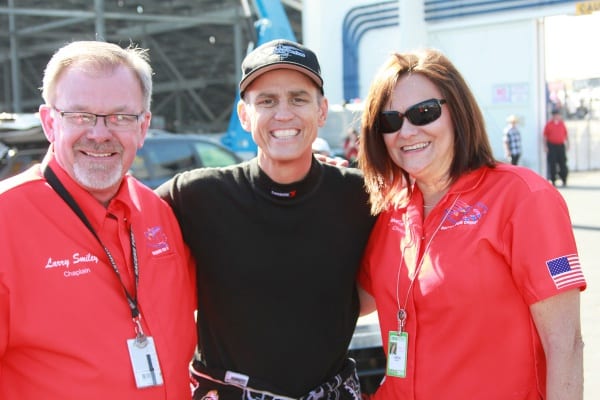 "We will still attend some regional NHRA events, some boat races and an occasional national event as volunteer chaplains," Smiley said, "but we are looking forward to this final year being with our NHRA racing family and enjoying the friendships established over these many years.
"Mentoring to Craig and Eddie will be my main focus," he said, "and it will be very gratifying to leave this ministry accomplishing greater things than ever before."
Smiley grew up in Bethany, OK, where he started attending local dirt track races at the age of 12. He worked his way up to track photographer and later worked as a timing official in drag racing.
While attending a go-kart race in 1996, a Team RFC® chapel flyer on a trailer piqued his interest. He researched the organization, contacted RFC president Ken Owen, and in 1998 began conducting chapel services for RFC at Southern Drag Boat Association events. He was named South Central Regional Director for RFC later the same year.
The Smileys conducted their first NHRA national-event RFC Service at the 1999 Pennzoil Nationals at Memphis, TN and represented RFC at a couple of tour events each year thereafter until Larry was offered stewardship of the entire series when Owen retired in 2004 after 25 years of service to the organization.
Larry is looking forward to the future, continuing to serve on the board of Team RFC® and also volunteering as a chaplain.