Second-year pro Camrie Caruso is ready to race into the summer months of the NHRA Camping World Drag Racing Series, starting with this weekend's Summit Racing Equipment NHRA Nationals, June 23-25. The driver of the Tequila Comisario Chevrolet Camaro is looking to build off momentum that has steadily been building all season, beginning with her first career win at the NHRA Arizona Nationals earlier this year.
"I set a lot of goals for our team and last year we accomplished some of them, but I knew this year I wanted to start winning races and chase that Pro Stock championship," said Camrie Caruso, the 2022 NHRA Rookie of the Year. "We picked up the win in Arizona and then another No. 1 qualifier at the Winternationals. This Tequila Comisario team is moving in the right direction. I felt we had a Camaro that could have won Bristol, but we had a bad second round that really wasn't our fault. I am not going to make any excuses, but we have a good race car, and I can't wait to get to Norwalk."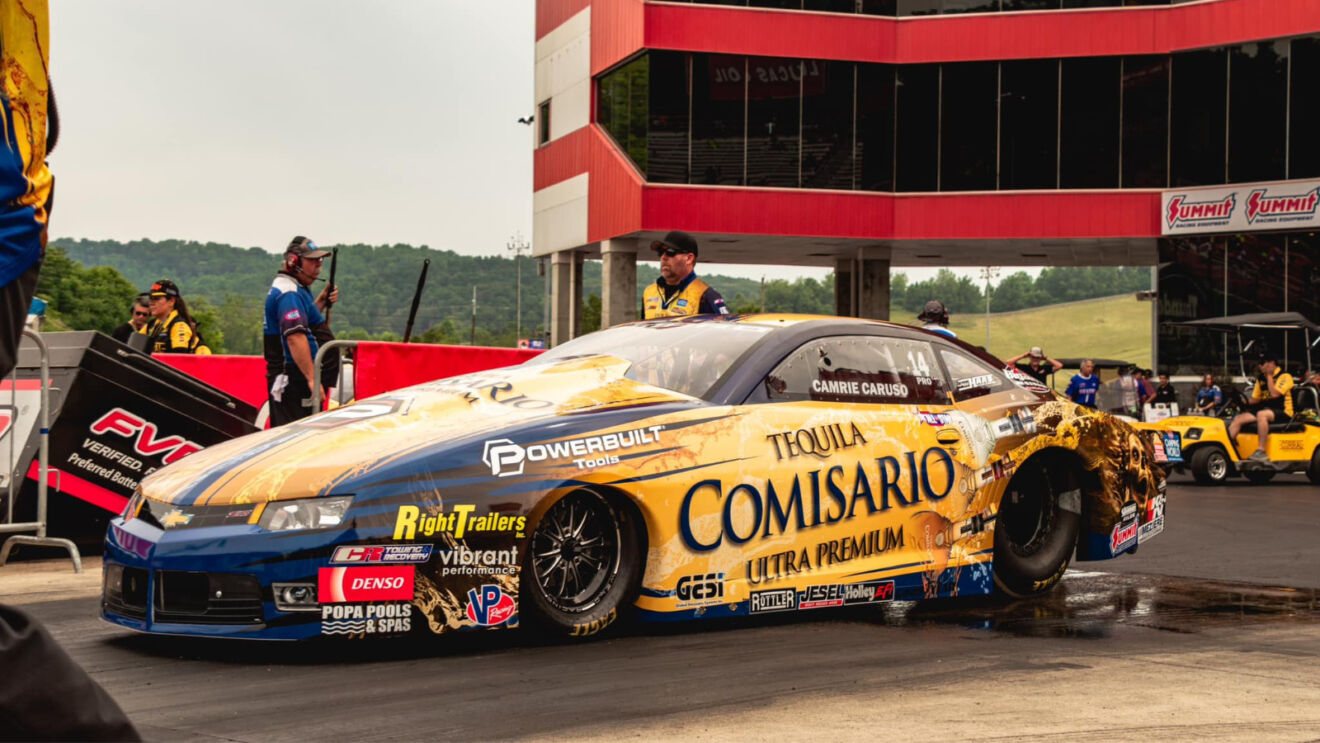 Two weeks ago, at the NHRA Thunder Valley Nationals there was a four-hour rain delay that sidelined all the Camping World Drag Racing Series first-round winners. The NHRA Safety Safari did an amazing job recovering the track for the competitors to return to racing in the second round, but the first two pairs of Pro Stock competitors, including Caruso and her teammates Greg Anderson and Dallas Glenn had their hands full during their respective races. Caruso was pulling away from Cristian Cuadra when both race cars began sashaying at the top end. Caruso wisely lifted and deployed her parachute to maintain control. The track crew re-prepped the racetrack following the first two pairs and proceeded to complete the event without issues.
"The Safety Safari does an amazing job every race. They bust their butts when it rains, and they have to get the track prepped," said Caruso. "It was just one of those bad timing deals that we were in the first pair of cars to go the full quarter mile after the rain delay. I am glad we didn't have a serious issue and that was a learning experience for me. I don't think I have ever been that sideways in a Pro Stock car. I would have liked to have had the round win but keeping my Tequila Comisario Camaro in one piece is more important."
Caruso was racing in Bristol with additional confidence after winning the first-ever NHRA Pro Stock Allstar Callout at the previous NHRA national event in Chicago. The second-year driver was one of eight drivers eligible to compete based on her qualifying efforts during the start of the 2023 season. She entered the specialty race as the No. 8 qualifier and defeated Cristian Cuadra, Troy Coughlin Jr. and Aaron Stanfield for the top prize and specialty trophy. After the first round Caruso was the lone KB Titan Racing driver remaining to take on a full field of Elite Motorsports drivers.
"I love that there is a rivalry between KB Titan Racing and Elite Motorsports," said Caruso. "They have great racers and cars in their pits and I am really proud to be a part of KB Titan Racing. Getting the win at the Pro Stock Allstar Callout for KB Titan Racing was a big deal. We are going to be battling them all season for the championship."
For the third-generation drag racer, her second full-time season behind the wheel on a Pro Stock race car is a continual learning experience. Last season she raced to one final round and secured her first career No. 1 qualifier. She finished the regular season in the Top Ten and then battled through the Countdown against some of the toughest competition the category has seen in recent memory. This year with more experience, Caruso is leaning on and learning from her teammates.
"I learned a ton in my rookie year, but this year I am still picking up so many new things," said Caruso. "I love racing in Pro Stock and I can't thank my family and my marketing partners enough for all their support. We are a new team and we are looking for funding all the time. We picked some new partners this season like Big Jeff Audio and that has really helped our program. We are going to continue to work with new people throughout the season to go along with our Powerbuilt Tools, VP Racing Lubricants and DENSO relationships."
The Summit Racing Equipment Nationals will have four rounds of qualifying beginning on Friday, June 23 at 4:30 p.m. and 7:30 p.m. ET with two final qualifying sessions highlight Saturday's program at 1:00 p.m. and 4:00 p.m. ET. The final eliminations for the quickest 16 Pro Stock cars will begin at 11:00 a.m. ET and the race will be televised nationally on FOX.