The leather cowboy hats have been divvied out, the corks on the champagne bottles have been popped, the winner's circle photos taken, and we can finally put a bow on the controlled chaos that was Lights Out 6: Buzzin' the Tower. Some of the spoils went to expected favorites, but there were more than a few surprise upsets. Not to mention a plethora of pleasant surprises – namely the completion of the event on Sunday – as well as the seemingly mandatory "flying car" to keep things interesting during the five-day war of attrition that this event has become.
And as always, along with the monster wheel stands, killer runs and booming nitrous backfires, there were some interesting storylines and off-track antics that happened during the sixth-annual running of the biggest drag radial race on the planet. Here were 18 things that had us cheering, covering our eyes, and scratching our heads in South Georgia.
Best: Kyle Huettel's Nitrous-Injected 4.06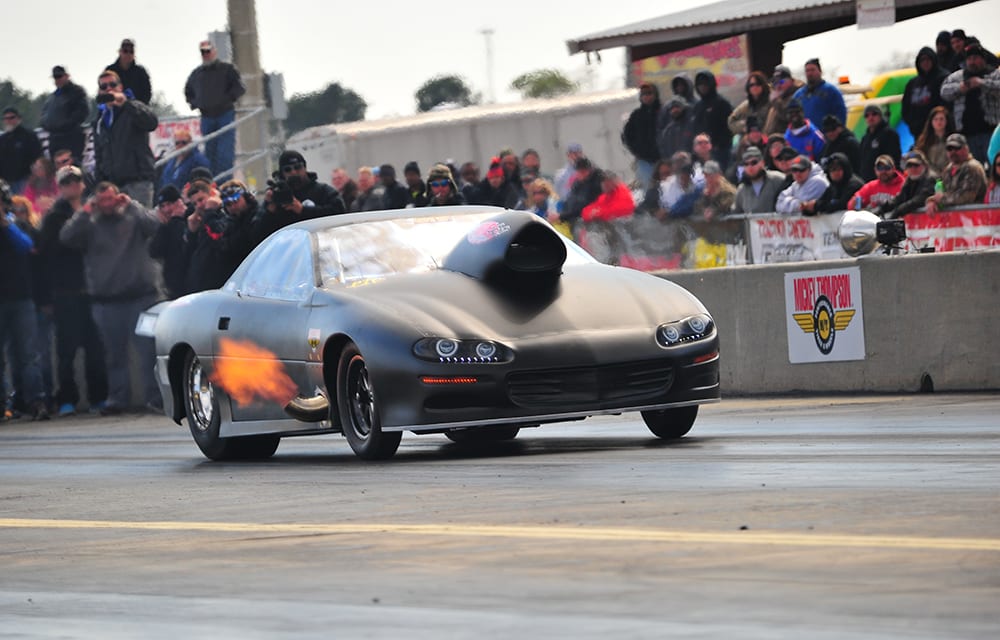 There's absolutely no question on this one. It may not have officially counted, thanks to a huge -.129 red light start in the quarter finals against teammate Jason Michalek, but Kyle Huettel's 4.066 at 180.77 mph in his 2002 Camaro served proof that in an overwhelming atmosphere of turbos and more recently, screw blowers, the nitrous combination can still work.
"The problem is I'm running on the edge to go that fast," Huettel admitted later in his pit. "Those turbo guys are still figuring out how to get faster, but we're about as far as we can go without it blowing up."
With Michalek having already made the switch to a screw blower on his '08 Corvette, Huettel suggested he'll probably have a similar ride when the drag radial crowd returns to SGMP this fall for the annual No Mercy event.
"I may still bring the old girl out with me, though," the Cypress, TX-based driver said, running a hand across the Camaro's flat-black roof. "Having a choice is always good!"
Worst: Dewayne Mills' Terrifying Flight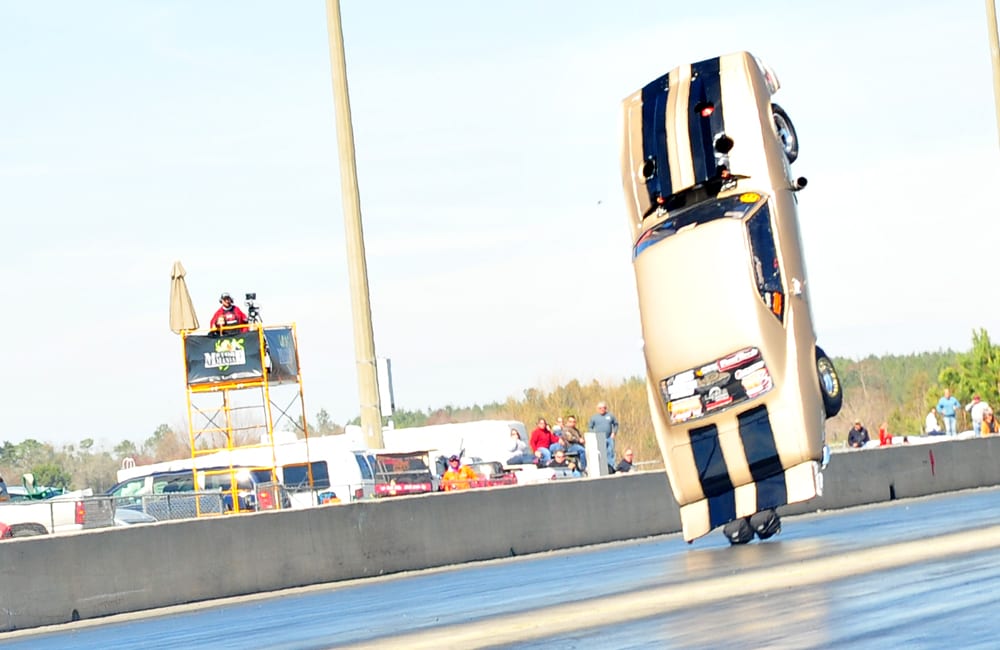 Unfortunately, each year at the Lights Out event it seems like someone will be going home with the corners knocked off their race car. This year it was Dewayne Mills' turn, as his "Golden Gorilla" '68 Camaro took flight on its Saturday-morning qualifying pass, living up to the "Buzzin' the Tower" tagline for Lights Out 6 at South Georgia Motorsports Park.
Mills later explained he made the switch from a two-speed Turboglide to a new close-ratio, three-speed M&M transmission for this season and his unfamiliarity with the new shift points significantly contributed to what happened.
"We pedaled it many times with a Turboglide and when it goes into high gear it has enough ratio that it'll drop the front end no problem. Apparently, the three-speed is a little more vicious," he said. "Right when I pedaled it and then stepped back on it, it made the shift and jerked up so quick. I'm off the throttle, just sitting their floating, and then it took off and I was like, 'Man, I just hope I land in the track.'
"And it kind of rotated over and kind of went to the driver's side a little bit and I seen the wall coming. I was like, 'Oh Lord, this is going to hurt.' And she landed on the wall and knocked it back in the track and we come across the track and I'm trying to get it straightened up, turned back to the left to keep from hitting the wall head on, busting a fuel-cell and having a fire on top of it all."
Mills said that as soon as the car slid to a stop after glancing off the right-hand wall he kicked the driver door open and yelled over the radio to his crew that he was okay and getting out.
His first thoughts upon exiting were just to be thankful at being uninjured.
"It's crazy. I always say my prayer before we go because everybody knows that you take a chance every time you're out here doing this," he said. "It was just our turn, but the car can be fixed. It needs a new front clip for sure so we're going to take it straight to Rob Matheis from here. We'll be talking to Rob and see what kind of timeframe he's got to see if we can get it back in there."
Best: Stevie Jackson's Babe Ruth-ish Shot Calling & Radial vs. World Victory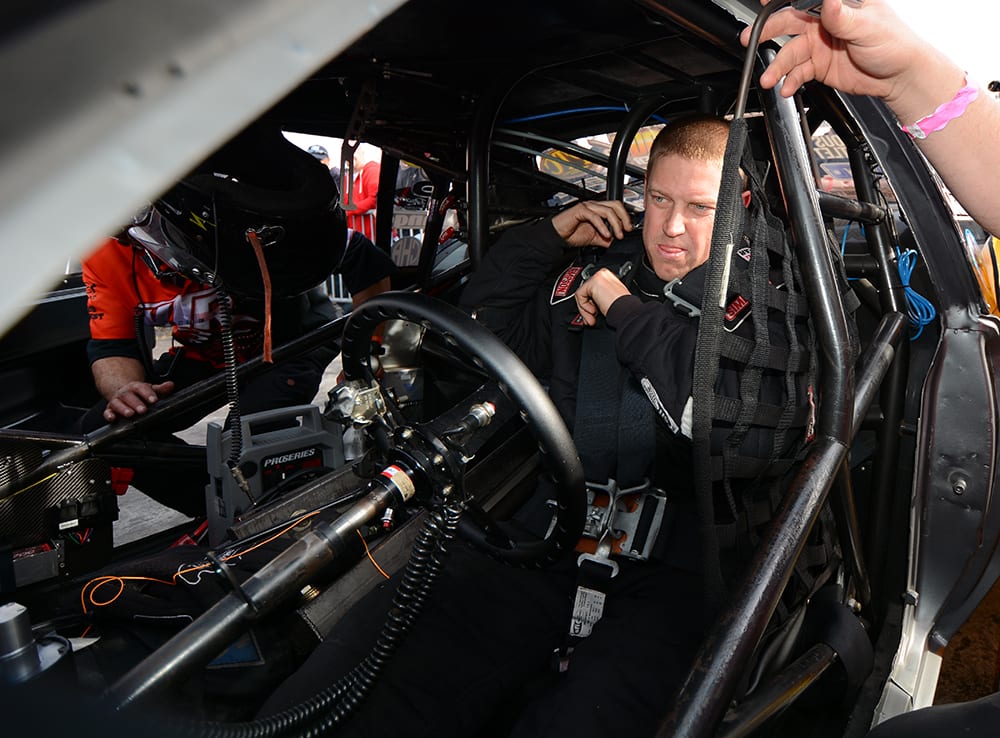 When Stevie Jackson tells the world he's going to "show all you turbo cars what top end charge is all about", you can't help but take him seriously. Sure, he's built a reputation for being a bit boisterous, what with his grudge racing background and all, but there's no denying that he's as good of a racer as we've seen in small-tire and Pro Mod racing for a long, long time. Not only did "Stevie Fast" ultimately lay claim to the cash and prizes that go with winning PTC Radial vs. the World, but he also set low elapsed time for the event with a 4.026-second blast in the final round. The Phil Shuler-owned, Todd Tutterow-tuned Fox Body Mustang, which was recently swapped over from a nitrous big-block to a screw-blown Hemi combination (that Stevie, of course, listed as having "a lot" of displacement on his tech card), had everyone's attention from the onset of the race – despite a plethora of turbo cars making waves in testing during the days and weeks prior.
Worst: Kevin Mullins' Bad Luck
Riding high on the heels of a 4.211-second, number-ten qualifying pass in his 521ci twin-turbocharged Hemi-powered Mustang and the birth of his son, Levi, Mullins likely had every intention of taking over the drag radial world at Lights Out 6. Unfortunately, the once baddest man on radials had an electrical gremlin wreak havoc on his weekend. After pushing two head gaskets and ultimately running out of parts to repair the car, Mullins threw in the towel and missed the call for eliminations.
Best: Ty Tutterow & Robbie Lowry Going the Distance for "Stevie Fast"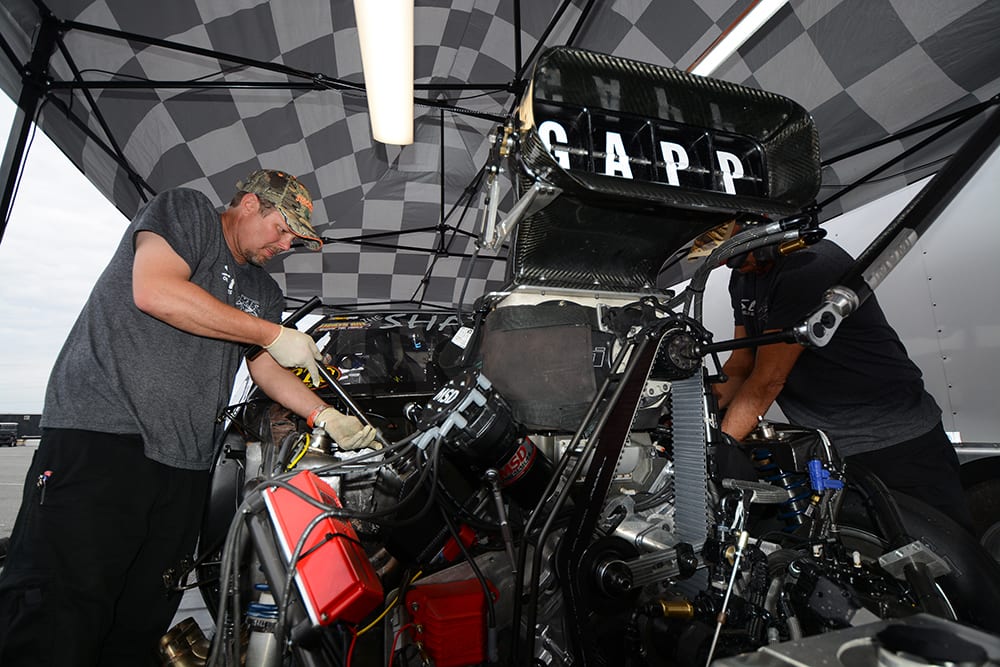 Not widely known was the fact that Stevie Jackson's wicked RED FUEL-sponsored Mustang broke the crankshaft in its screw-charged Hemi during Friday night's qualifying session. Without a spare short block in the trailer, Stevie and company had to act fast to preserve their race weekend. Quickly, Jackson and Tutterow devised a plan. Todd had the makings – not assembled – of a short block in his Yadkinville, North Carolina shop, so he had his son, Ty, load up the block, rods, pistons and crank, and head toward Augusta, Georgia, where Jackson's longtime friend and crewmember, Robbie Lowry, had just departed toward Valdosta. "Robbie was just heading out to come down to the race with us," says Jackson. "I called him up and said 'turn around!'" Ty Tutterow drove the 240 miles down to Evans, Georgia, helped Lowry load the parts in his truck, and Lowry headed south, driving through the night and arriving at South Georgia Motorsports Park at 7:15 AM. Less than three hours later, around 11:00 AM, the unmistakable sound of a blown Hemi could be heard in the Killin' Time Racing pits.
Worst: Rob Valden's Tough Outing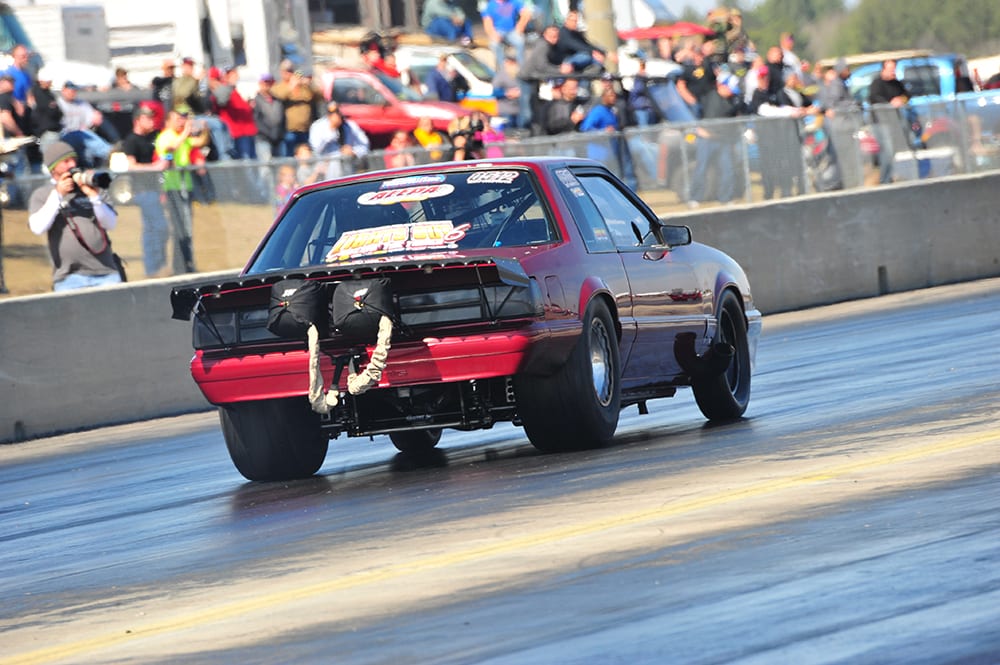 Things just didn't go all that well for Rob Valden at Lights Out 6 this year.
Things were looking good as he arrived at South Georgia Motorsports Park, fresh off a successful test session the week before in Bradenton, Florida, but cold temperatures hindered additional testing at SGMP and losing a $3,000 winner-take-all grudge race on Friday night to Stevie Jackson foreshadowed a disappointing outing for the drag radial star from Sealy, Texas.
Yes, he qualified his twin-turbo'd '91 Mustang number seven in Radial vs. the World at 4.14 with a class-leading 200.53-mph trap speed, but what little redemption that may have offered was negated by a first-round loss on Friday night to Tony Ridenour.
Best: Nick Agostino is Serious About Radial Racing
Testing, testing and more testing had Nick Agostino's former Outlaw 10.5 fourth-generation Camaro more than ready for action at Lights Out 6. Agostino and his Ontario, Canada-based team qualified 4th in Radial vs. the World with a 4.086-second, 192.91mph lick before a third-round exit to eventual winner Stevie Jackson, who sneaked around him with a hole shot victory.
Worst: Ron Rhodes Tragic Final Round Breakage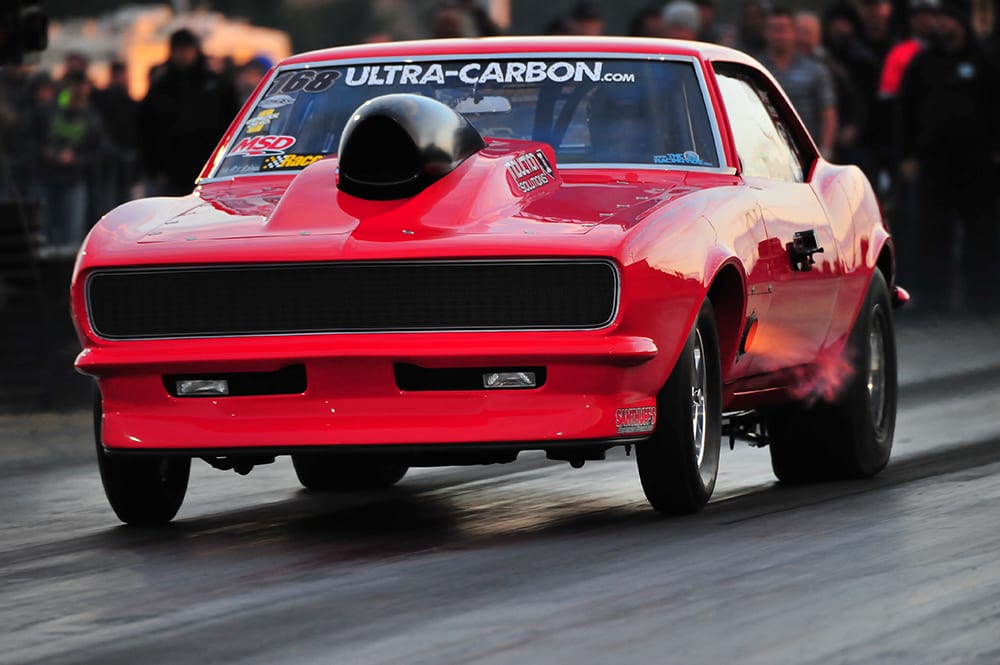 While Valden certainly had a tough time, no one probably left SGMP more disappointed than Ron Rhodes. After qualifying his '68 Camaro number one in the 72-car strong Leaf Spring class with an outstanding 4.669 at 151.77-mph pass, Rhodes dominated through eliminations before his car broke on the line for the final, handing the win to Bobby Flippin.
Best: Lights Out 6 Ending on Sunday…as Scheduled
After rain forced an early end to racing the last couple of years for the Lights Out event, it felt great to get Lights Out 6 in the books with winners crowned in all classes.
Worst: Jason Michalak's Early Exit
Jason Michalak is a good dude. There's no way around it. His big smile, big heart and Texas-sized work ethic are well known, and the entire sport rejoiced in seeing him behind the wheel of Bad9er Racing's new screw-blown Hemi-powered Corvette Outlaw Drag Radial ride. When he wasn't grinning ear-to-ear, Jason was making his presence felt in the Cypress, Texas-based 2008 'Vette – throwing down a 4.034-second, 195.79mph blast to secure the number-one qualifying spot in Radial vs. the World. After marching through the first three rounds – 4.109, 4.100, 4.112 – the bad ass, flat-back Corvette tuned by two of Texas's best in Frankie "Mad Man" Taylor and Billy Stocklin spun a rod bearing, forcing them to miss their semifinal round appearance.
Best: Jared Johnston's X275 Domination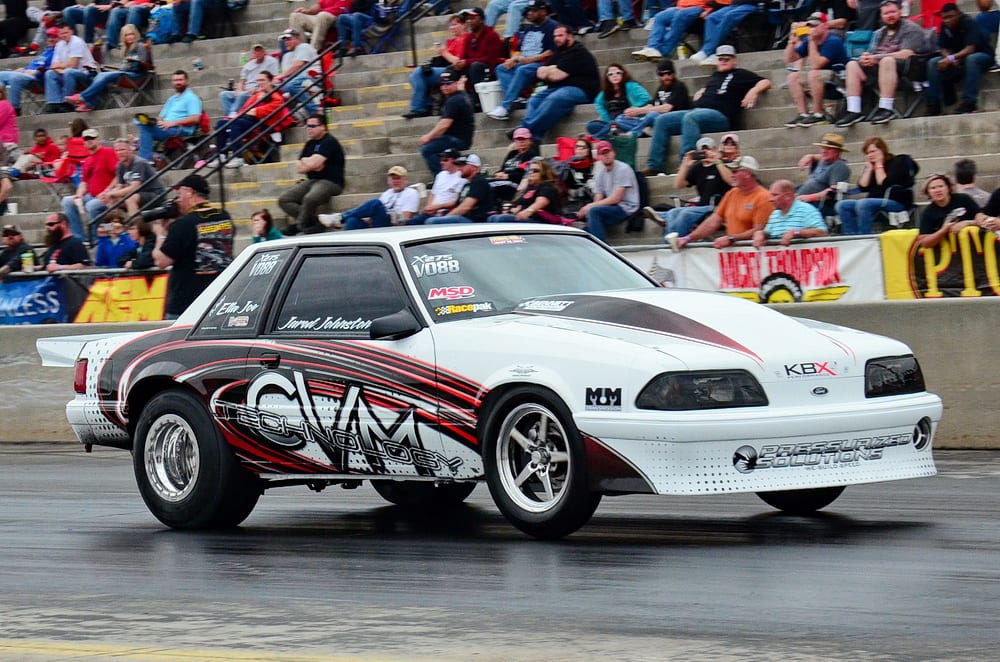 X275 racing has quickly become one of small tire racing's premiere categories, as well as one of the most competitive. So when Jared Johnston unladed his KBX/Bennett Racing-powered '92 Mustang and proceeded to run the table…it was impressive. Along with taking home the much sought after black leather cowboy hat, Johnston was number-one qualifier, set low elapsed time with a 4.494-second lap and set the top speed at 166.48mph.
Best: Paying Spectators as Far as the Eye Can See
The view of the track may be best from high in the stands at SGMP, but the best view from the standpoint of the event's health had to come from the tower as promoter Donald "Duck" Long gazed at a packed house of PAYING drag racing fans.
Best: Chris Daniel's Stunning Turbo Debut
White, Georgia's Chris Daniel has been a regular in the radial ranks for some time with his familiar red Pontiac Trans Am, but it was just this winter that he made the switch from a nitrous-injected mountain motor to a twin-turbocharged Pro Line Racing engine. From the get-go Daniel showed monstrous promise, eventually laying down 4.081-second, 200.44mph pass – good enough for No. 3 in the Radial vs. the World field. He looked like he may have the car to beat – posting a 4.075 in the opening stanza, followed by a 4.080 in the second round, a 4.083 in the quarterfinals and a stout 4.044-second, 201.43mph hit in the semis. It wasn't meant to be, though, as his F-body shut off right after launch in the final round.
Worst: Bobby Flippin's Sweet Stovepipe Hood Scoop
It's pretty hard to give all-round awesome racer Bobby Flippin too hard of a time about his hood scoop, which we're told is a step up from the mailbox he used to run, especially considering the performance of his bitchin' Chevy S10 powered by a nitrous-huffing 582ci bullet. Flippin's consistent 4.80s at nearly 150mph carried him to the final round against frontrunner Ron Rhodes who broke.
Best: Brad Edwards' Epic Save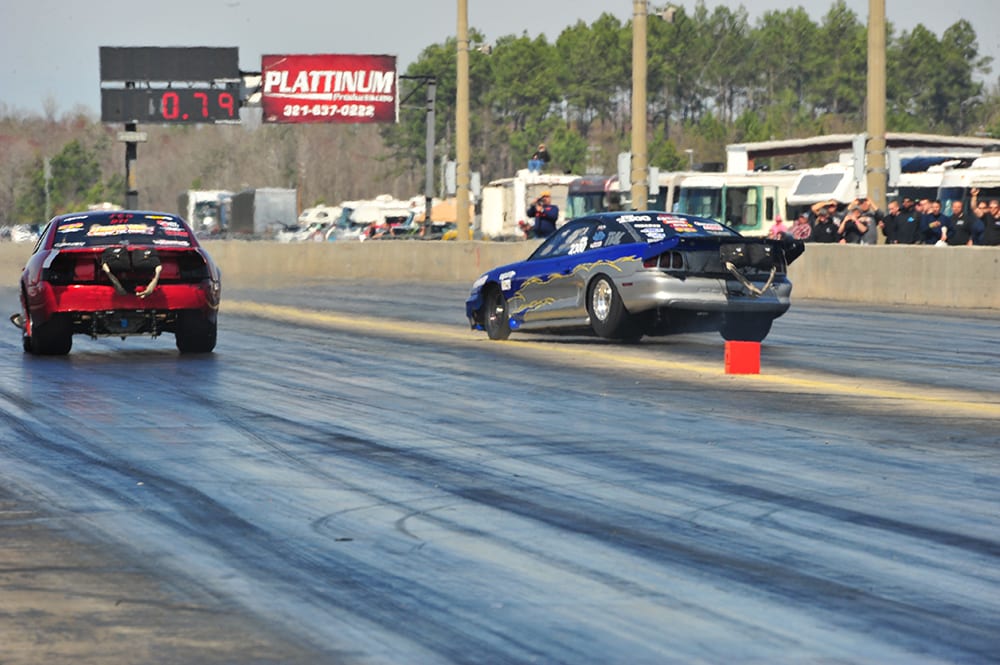 How can you not give kudos to Brad Edwards, who qualified 6th in PTC Radial vs. the World with a 4.146-second pass in his Asheville, North Carolina-based SN95 Mustang, for narrowly escaping what would have most assuredly been a disastrous crash with Jeff Cooner. Edwards' Mustang got over in the marbles and then veered across the track into Cooner's lane and just barely missed a high-speed collision. Upon further inspection, however, Edwards found that the two cars did barely touch – a scuff on the front of his Mustang serving as proof.
Worst: Keith "Wooo" Berry's Almost Epic Weekend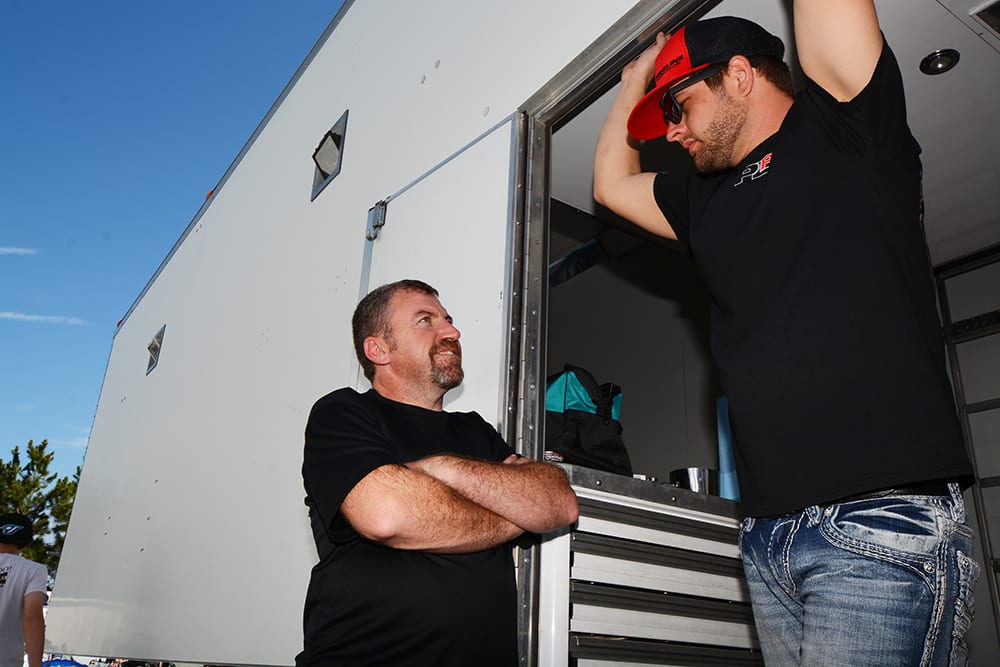 After qualifying No. 2 with his twin-turbo small block-powered Corvette with a 4.056-second, 192.41mph pass, Berry, with his endless enthusiasm and confidence, seemed like a sure bet to win in the eyes of many, especially with top qualifier Jason Michalak racing an essentially brand-new race car with only a few passes on it. Berry and crew chief Ryan Rakestraw focused on going A to B in the early rounds, posting a 4.126 in the opening round and a 4.142 in the second and 4.119 in the quarters before facing eventual runner-up Chris Daniel. Unfortunately, the Clearmont, Georgia-based racers didn't turn it up enough against their fellow turbo racer, and went home early despite a 4.074-second, 191.95mph effort – just not enough to take out Daniel's 4.044/201.43mph combination.
Best: David DeMarco's Blown Buick is Going to be Bad News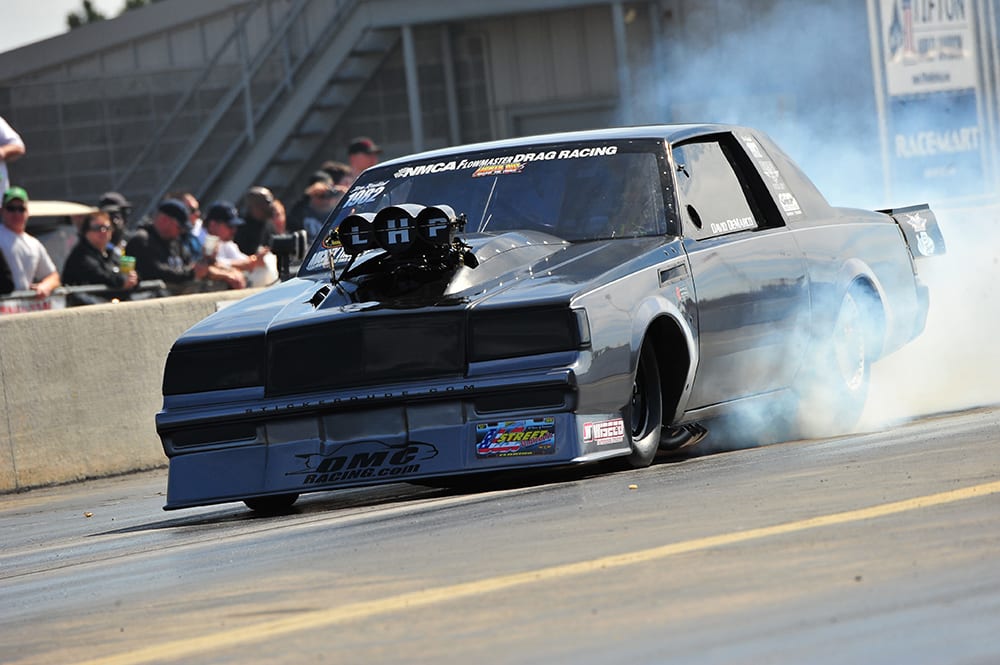 Based on the way Andrew and David DeMarco's blown Buick has performed in early 2015, it's safe to say these guys are going to be a thorn in the side of everyone in Outlaw Drag Radial competition for the duration. Along with sticking around until the second round of Radial vs. the World, Andrew DeMarco made back-to-back runs in the low 4.20 range and will likely continue chipping away at it until they're at the front of the pack.
Best: Al Tucci is Still the Voice of Outlaw Drag Racing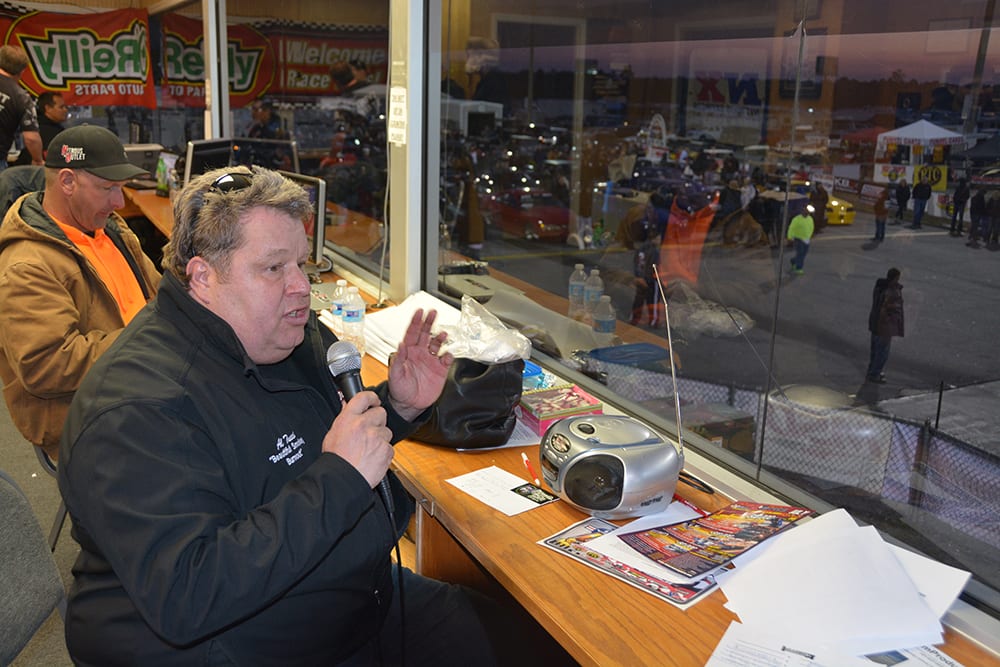 It's hard to have any sort of outlaw drag race without veteran announcer Al Tucci, and Duck X Productions certainly recognized that…bringing in the big man to hold down the fort at South Georgia Motorsports Park alongside Lee Sebring. Hailing from Chicago, Illinois, Tucci has been a fixture on the street legal drag racing scene for decades and brings a tremendous amount of historical perspective to to the booth, but it's really his over-the-top enthusiasm that keeps racers and fans cheering him on. Tucci will continue to criss-cross the countryside in 2015, calling the shots for a number of big races, including the September Duck X Production No Mercy, as well as both the Las Vegas and St. Louis Street Car Supernationals.
(Photos by Wes Buck, Ian Tocher & John Fore III. Text by Wes Buck & Ian Tocher.)