It has been well established that Southern California was the hotbed of drag racing in the formative years of development, the early Fifties. This pertained to not only the people but also to the access of the cheapest racing equipment. One of the major sources of parts to build your race car was where busted and broken cars went to die. It is now referred to as a salvage yard, back then the proper designation was the junkyard.
From bolts to fenders to complete engines, you could find it there. And it seemed there was one on every corner. I personally found a GMC 6-cylinder motor for my 1949 Chevy at one in my home town of Long Beach.

When the OHV engine became the go-to powerplant for serious racers and hot rodders alike, the junkyard became a short-term resting place for those coveted motors. As the '49 through '54 Oldsmobiles, Chryslers and Cadillacs became road kill and were sent to the graveyard for freeway mishaps, an inventory of the first generation of mechanical monsters started to build. It was a gold mine for the power-hungry car builder of the day. Plus, who else would even want just the engine from a wrecked car? The answer, based on the surplus, was no one.
This, however, was not the case in other parts of the country – the South in particular. Since day one, drag racers east of the Mississippi were way behind in the development and acquisition of real, serious race equipment. But now it seemed, since southern drivers wreck their cars just as good as they do in SoCal, an engine from one of those Big 3 would be plentiful for the growing hot rod nation in the good old South.
That would have been true except for one very big industry that operated in the South and had a huge demand for those real fast car engines with the valve covers, and would gobble them up as fast as they would be hauled in.
They were the infamous "Moonshiners."
This band of booze makers not only concocted this illegal clear liquid sought by the good old boys of the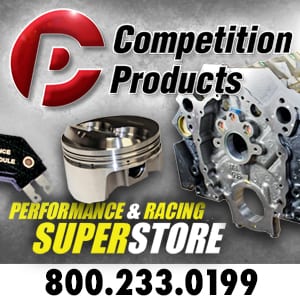 South, they also delivered. And quite quickly, I might add. The typical "delivery van" of the day was a small coupe like a '38 Chevy or a '40 Ford, equipped with a hopped-up motor like an Olds, Chrysler or Caddy OHV V-8 sporting horsepower numbers that would virtually assure that no one could keep up with them, let alone catch them. The most famous of all these 'Moonshiners" no doubt was Junior Johnson, who would go on to be one of the most successful NASCAR drivers of all time. And catch them is exactly what a special group of folks were paid to do. They were the government's task force referred to as "The Revenuers." Armed with the standard issue car of the day that was woefully underpowered, they had no chance to run down these liquor suppliers with their monster motors.
Since there was a lot of money being made by these guys – and a lot of them – whenever one of these new go-fast engines landed at a junkyard they were quickly plucked up by them for their 'shine-running operation. The availability of the West was non-existent in the South.
That dilemma happened to affect drag racing's biggest star ever back in the early 50s in fact. When Don Garlits was looking for one of those early Olds motors for his race machine he had at the time.
Don explains what went down: "I went to Charlie Major's indoor wrecking facility to purchase an engine, but Mr. Major did not have either an Olds or a Cadillac engine at the time. He told me the "Moonshiners" had just been there and bought all of the Olds and Caddys he had. In the back, he did have a 1954 Chrysler New Yorker that had been hit in the rear. It had a 331 ci Hemi engine with a four-barrel carburetor. I gave Mr. Major $450 for it, and from that day on I was a Hemi man."
Read more stories from this acclaimed team of writers from the books of Mickey Bryant and Todd Hutcheson.