Southeast Outlaw Nostalgia Pro Stock series memorializes Don Carlton
Jeff Rudisill and Tyrone Graham continue to look back in awe at the unscripted string of events that eventually led them to initiate the most applauded Nostalgia Pro Stock revival that anyone can remember, beginning with the inaugural gathering, the Don Carlton Memorial event last year, and later the launch of the Southeast Outlaw Nostalgia Pro Stock series. And while it seems everything fell into place just perfectly, getting this deal off the ground wouldn't have even been a consideration had several key factors not come into play unexpectedly.
Most notably, Rudisill crashed his Top Sportsman Camaro in 2014 at a NHRA Lucas Oil meet. In fact, after his wild ride in Atlanta (that sent his Camaro up on two wheels and careening into the wall) he fully intended to sell the car and move on to something else, but after chassis man Mike White repaired the car so meticulously, Jeff decided to keep it instead. That's when he had a crazy idea, an idea that almost nobody liked in the beginning. Rudisill decided he was going to transition the Camaro into an exact recreation of his favorite car of the 1980's: The Orndorff/Eckman Pro Stock Camaro.
This sentiment was met with an abundance of criticism from virtually everyone he shared his plans with. "Where's your name going to be located on the car?" was the most common inquiry. People were puzzled further when Rudisill explained that his name would not be appearing on the car at all! Even his race car painter, Homer McCarty, looked at Rudisill as if he'd just fallen to earth from Mars, especially since Jeff had long maintained that he'd never own a white car of any distinction. "I was really having second thoughts right up until the very night the car was to go into the paint booth," laughed Rudisill.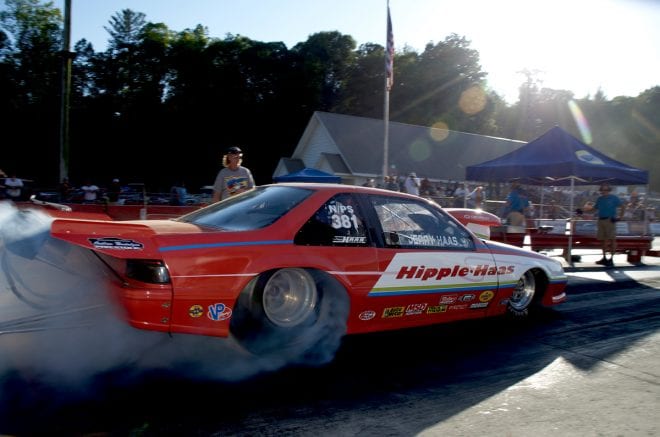 A short time later, however, when the car was unloaded at Farmington Dragway for its debut, criticism rapidly turned to approval as people couldn't help but get caught up in the excitement of yesteryear. Still, there was an obvious problem: There was virtually nowhere to race the car in the Southeast, at least on a nostalgia level, but that was going to soon change after a fateful trek to Cordova, Illinois. Rudisill, along with his professed "brother from another mother" Tyrone Graham, and a handful of friends towed the tribute car to Illinois to not only participate in a Nostalgia Pro Stock gathering, but also meet their childhood idols, Bill Orndorff and Jerry Eckman, who were eager to see the car that was so meticulously created in their honor.
After arriving in Cordova, all involved made fast friends. "It was like we had known each other forever!" recalls Rudisill, as he recounts the close bonds that were established that day. To thoroughly ice the cake, though, Rudisill ended up winning the event, which only punctuated the perfect ending to a life-changing weekend.
It was a late night in Cordova, probably 2:30 a.m. before the travelers finally pulled out of Illinois and headed home to North Carolina. Early into the journey, excitement and chatter filled the cab of the dually pickup, but eventually silence overtook the trip as the miles stretched far into the night. Right about the time Rudisill was thinking to himself how cool it would be if Nostalgia Pro Stock racing was thriving in the Southeast, Graham blurted out exactly what Jeff was thinking. "We've known each other since we were like 12 or 13 years old, and we've been completing each other's sentences and reading each other's minds for many years now," laughed Rudisill.
Graham, who's every bit as passionate about carbureted door cars as Rudisill – and also had a tribute 1981 Camaro of his own under construction – knew that establishing some sort of awareness in the South was something that the longtime friends must accomplish at all costs. Wilkesboro Dragway seemed to be the obvious choice to revisit the past and host the event, especially considering how this vintage North Carolina facility was such a hotbed for Pro Stock races in the 1970s and 1980s.
The inaugural gathering was held in August 2016, and it definitely lived up to the billing, "The Woodstock of Pro Stocks." As previously mentioned, the central theme of the event was to honor a man who influenced so many lives in this area: The late Don Carlton, who died tragically in a Pro Stock testing crash in Milan, Michigan, in 1977. Carlton's legacy is forever cherished and still gets discussed on a regular basis by those who knew him best, as well as admirers who never even got the chance to meet him at all. Many of Carlton's friends, fans and even his son, Donnie Carlton, attended the inaugural gathering at Wilkesboro last year. "There were people who attended that event who hadn't been to the track in 30 years," commented Rudisill.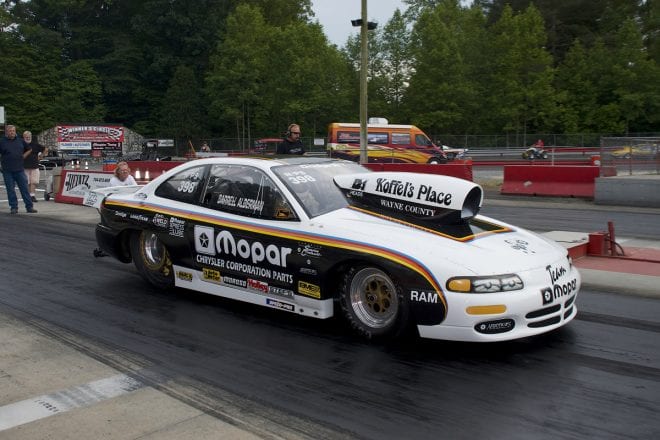 The amount of former Pro Stock drivers who showed up was every bit as astounding, and the second annual event, held this past May 20, brought out even more names. Everyone from Roy Hill, Stuart McDade, Morris Johnson, Jr., Bill Orndorff, Jerry Eckman, Joe Pappas, Terry Adams, Bruce Walker, Richard Greer and Harold Denton to name a very few in attendance.
Plaques are routinely given out to honor special individuals and friends and relatives of local racers and tuners who've past on, but left a significant mark on the sport, especially in the local racing scene around the Carolinas. At the most recent Don Carlton Memorial gathering, relatives of Ronnie Sox, Clyde Curtis, Clyde Hodges and many others traveled to Wilkesboro to receive honors.
The amount of cars that turned out continues to impress – 26 at the most recent running – in addition to a multitude of local cars currently under construction to become part of this movement, which excitedly includes the aforementioned Southeast Outlaw Nostalgia Pro Stock Series. The series tours throughout the Carolinas and Virginia, with plans to move into additional markets. "We've been very blessed to have such a tremendous amount of interest from our local racers, and also support from Becky White and Gena Hodges, who've been so instrumental with the promotional push and support they've given us," agreed Rudisill and Graham.
Looking ahead, all involved are excited about the growth of this Pro Stock revival in the Southeast, where interest and support show no signs of slowing down anytime soon.