2-time NHRA World Champion Luke Bogacki made his 2015 NHRA debut last weekend at the NHRA Division 3 Lucas Oil Series event in Indianapolis. Bogacki, the reigning NHRA Super Gas Champion, donned the number 1 on his brand new Charlie Stewart Race Cars built, Racing RV's backed '63 Corvette Roadster.
"Following the 2014 season, we sold the Corvette that we won the championship with to a young racer from New Mexico named Justin Bromley," Bogacki explained. "Immediately, I put in an order with Charlie Stewart to build another one. This car is very similar to our old Corvette; it's the same body style, same wheelbase, and we're even starting out the season with the same engine combination. Charlie and his staff made a number of small changes, and we've got some new components between the frame rails that I'm confident will make this combination even better than our previous one."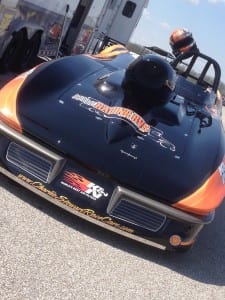 Bogacki entered Indianapolis as the defending event champion in Super Gas, and as the leader in the Division 3 JEGS All-Stars standings. Despite promising numbers from his new Corvette, Luke was derailed in the opening round of competition with a -.003 red light. He advanced to the second round of Super Comp behind the wheel of his K&N Filters dragster before falling to Haley Gregory in a double-breakout contest.
"Indy certainly didn't go as well as I would have liked, but overall I think the event was promising for our team," Bogacki said. "The new Corvette was flawless pretty much from the start. We made some minor adjustments testing on Thursday, and other than that I hardly turned a wrench on the car all weekend. It left great, drove smooth, and was really easy to dial-in. I wish I had rolled an extra .003 into the delay box in round one, but it's a long season and I'm confident that we'll enjoy success in both cars."
Bogacki's new Racing RV's Corvette is a Charlie Stewart Race Cars creation, and features additional backing from K&N Filters, ThisIsBracketRacing.com, and RacerSwag.com. Charlie Stewart Race Cars outfitted their custom '63 Corvette body with a carbon fiber K&N hood scoop. The eye-catching vinyl wrap was designed and applied by Accelerated Graphics. For the most part, the combination mirrors the setup that propelled Bogacki to the 2014 title: Mickey Thompson 3191W "Bubba" tires are mounted to M/T bead lock wheels and bolted to Moser 40-spline axles. In fact, the entire rear end assembly came from Moser Engineering: including an aluminum 9" center section, and Moser's Pro-Drag disc brake kit. This machine also houses a pair of Moser Engineering's new front struts. A set of Ohlins LMP shocks round out the suspension package. Bogacki monitors air pressure with the revolutionary AirTek Pressure Monitoring System.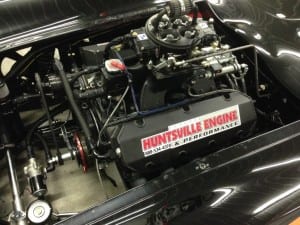 Under the K&N hoodscoop is the same Huntsville Engine & Performance 582 cubic inch powerplant that was in Luke's last Corvette. The 1050 horsepower beast pushed the machine to the 9.90 index at speeds in excess of 167 miles per hour last weekend in Indianapolis. The engine features a BRODIX aluminum block, as well as BRODIX Head Hunter cylinder heads. Those heads are equipped with Manley valve springs controlled by Jesel shaft mounted rocker arms. A 1050 cfm APD Max Speed carburetor feeds the engine with Renegade 116+ fuel via Earl's plumbing products, and controls the throttle stop operation to slow the mid-7-second combination to the 9.90 Super Gas index. Internal engine components include Manley I-Beam connecting rods, Wiseco pistons, a Jesel belt drive system, Crane Cam and lifters, Dedenbear cooling system, Clark Gaskets, Milodon oiling system, Lucas Oil, and a K&N Wrench Off oil filter. A set of headers that Charlie Stewart built from a Hedman Hedders kit are secured by a set of CollectorTethers.com tethers. The J&J Performance engine diaper protects the machine in the event of catastrophic engine failure.
BTE Racing's Top Sportsman powerglide transmission and torque converter transfers power to the race track, and Bogacki maintains consistent transmission temperature thanks in large part to a unique remote transmission cooling system from SHARP Stuff.
In the driver's compartment, Luke relies on a K&R Performance Engineering Pro-Cube delay box and Severe Duty switch panel, as well as Auto Meter's latest data-acquisition dash display: the Auto Meter LCD. The LCD display allows him to conveniently monitor up to 12 channels of data and download the information via the familiar Auto Meter Data Pro software. A Biondo Pro Outlaw shifter is controlled by a Dixie Racing Products electric shift solenoid. The car was wired by Bogacki utilizing a myriad of products from Fastronix Solutions. A Dedenbear CO2 system feeds the APD Max Speed carburetor via Earl's hose and fittings.
Additional components in the Corvette build up came from ISC Racer's Tape, Nitrous Express, California Car Cover, Goethe Enterprises, RacerTees, and DragRaceResults.com.
In addition to major marketing partners K&N Filters and Racing RV's, Luke Bogacki Motorsports is proud to represent Watts Auto Diesel Service, Advanced Product Design, Bill Taylor Enterprises, Accelerated Graphics, Mickey Thompson Tires & Wheels, American Race Cars, Renegade Racing Fuel, Product Development Group (makers of AirTek pressure monitoring systems and Flo-Fast pumps), JEGS, and C.A.R.S. Protection Plus.
"I picked up the bare chassis from Charlie in early April," explained Bogacki. "This whole car came together in less than a month. I've got so many people to thank for making it happen: Charlie and his staff, Chase and Rick Huffman, my father-in-law Jack, Jeff Hayes, Danny Estep, Chuck Broy, and all of the people who had a hand in this project. Thanks to all of the manufacturers that we depend on, for not only producing great products but doing so in a timely fashion to fit our schedule. Thanks to Larry Nelson and everyone at JEGS for all of the overnight orders and for having everything that we needed on the shelf. And most of all, thanks to my wife Jessica and our son Gary for putting up with my 20 hour days and late nights in the shop the past few weeks. Their support is incredible."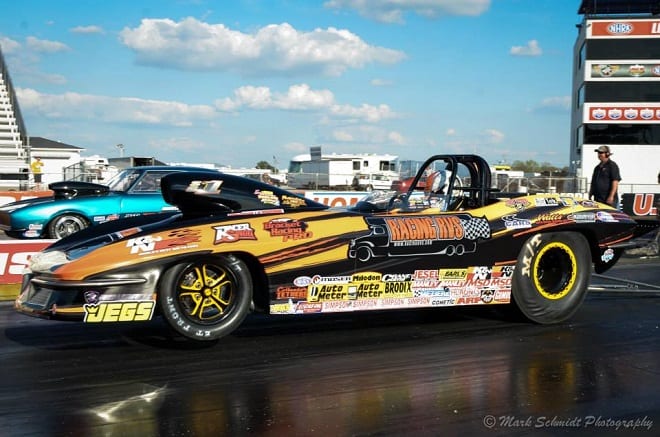 Bogacki and his K&N Filters / Racing RV's team will attend a bracket event this weekend prior to their second stop on the NHRA Division 3 tour in Norwalk, OH on May 15-17. Bogacki will enter that event as the leader in the Division 3 Super Gas JEGS All-Stars standings, as the race marks the last chance for competitors to earn points toward the upcoming JEGS All-Stars event near Chicago, IL. The Bogacki Motorsports team will follow that Division 3 event with their first national event appearance of 2015: the NHRA Kansas Nationals May 22-24 in Topeka, where Luke will again enter as the defending event champion.