Countdown driver Justin Ashley won the Texas NHRA Fall Nationals today in dominant fashion. Ashley and the Smart Sanitizer Top Fuel dragster powered by Vita C Shot made a serious move up the Camping World Top Fuel point standings, moving from fifth to third in the process. The second-year driver won for the first time in 2021 in his third final round appearance defeating Keith Murt, Billy Torrence, Brittany Force and Steve Torrence to secure his second career Top Fuel victory.
"I think when you win a race like this the key to victory is the team effort and the fact that everybody did their job," said Ashley, the 2020 NHRA Rookie of the Year. "Today was a complete team effort. I did my job behind the wheel. Crew Chief Mike Green did an awesome job tuning this race car all weekend. It felt like a bracket car. The key to the win was this group of guys and the leadership of (team owner) Dustin Davis and Mike. They work incredibly hard. They definitely deserve this win."
Ashley, the No. 4 qualifier, started his race day with a win over No. 13 qualifier Keith Murt. The round win was never in jeopardy as he took the lead off the starting line and never trailed getting to the finish line first with a 3.748 second pass at 319.29 mph. This win set the tone for a long day of success behind the wheel.
In the second round Ashley squared off with Billy Torrence in a rematch of the Reading Nationals final from two weeks ago that did not go Ashley's way. Today Ashley got the jump off the starting line, .039 to .091 reaction time advantage which was enough to get the Smart Sanitizer Top Fuel dragster out front and to the finish line stripe in front of Torrence. His slower elapsed time of 3.755 seconds outpaced Torrence's 3.749 seconds for a hole shot win.
"For me the thought was unfinished business," said Ashley, who has two runner-up finishes in 2021. "We had unfinished business to take care of this weekend. I knew that we were long overdue. This just felt so good because we were so close a few times and we finally sealed the deal. I wanted to finish it off for my guys and our sponsors. That is how you get it done and put on a great show for the fans."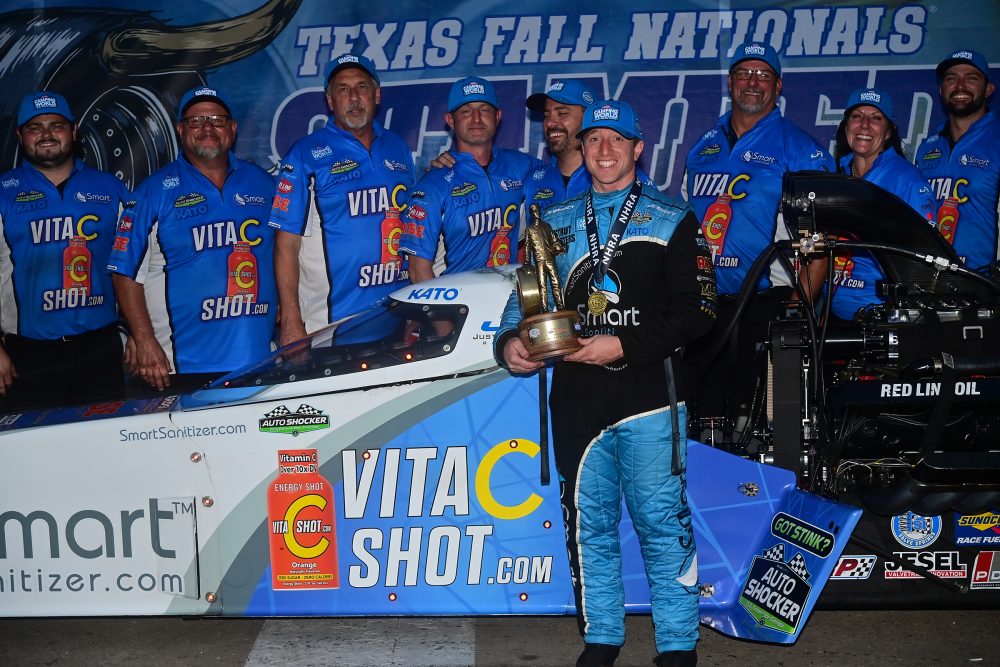 In the semifinals racing the 2017 Top Fuel champion Brittany Force, Ashley once again proved his mettle on the starting line with another hole shot win.  His .061 to Brittany's .081 put him in position to take his 3.740 second run to the final round instead of Force's 3.727 second run. The two round wins on the strength of Ashley's reaction time combined with the consistency of Green's tune-up set up a final round against the points leader Steve Torrence.
"These round wins were so rewarding," said Ashley, the 2020 Summernationals winner. "The Countdown is about one thing and that is getting hot at the right time. Obviously, the regular season is huge and meaningful, and you want to set yourself up for success. Once you are in the Countdown all bets are off. That is when the best teams in the world step up. It is really satisfying to step up and get hot at the right time."
Both Top Fuel final round participants had two of the most consistent race cars on the property throughout the day. In a final for the ages Ashley and Torrence had identical reaction times and Ashley picked up his first win of the 2021 season with a winning 3.759 second run to Torrence's 3.764.
"There is no intimidation factor for me when I race Steve," said Ashley. "There is a respect factor. I have a tremendous amount of respect for Steve and Billy and that whole Capco team. They have developed a winning culture over there. They know how to win and that is not an easy thing to do especially at this level."
The success of the Smart Sanitizer Top Fuel dragster that is also backed by KATO Fastening Systems and Auto Shocker jumped him from fifth to third place in the point standings and inserted him into the championship conversation with three playoff races remaining.
"It is satisfying to throw our name into the championship mix. We are happy that we did it. We can't control what Steve or Brittany or any of the other Top Fuel teams are doing. They are all in the Top Ten for a reason. They are all great drivers. We are happy for us because it puts us right back in the middle of things. Next weekend is Bristol. That will be a huge race," added Ashley.