Kevin Rivenbark (above) raced to the Galot Motorsports Pro Boost victory Sunday at the PDRA Spring Nationals in Rockingham, NC. the second of nine events scheduled for the all eighth-mile drag racing series.
Rivenbark shared the winners circle with Randall Reid (NAS Racing Pro Extreme), Travis Harvey (Switzer Dynamics Pro Nitrous), Chuck Wilburn (Drag 965 Pro Extreme Motorcycle), and Richard Penland (Extreme Pro Stock).
Rivenbark was the only driver to run the table at the event, winning both the weather-delayed PDRA Nationals from Tulsa, as well as the weekend's event. He won both events from the No. 1 qualifying position.
Sportsman winners included Cody Moore (Lucas Oil Top Sportsman), Dan Ferguson (Magnafuel Top Sportsman), Kendal Little (Talbert Pro Junior Dragster), Brandon Lively (Megacorp Top Jr. Dragster) and Ava Lawler (Bracket Bash)
Final eliminations for the event were postponed until Sunday following an accident on Saturday where defending Top Sportsman champion Ronnie Davis and Drag Illustrated Senior Editor Ian Tocher were severely injured after a racing accident. Davis succumbed to his injuries Sunday evening.
Tocher, who was struck by debris from the car driven by Davis, remains in stable condition at UNC Medical Center's Trauma Unit in Chapel Hill, North Carolina, where he suffered numerous injuries to his legs, pelvis and back.
PRO EXTREME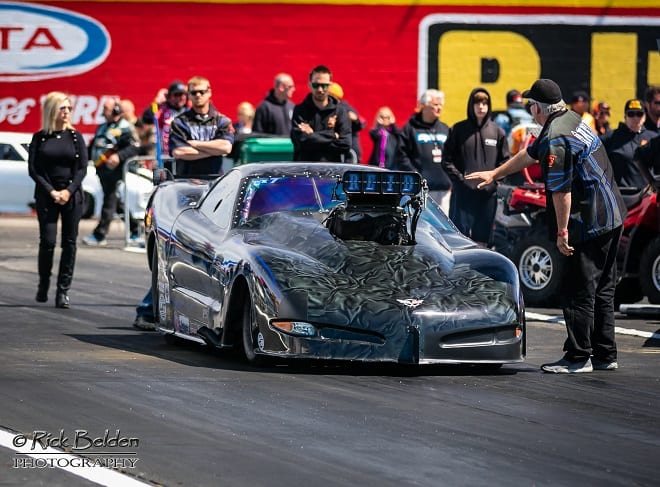 Randall Reid knew there was no margin for error in the finals of the NAS Racing Pro Extreme division. The Iowa Park, Texas-based driver was scheduled to face Jason Scruggs, a challenge which ranks right up there with climbing Mt. Everest.
And in an example of pure will, Reid found a way to make it to the peak of the elimination ladder beating Scruggs on a holeshot.
"I knew I had to be real good in the final round," said Reid. "He's fast, and one of the best there is in this class. I'm just glad it all worked out in my favor."
Reid ran a slower 3.550, 215.96 to fend off Scruggs' quicker 3.501, 222.66. The tale of the tape was a starting line advantage of .017 to .082 in Reid's favor.
Making it to the finish line in a Pro Extreme car on a consistent basis is a challenge to even the most seasoned driver. However, when you do it and win on a holeshot is the stuff where legends are created.
"Winning a race on a holeshot in one of these cars means a lot to me," said Reid. "I knew I needed to get out on him early because we had experienced our fair share of issues this weekend. I'm just glad I was able to turn the misfortunes into positives."
Scruggs was strong all weekend, establishing low elapsed time in qualifying with a mark of 3.498.
"I never heard him, but I knew as I went down the track and didn't see him, he was back there," Reid explained. "I kept looking for the stripe, because as strong as he runs, he's liable to catch you at any time with that big mile per hour of his. He was close, just didn't get there."
PRO NITROUS
When you have a hot hand you definitely keep rolling with the cards.
And Switzer Dynamics Pro Nitrous racer Travis Harvey has been dealt a sizzler with his new Pro Nitrous entry, thanks to team owner Vaughn Myles.
Four times he's entered Pro Nitrous, and four times the Elon, NC-based driver has reached the final rounds. Two of those final rounds came this weekend at Rockingham.
Harvey was able to rebound from a Friday evening loss from the weather-delayed Tulsa final to beat Jay Cox in the final round of the Rockingham event.
"I'm really glad to get this win," said Harvey. "My team needed this win bad. I did my best driving to compliment all of the hard work they did in preparing this car. I cannot thank my team owner Vaughn Myles enough for this great opportunity.
"When you line up against a murderer's row of racers like Jay Cox, Tommy Franklin and Stevie Jackson, just to name a few people in the class, every round counts in this class."
Harvey isn't being modest in his assessment, either. In beating Cox, he took a tenth on the starting line to score a 3.763 to 3.751 decision, roughly an eighth-inch decision at the stripe.
Harvey's performance was not a bad effort for a team which came together a little over four months ago and in addition to the two final rounds this weekend had one win in two finals at the Snowbird Nationals as well as the U.S. Street Machine Nationals.
"The team has just gelled in an awesome way, and Sonny Leonard provides us with excellent horsepower. We put this team together late last year, and it has already been in four finals since December."
Momentum is important in Pro Nitrous, adds Harvey.
"It gives us more momentum going into the next race," said Harvey. "No one wants to go out and get beat up all the time, so winning like this creates a big swing in our favor.
"I won by .002, but it could have easily gone the other way. Jay did a good job all day. I got lucky that the win light came on in my lane."
Harvey paused to reflect in winning to remember two of his fellow PDRA friends involved in Saturday's tragic accident. Top Sportsman racer Ronnie Davis and Drag Illustrated Senior Ian Tocher suffered severe injuries an accident during qualifying. Davis later succumbed to his injuries.
"This win is dedicated to Ian Tocher and Ronnie Davis," said Harvey. "I could be in that hospital bed right now. Anything can happen out here at any time."
PRO BOOST
Last season, Kevin Rivenbark finished second to Kevin Fiscus in the Galot Motorsports Pro Boost championship point standings. This weekend the Galot Motorsports driver was second to no one.
Rivenbark was a two-time winner in Rockingham. A day after beating Melanie Salemi for the postponed Tulsa title, he made a clean sweep of the weekend by beating first-time PDRA finalist Steven Whiteley.
"As John Force would say, 'this is one bad hot rod," said Rivenbark. "It's unbelievable that we could double-up here this weekend. We were able to claim the maximum points for two races in one weekend. This is a dream come true and I really couldn't ask for any better."
Rivenbark was clearly the driver to beat all weekend after qualifying No. 1 with a 3.761 elapsed time. He ran a 3.751 to tie his newly established Tulsa world record. In the final round, he saved his best run of the weekend for last, a 3.732 elapsed time, to beat Whiteley, who lost with a 3.789.
"After we won Tulsa, I knew it was going to be hard to beat us," Rivenbark admitted. "In this sport, you can fall as quickly as you rise to the top. We are on top, and the car is really running well. Right now, everything is falling into place, but that's not to say it might not be this way next race."
Rivenbark said his confidence is at an all-time high, but feeling this way isn't much of a challenge when you have a team led by Todd Tutterow.
"I always feel confident because Todd and the team give me a car that will go from A to B," said Rivenbark. "When your car goes to the finish line under power 99-percent of the time it's easy to have a high level of confidence."
PRO EXTREME MOTORCYCLE
Drag 965 Pro Extreme Motorcycle racer Chuck Wilburn had plenty of confidence all day Sunday in Rockingham.
Wilburn was confident he DIDN'T have the bike to beat. This time, he didn't mind being wrong.
Wilburn saved his best for last as he overcame a holeshot from Ashley Owens to score his second career PDRA win with a 4.043, 173.01. For his part, Owens recorded a 4.116, 176.26 to finish runner-up.
Wilburn entered eliminations as the No. 4 qualifier and advanced to the finals with wins over Burke Forster and low qualified Chris Garner-Jones.
"It all goes back to Tulsa when we hurt an engine after going 4.02 and qualifying No. 2. We broke a crank and scrambled just to get here. We hurt a lot of parts we could not duplicate. We just got the thing together and never really ran good."
The second round win over Jones was a turning point in his bid to reach the finals.
"Second round we ran Jones and knew we were going to have to run really well against him and put a big tune-up in it, and luckily he broke on the burnout," Wilburn explained. "We just spun the tire all the way down the track. We only ran a 4.11.
"We got back to the trailer, regrouped and got a four out of it. We should be on the right track with this combination, I hope."
Wilburn's previous win came at Rockingham Dragway last fall.
"I never felt it was my race to win. I thought we were beat in round one, round two and in the semis, Ashley only went a .13. I felt like if we could just run a 4.09, we'd have a chance to win. We just softened everything up and the track came around. It worked out; he put a big holeshot on me and we were lucky enough to beat him to the finish line."
Defending Drag 965 Pro Extreme Motorcycle champion Eric McKinney lost in the first round.
EXTREME PRO STOCK
After two winless Pro Stock final rounds at Rockingham, Clover, South Carolina's Richard Penland emerged victorious after No. 1 qualifier John Pluchino fouled in the final round. The victory marks the second career PDRA title for Penland.
The Extreme Pro Stock division returned to the PDRA following a one-year hiatus. Penland was impressive in his return, entering eliminations as the No. 3 qualifier. He reached the finals by opening with a single when Lester Cooper couldn't make the call, and then took out Brian Gahm in the semis.
"This is as close as you can get to being a home track for me," said Penland. "I've wanted to win here for a long time and this time, the opportunity finally worked out. Been shooting for a win here for a while, and this time finally hit it."
Penland returned to racing this weekend after a year off to serve as caretaker for his father Oliver Penland, who passed away last Friday.
"This win is dedicated to him," said Penland. "I think it is great to be back at the PDRA. I told Jason and Bob, we are happy to be back here with the family we love. It's a continuation of a family that has stuck together through many different associations. This is what we call our home. It was great to come back home.
TOP DRAGSTER
In Lucas Oil Top Dragster, Cody Moore won a final round battle of alternates as he beat Chaz Silance in the final round.
Moore, who entered Sunday's eliminations at the No. 17 qualifier, beat the No. 23 seeded Silance with a +.011, 4.071 run. Silance was competitive at the stripe as well, recording a +.019, 4.129.
Moore beat Matt Sackman, Jimmy Sackuvich and Don Hall to reach the finals.
TOP SPORTSMAN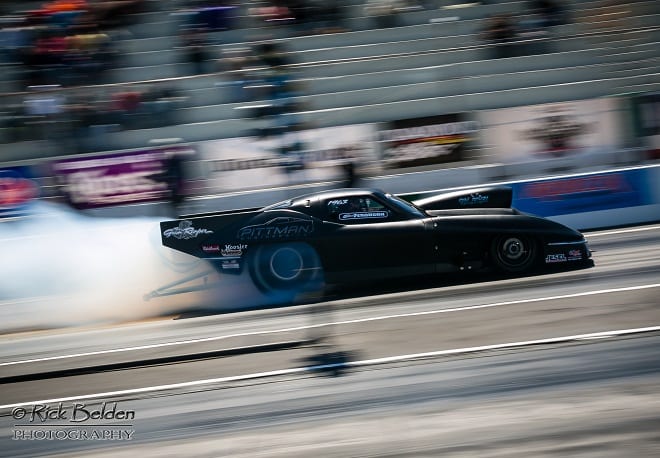 A battle of sportsman titans determined the winner of the Magnafuel Top Sportsman division.
Dan Ferguson used a .003 reaction and a +.011, 3.981 to take the measure of multi-time IHRA Top Dragster champion Scott Duggins, who now races a 1963 Corvette.
Ferguson's road to the finals included victories over Bruce Thrift, Dwayne Silance and Cheyenne Stanley.
REPORT AND SHEETS COURTESY OF BOBBY BENNETT, COMPETITIONPLUS.COM
PHOTOS COURTESY OF RICK BELDEN PHOTOGRAPHY