Cory Reed nabbed top honors at the NHRA Banquet last night when he was named the Auto Club Road to the Future Rookie of the Year for 2016. Reed was the top rookie competitor in the Mello Yello Drag Racing Series and was awarded a $20,000 prize along with a trophy at the annual NHRA championship award ceremony at Hollywood's Ray Dolby Ballroom at Hollywood & Highland.
"I watched a lot of you in this room when I was a kid going to the races with my mom [Top Alcohol Funny Car driver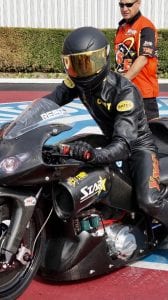 Annie Whiteley] and stepdad [Pro Mod driver Jim Whiteley]," Reed said in front of a huge ballroom of his racing peers. "Thank you to all of you that showed me how to become a racer and show me the drive and passion for what we love to do."
Reed will be forming his own team in 2017 with his current teammate Angelle Sampey; it was announced last week that their team will be known as Team Liberty Racing. Despite starting a new venture next season, Reed thanked George and Jackie Bryce of Star Racing for their help in his first year in the sport.
"George and Jackie, you two did a lot for me these last two years," he said. "Thank you guys very much for everything you've shown me about Pro Stock Motorcycle. You two showed me the ins and outs and showed me what to do. You let me in on every single bit of information that you could and I thank you guys. I'll never be able to replace that."
Reed went on to thank his parents and his crew Ken Johnson, Jerry Cooper, Kaleo Freitas, and teammate Angelle Sampey.
"Angelle, thank you for coming with me next year," he added. "Thank you also for being a great mentor."
Reed became a fast fan-favorite as a tough competitor when he turned on win lights against class veterans like Steve Johnson, Eddie Krawiec, Hector Arana Sr., and even teammate Angelle Sampey. Reed scored an impressive 12 round wins in his rookie season, more than the other rookie contenders combined.
Being named 2016's Rookie of the Year does not guarantee success but based on his rookie year performance, it wouldn't come as a surprise if Reed continued in the footsteps of the Rookie of the Year winners that have come before him.