John Force became the seventh driver to break the 4.00 second barrier Oct. 4, at Maple Grove Raceway. The 15-time NHRA Funny Car champion grabbed the provisional No. 1 qualifier spot with a near record run of 3.987 seconds at 323. 50 mph.
It was the fifth quickest elapsed time in NHRA Funny Car history and two of the five quickest times have been posted at Maple Grove Raceway. The quickest previous time for a JFR Ford was 4.005 seconds by Robert Hight in the Auto Club Ford on Oct. 12, 2008, at Richmond, Va. Force's previous quickest time was 4.010 second from this June's race in Joliet, Illinois.
"I joked we are a little late because Schumacher's cars ran that here last year but you look at the points for the championship. You don't want them to get a national record. You want to gobble up the points. We'll see what the weather is tomorrow. For today we feel really good about it," said Force in the Maple Grove media center.
"I want to clarify Jimmy Prock runs my car with Danny DeGennaro. They work as a team with Mike Neff and Ron Douglas and Dean Antonelli and John Medlen from the dragster. We all work together. Neff's car ran 4.07 with Robert Hight and the Auto Club. It is a team effort. Jimmy Prock is throwing hard balls. I am pretty excited."
Force picked up six qualifying bonus points today and moved into a tie with Matt Hagan for the Mello Yello Funny Car points lead. Points are officially awarded at the conclusion of qualifying. Force's first run of qualifying was a strong 4.032 second run beside Hagan.
"When we look back in 2010 when I won the four-wide I almost put out the top bulb I was in so deep and we ran 4.02. My guys said that was a three second run but you don't get credit for it. I told (Jack) Beckman when he ran over to congratulate me I said thank you but we were a year late. Those guys got their stuff together and we are chasing them. Our new chassis is working. We are going to go out there and race and have some fun. It is pretty cool. To see Jimmy Prock turn it around after having struggled for a couple of years. It is pretty awesome," said Force.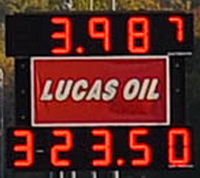 "Getting that three second run is important for the sponsors like Ford, Castrol and Auto Club. It means we can race with anyone. The cool air has given championships and it has taken away championships. We know in the last three or four races we are right there with everyone. We can run in the heat," said Force who has been in the last two final rounds. "Tonight we ran pretty decent. Last year they shattered the record. You get caught up in trying to run national records and you will beat yourself. We are going to come out here again and just try to run smart in the conditions that we get. Then we are going to try and win on Sunday."
Force was matched up with his daughter, Courtney as the final pair of Funny Car in the second qualifying session. The Castrol GTX driver knew that either he or Courtney would be No. 1 so crew chief Jimmy Prock gave him an aggressive tune-up.
"Once you know you are already in you turn the wick up. Jimmy won't push it over center. You don't want to smoke the tires because you want those three points. He put it down there and figured it would run 4.02 or something," said an excited Force.
While Force was making his career best elapsed time run his daughter Courtney was in the lane beside him making history. The youngest Force brought the huge crowds at Maple Grove Raceway to their feet today when she not only ran her career-best speed, but trumped the national Funny Car speed record with a 329.42 mph run at the end of the day. She also provisionally qualified No. 2 going into Saturday.
To kick-off qualifying at the 29th annual Auto-Plus NHRA Nationals, Force drove her Traxxas Ford Mustang Funny Car to a 4.071 elapsed time and had top speed of the session at 318.54 mph beside Johnny Gray, good for the No. 2 qualifying spot right behind her father John Force.
"Conditions weren't as cool as we had hoped for coming out here to Maple Grove, but our cars run well in the heat. We went down there and ran a 4.071 with top speed of the session at 318 mph. We went up to the No. 1 qualifier spot, only to get knocked down to the No. 2 spot by my dad later on in that session when he ran a 4.03."
"We actually backed our car down after there was an oil down on the track. We saw some of the guys up ahead of me spin the tires so we decided to back it down a little bit and make sure we could get a good, safe run out of it. That's' what we did and we ended up No. 2."
"It's fun when you get to run a low 4.0 like that and go to one of the top spots. It lets you feel at ease and we get to play around with that and tweak it for the rest of the weekend. We were really excited knowing that we made a good run that early," said Force.
In the second qualifying session, Force ran beside her father to see who could make the quickest and fastest run. The 25-year-old and her Traxxas Ford Mustang team ran the best ever speed in the history of Funny Car and left the crowds at Maple Grove Raceway speechless. She posted a 4.025 elapsed time with an enormous speed of 329.42 mph.
"It felt like a good run. It felt unbelievable. I didn't see dad down there, but I thought I saw my win light so when I got out, they said, 'your dad ran in the 3.0's!' and I'm like, well then what did I run, because I didn't see him. They said I ran 329 (mph) and I said, you know what, I'll take it.
"Our Traxxas Ford Mustang team works really hard on our car and I have definitely got to praise them for all that they do, but for Ron Douglas and Dan Hood, they give me a great race car; they give me a consistent one every time we come out here. We were running low 4.0's earlier in the heat. The sun is just setting and I'm still sweating out here and we just ran a 4.02. We're excited. We'll take it. We're picking up points. Dad just picked up 6 points today and I picked up 4. We're just hoping we can keep our car consistent and hopefully we can get this pink Funny Car to go rounds and hopefully we can get it in the Winner's Circle. "
"The coolest part is that it's a pink Funny Car. We drove it down there with flying colors at 329 mph, but the main important is that it's to bring awareness to breast cancer research and I think that's the coolest thing. We're able to come out here and wear some pink and get it down there at over 329 mph and really shine a spotlight on our car, not only for the speed but for breast cancer," said Force.
Leading up to today, Force's fastest career speed was 319.60 mph, even though she posted a 322 mph run in West Palm Beach, Fla. during pre-season testing. Today, she topped the charts by surpassing the national record that was 320.58 mph by Beckman, which he set in October of 2012 here at Maple Grove Raceway. The 329.42 miles per hour run by Courtney Force is the fastest speed in Funny Car history by almost six miles per hour (323.50 by John Force) and the second fastest speed of the year to Tony Schumacher's 329.91 mph in the U.S. Army dragster at Phoenix
Robert Hight and the Auto Club Ford Mustang regrouped in the second qualifying session posting a 4.072 second pass at 315.86 mph. The run positioned the No. 4 driver in Mello Yello points as the provisional No. 6 driver. The team is in a great position to move up higher in the top half of qualifying tomorrow with consistently positive conditions.
Brittany Force and the Castrol EDGE Top Fuel dragster once again started an NHRA national event on a positive note. They posted the third quickest elapsed time of the first qualifying session.
"As a team, we were very happy with our first run out today in the Castrol Edge Top Fuel dragster. We ran a 3.82 and hung onto the No. 3 spot throughout the first session. I'm very excited that we could make a really good run early. It did have a hole out and that slowed us down quite a bit on the run. I felt it shaking down there so I was very surprised when I hopped out of the car at the top end of the track and heard what it ran. It was a good number and gave us some room to try and improve on the next pass," said Force.
"Being able to come out here and qualify in the top half of the field and have a consistent race car. It makes you feel confident as a driver.  It gets everyone pumped up from the crew chiefs to the crew guys. It gets our mind and our focus in the right place."
In the second session the team did not improve but they made another consistent run a 3.837 second run. The run gave the whole team confidence in their tune-up and their chances of improving on a race day set-up. The rookie team is racing a pink Top Fuel dragster as part of the national "Paint the Track Pink" program with Lionel.
"People are definitely excited to see the pink Castrol EDGE dragster. Fans are coming up and are excited to see the pink car. You are really painting the track pink when you go out there and put up a good number like that 3.82. I am hoping running well like that will bring more awareness to breast cancer research.
"I want people to get involved. There are so many ways for people to get involved whether it is going to Target and buying something with a pink ribbon or buying our die-cast dragster from Lionel so a portion of those proceed goes to the Breast Cancer Foundation. I think that is what people want to see. I have been driving my same paint scheme all season and now we have something new," said Force.
The entire team is behind the program and Force was pleasantly surprised to see her crew guys jumping on the pink bandwagon today.
"I came out this morning and some of my guys were decked out in Castrol EDGE uniform shirts with pink stripes and some were wearing pink Vans or shoes with pink laces. They had it all going. It was cool to see us all supporting this cause together and having fun," added Force.
(Photos courtesy JFR/Nastase; NHRA/National Dragster; Click to enlarge)