First-time Professional Drag Racers Association (PDRA) winners Mike Recchia (Pro Extreme), James Hancock (Switzer Dynamics Pro Nitrous presented by MoTeC) and Chris Powers (Extreme Pro Stock) joined past PDRA event winners José Gonzales (Andy McCoy Race Cars Pro Boost) and Travis Davis (Drag 965 Pro Extreme Motorcycle) as the 2017 PDRA East Coast Nationals event champions.
A series of lengthy delays at the GALOT Motorsports Park-hosted event forced racing to continue past the local 11 p.m. curfew, allowing the completion of the five professional classes. Competition in the four sportsman classes – Magnafuel Top Sportsman, Lucas Oil Top Dragster, Campers Inn RV Pro Junior Dragster and MegaCorp Top Junior Dragster – is down to the semifinals and will be completed at the next PDRA race in Darlington, SC, May 18-20. The final round of East Side Auto Transport Extreme Outlaw 632, between No. 1 qualifier Ken Quartuccio and No. 2 qualifier Johnny Pluchino, will also be contested at Darlington.
PRO EXTREME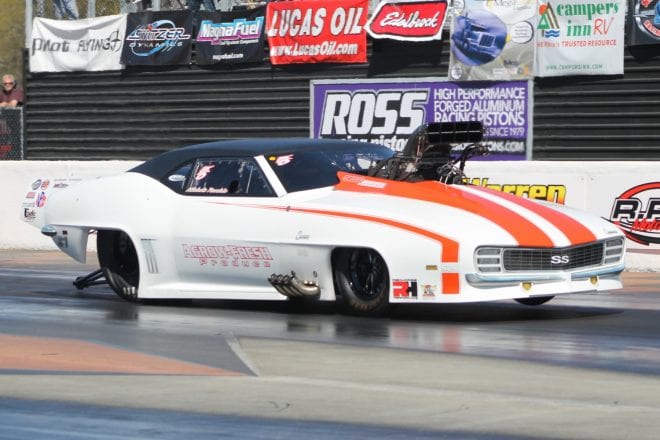 Racing out of the third spot, Mike Recchia did not have an easy path to his first winner's circle celebration. He opened eliminations with a 3.583-second victory over Swedish driver Stefan Holmberg, then upset past world champion Jason Scruggs in a 3.541-to-3.551 race second round. Recchia reached the finish line before semifinal opponent Frankie Taylor in a pedalfest. Finally, his win light turned on in the final round as soon as Valdosta event winner Tommy D'Aprile left too soon.
"I knew Tommy could cut a light and had a really fast car," Recchia said, who recorded a 3.591 at 208.01 in the final. "My son [Michael Recchia] does my tuning for me, and he said, 'It'll make it down, but I don't know if it'll beat a .52.' So I knew I had to do my job on the tree. I'm not sure what happened with Tommy. He must've been distracted because that's not Tommy – he's always spot-on."
The event win was especially rewarding for Recchia and his Roselle, IL-based team. While he's come close on several occasions, Recchia hadn't won a professional touring series event during his time as an eighth-mile doorslammer driver.
"This win validates everything we've been doing for the last five or six years. Trying to keep up with these guys [in Pro Extreme], it seems like we're always a year or six months behind everyone's performance. Finally I feel like we're getting somewhat closer to them, but there's still more to be had. This win just validates everything we've been working towards – the engine swaps, the transmission work and everything else we do," Recchia said.
PRO NITROUS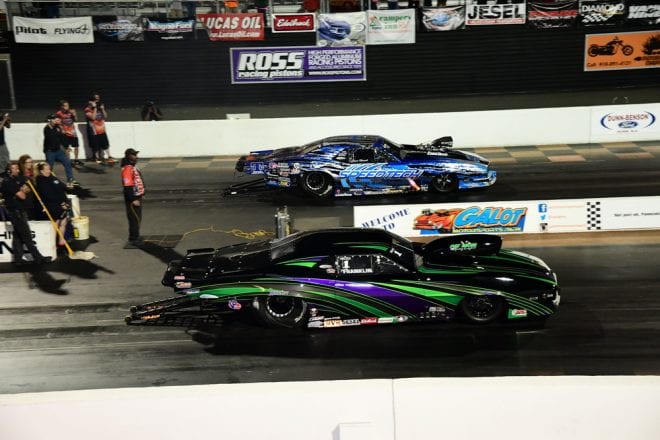 First-time PDRA Pro Nitrous winner James Hancock's day started rather unspectacularly – a 3.839 over Todd Howard in the first round and a 3.744 over No. 16 qualifier Brian Shrader in the second round. The Brian Shaw-owned Speedtech '69 Camaro then stepped up and came out on the winning end of two of the tightest races of the weekend.
In the semifinals, Hancock left the starting line just one thousandth of a second ahead of opponent Randy Weatherford and maintained the lead to win, 3.722 to 3.729. Waiting for him in the final round was No. 2 qualifier Tommy Franklin. Again, Hancock used a starting-line advantage to secure the win. This time, however, it was a holeshot victory as Hancock ran a 3.701 at 200.65 to Franklin's 3.700 at 203.86.
"It was a good race," said Hancock, who tunes the Sonny's-powered entry along with Fuel Tech's Luís Fernando Backes de Leon. "I enjoy racing everybody – it's not like you want to outrun them, we just want to outrun ourselves. You want to obviously win and go to the next round, but I like Tommy and all the guys out here. Outrunning them is not really want I want to do, but if that's what it takes to win the race, that's what we have to do."
PRO BOOST
After 23 cars made qualifying attempts, the twin-turbocharged '67 Mustang of the Dominican Republic's Jose Gonzales sat atop the Pro Boost field with a stout 3.711-seconds pass at 212.26 mph. Second on the 16-car qualified list was Tommy Gray and his supercharged '06 Corvette from Maryland, followed by GALOT Motorsports' own John Strickland from nearby Harrells, NC, in a blown '69 Camaro.
After taking out James Beadling and his Ohio-based '14 Camaro in round one, Gonzales won a close race in the quarter-finals against Buffalo, NY's Melanie Salemi and her supercharged '68 Firebird. In the semis, Gonzales led stripe-to-stripe over Sweden's Adam Flamholc in a '63 Corvette with a 3.712 pass at 213.40 mph that also earned him lane choice for the final against Strickland, who drove through "Turbo Todd" Moyer and GALOT teammate Ty Tutterow before running 3.722 at 198.61 to beat Jeremy Ray on his side of the ladder.
Gonzales was obviously up for the challenge, as he left with a .032 holeshot, then made his quickest and fastest run of the weekend at 3.685 seconds and 214.48 mph, while Strickland also made his best pass at 3.719 and 198.88 mph.
"We knew it was going to be tough with Strickland and the whole GALOT Motorsports team. They're always very fast, and they were on their home track so we knew we had to tickle it a little bit and make it just a little bit faster because you never know how fast they'll be able to go," Gonzales said. "The final was good for us. The car went straight down the track and conditions could not be better. The whole PDRA and Jason Miller did an outstanding job on the track all weekend long."
EXTREME PRO STOCK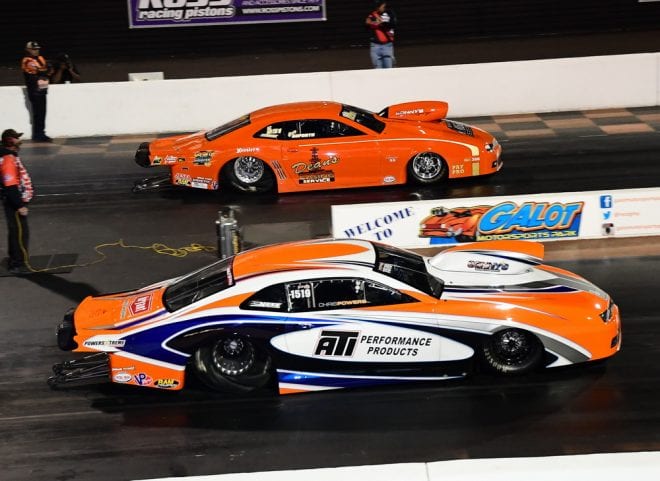 Pennsylvania's Chris Powers entered the PDRA East Coast Nationals simply wanting to get some experience behind the wheel of his new ATI Performance '14 Camaro. After qualifying respectably in eighth with a 4.108, he charged through Mountain Motor Pro Stock veterans John DeFlorian, Dwayne Rice, and newcomer Matt Giangrande to reach the final round in the car's debut.
"This is a new deal we put together," Powers said. "We just came out to test this weekend and get some seat time since this is my first time in the car. I have a great crew behind me. This weekend definitely worked out way beyond expectations."
With Extreme Pro Stock standout Cary Goforth waiting for Powers in the final round, crew chief Rob Bealko applied a more aggressive tuneup to the Sonny's Racing Engines 830-cubic-inch bullet. The tune worked, allowing Powers to match his 4.097 elapsed time from the second round at 176.90 to defeat Goforth's 4.100 at 176.53.
"When you're racing against the best, you find anything you can to get ahead. Our expectation was to just go A-to-B, so we just kept doing the A-to-B thing. The final round was definitely the hardest one to get by. [Cary Goforth]'s the best in the business, so I knew we had our work cut out."
PRO EXTREME MOTORCYCLE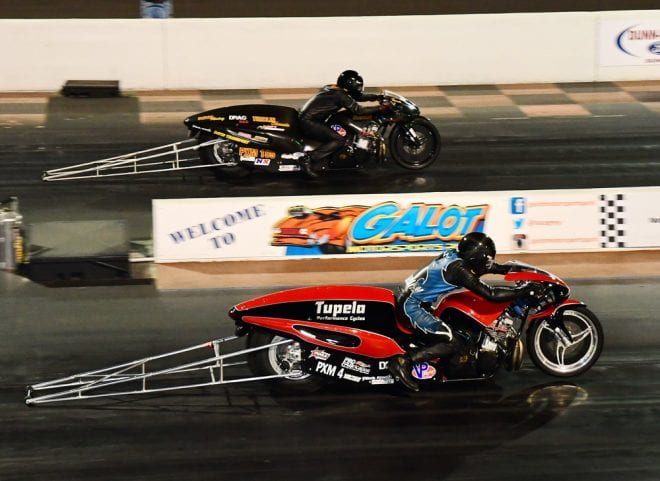 With a career-best run in the final round, third-place qualifier Travis Davis earned his third PDRA Pro Extreme Motorcycle win after scoring twice in 2014, the inaugural year for the all-eighth-mile series.
Defending class champion Eric McKinney qualified first with a 3.996 run at 178.78 mph aboard his 2012 Suzuki GS, while his teammate, Ashley Owens, started second, followed by Davis in third and Chuck Wilburn rounding out the top half of the eight-bike field.
All but McKinney survived the opening round of racing, with Davis easily defeating Canada's Burke Foster before edging out Owens by 13-thousandths of a second in round two. Wilburn, meanwhile, beat Foster's Canadian teammate Terry Schweigert, then sent Chris Garner-Jones packing from the semis.
Wilburn left first in the final, but Davis quickly recovered from a .015 starting-line deficit to win in 3.988 seconds at 176.05 mph over Wilburn's 4.062 at 175.27 effort.
"That was our first three-second pass and we've been trying to get that for a couple of years, so for it to come in the final and get us the win here, well, we couldn't have scripted it any better," said Davis, from Douglas, GA. "It's a big relief, too, to finally get back in the winner's circle. We couldn't be any happier right now."
The next race on the 2017 PDRA tour is the PDRA Spring Nationals, May 18-20, at Darlington Dragway in Darlington, SC.