Mike Recchia, the most recent Pro Extreme winner on the Professional Drag Racers Association (PDRA) 2017 tour, is well on his way to another strong performance at the PDRA Spring Nationals at Darlington Dragway. The Illinois native is currently qualified No. 1 with a 3.61-second pass at 211.96 mph after two of three qualifying sessions during the PDRA's first stop at the legendary South Carolina track.
Also leading in the other professional categories at the PDRA's third of eight events are Tommy Franklin in Switzer Dynamics Pro Nitrous presented by MoTeC, Brandon Snider in Andy McCoy Race Cars Pro Boost, Cary Goforth in Extreme Pro Stock, and Travis Davis in Drag 965 Pro Extreme Motorcycle.
The provisional low qualifiers in the PDRA's sportsman classes are Dan Ferguson in Magnafuel Top Sportsman and Jody Stroud in Lucas Oil Top Dragster. Matthew Minter leads Campers Inn RV Pro Junior Dragster, while Hartsville's own Brooke Miller sits atop the MegaCorp Top Junior Dragster qualifying order after three qualifying sessions. Ken Quartuccio is the provisional No. 1 qualifier in East Side Auto Transport Extreme Outlaw 632.
PRO EXTREME
It may appear as though Mike Recchia loaded up his Agrow Fresh '69 Camaro after winning the last race on tour and unloaded it at the Spring Nationals to qualify No. 1, but it wasn't that simple. Recchia's 3.61 at 211.96 is actually the result of a lot of hard work by his team.
"The funny thing is this isn't the engine we ran at the last race at GALOT," Recchia said. "All of the parts we ordered last December just came in, so we put this new engine and driveline together. We have a few bugs in the system, but we'll go through the car tonight and squash those bugs. But it feels great to win the last race then back it up with this performance here."
Chasing Recchia is PDRA Valdosta winner Tommy D'Aprile in the Mel Bush Motorsports '15 Corvette with a 3.614 at 208.43 and Sweden's Mattias Wulcan with a 3.615 at 209.50 is third.
"The guys behind us are super-fast people," Recchia said. "You've got (Jason) Scruggs, D'Aprile and Terry Leggett. We're finally beginning to swing with these guys. It's been a long struggle."
PRO NITROUS
Defending Pro Nitrous world champion Tommy Franklin holds the top spot after running a 3.706 at 204.17 in his "Jungle Rat" '69 Camaro. The Fredericksburg, Virginia-based businessman praised his Tommy Franklin Motorsports team, but also the Darlington Dragway and PDRA staffs for their part in the day's success.
"The racetrack has been stellar all weekend," Franklin said. "It was 140 degrees out there today and the car was just bolted to the track. Great facility, great track prep and great guys out here. Just gotta thank the Lord for keeping us safe.
"We had a great event out here tonight. I was really trying to go a 3.69 – I'm going to be greedy. But to go 3.70 at 204 in these weather conditions is just great. It just speaks a lot for my crew, my family, all of my people back home taking care of the businesses, and this Pat Musi horsepower and Jerry Bickel-built race car."
Points leader and Valdosta winner Jay Cox in his Clements Mechanical '69 Camaro is in second with his 3.711 at 200.80. Randy Weatherford's clutch-equipped '69 Camaro ran 3.732 at 199.91 to sit third.
PRO BOOST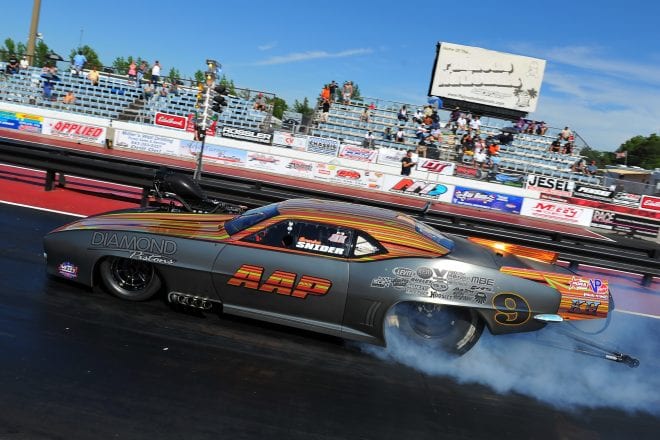 Last year's PDRA Pro Extreme world champion, Brandon Snider, made an offseason move to Pro Boost. He debuted an AAP-backed '69 Camaro at the second race of 2017, just days after picking it up from chassis builder Jerry Bickel Race Cars. While that first outing was not successful, the Alabama native is already well on his way to a strong second race after posting a 3.721 at 202.07 Friday night.
"We tested (Thursday), went a 3.76 on a 137-degree track," Snider said. "We came out today in the heat and just totally screwed it up, just lost it. We found a few issues here and there, went back and sorted it out. This is a different class, different car, different engine program – everything is different from Pro Extreme. Having this put in your lap and to learn it quickly is a real challenge. It's a real challenge for all of us. We're just going to keep picking at it."
While the mechanical aspects of Snider's program have changed significantly since switching classes, his mentality for Saturday's final qualifying session and first round of eliminations remains the same.
"Nothing's changed from last year as far as my strategy. We're going to race the track. I never cared who's over there in the other lane. It doesn't matter to me. I'm just on another time run and I race the track. I try to cut as good a light as I can, but it's just like testing. You go up, you've got your tune-up sorted out and you try to do the best you can. That's how I've always approached it from the first round of eliminations all the way to the finals," Snider said.
Points leader and Valdosta and Benson winner José Gonzales is second in his Pro Line-powered Q80 Racing '67 Mustang with a 3.744 at 213.07. Hometown hero Tylor Miller is third in the Mike Kopchick-tuned Pee Dee Fleet '69 Chevelle with a 3.76 at 197.37.
EXTREME PRO STOCK
Oklahoman Cary Goforth topped the Extreme Pro Stock field on Friday night for the second time this season. He drove his Dean's Casing Service/Dewayne Higgins Trucking '15 Camaro to a 4.048 at 178.36 in the night session after struggling on his first pass of the day.
"I feel really good right now," Goforth said. "I felt good after the first session. I wasn't even a bit upset about not getting down the first session because I knew we could come out here and run well in the night session. And I don't want to look like we're only running good in the night session. I think we can run really well in the heat. If you don't run well in the heat, you're not going to win a championship. That's just the way it is. Everybody can run well when it's cool."
When Saturday's third and final qualifying sessions rolls around, Goforth will attempt to hold off a large field of proven competitors. PDRA World Finals winner Buddy Perkinson is second in Enoch Love's '02 Cavalier with a 4.078 at 174.89, followed by mountain-motor Pro Stock veteran John Montecalvo in third with a 4.082 at 177.37.
"It's a good deal to be able to come out and run Q3 in the heat and see where you stack up against everybody when the sun is out," Goforth said. "That's very important. You can say not everyone will improve. You can say we probably won't run better than a 4.04. That's probably true. But we definitely need to see where we stack up against the competition. That third qualifying run is just as important to me as any other qualifying session."
PRO EXTREME MOTORCYCLE
A full field of 16 entries arrived at Darlington Dragway to make up the Pro Extreme Motorcycle field, currently led by Travis Davis. The PDRA East Coast Nationals winner posted a 4.044 at 175.78 in the second session to claim the top spot. Close behind Davis are Chuck Wilburn with a 4.051 at 175.30 in second and Ashley Owens with a 4.059 at 172.35 in third.
EXTREME OUTLAW 632
Connecticut's Ken Quartuccio is the provisional No. 1 qualifier in Extreme Outlaw 632 for the second race in a row. Quartuccio recorded a 4.328 at 161.93 in his '69 Camaro to charge to the top of the qualifying order. Rising star Dillon Voss follows in second with his 4.331 at 166.73. In third is Johnny Pluchino, who ran 4.365 at 160.43. Pluchino also earned the event win from the delayed PDRA East Coast Nationals, which was completed during qualifying at Darlington.
TOP SPORTSMAN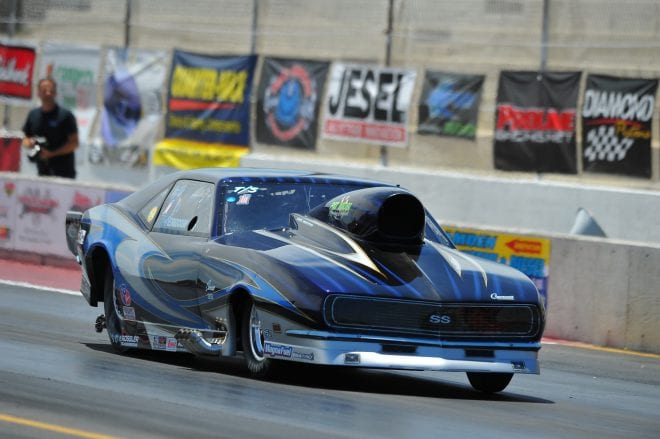 Two-time and defending Top Sportsman world champion Dan Ferguson lit up the scoreboards in a big way with his No. 1 qualifying effort. His 3.834 at 199.03 not only gave Ferguson the top spot, but also both ends of the national record. The "Carolina Kid" Travis Harvey is in second with his 4.027 at 182.26 in his '63 Corvette. Longtime Top Sportsman driver Bruce Thrift is third with a 4.035 at 180 mph.
TOP DRAGSTER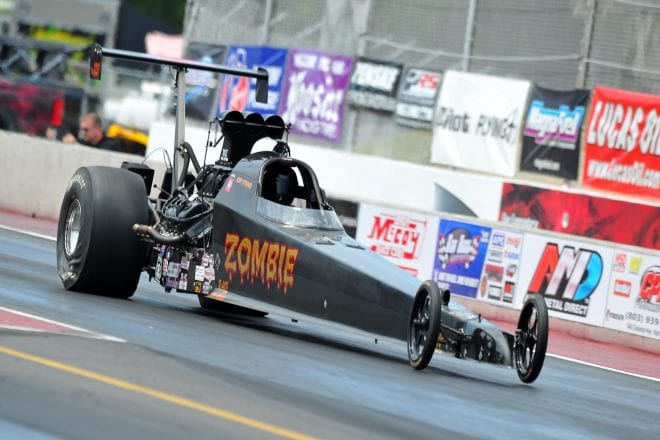 Jody Stroud and his Chesterfield, SC-based "Zombie" blown Spitzer dragster shot straight to the top of the Top Dragster qualifying order after laying down a 3.667 at 198.94, not far from the national records held by Stroud. Chaz Silance's Buck-powered Worthy dragster is second with a 3.838 at 189.87, followed by Jeremy Creasman's Maddox dragster at 3.845 at 180.36. Creasman also picked up the event win from the completion of the Benson race.
The PDRA Spring Nationals will resume Saturday with Edelbrock Bracket Bash's final time trial at 10:30 a.m., followed by sportsman final qualifying. Professional classes will begin their third and final qualifying session at 1 p.m. Eliminations are scheduled to begin at 4 p.m.