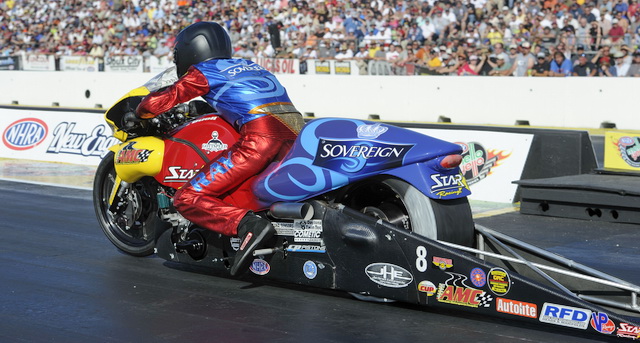 Michael Ray (above) continued his recent hot streak in Pro Stock Motorcycle by racing to his first career No. 1 qualifying position Saturday at the Auto-Plus NHRA New England Nationals.
Doug Kalitta (Top Fuel), John Force (Funny Car), and Jeg Coughlin (Pro Stock) also were No. 1 qualifiers based on their performances from Friday and will also lead their categories into Sunday's 11 a.m. eliminations at the NHRA Mello Yello Drag Racing Series event.
Riding the momentum from a victory at the last event to feature the bikes in Englishtown, N.J. in early June, Ray powered his Sovereign Star Racing Buell to a 6.832 second run at 197.05 mph to take the top spot in the two-wheel category at New England Dragway. The New Braunfels, Texas rider will face Angie Smith in the opening round.
"There's not a lot of people in NHRA history who have sat on the pole in the Pro Stock Motorcycle class and now I can add my name to that list," an excited Ray said.
""I have always been the underdog and I have loved that position. Now I don't mind to be able to stick my chest out a little bit and know that we have a really fast bike and that we will have to be someone to contend with for the rest of the season."
Ray, who defeated Hector Arana Sr. to win at legendary Raceway Park in New Jersey three weeks ago, joined forces with successful bike team owner George Bryce during the off-season and the duo has quickly produced results five events into the 16-race Pro Stock Motorcycle season.
"We've really been going in the right direction and to come out of the truck and be this fast and earn our first No. 1 qualifying position at this inaugural event is a true testament to the progress the team has been making," Ray said. "I just want to enjoy riding the wave because this is a humbling sport and you can be brought down in an instant."
Arana Sr. qualified second on his Lucas Oil Buell with a 6.838 at 195.65 and will open against Shawn Gann, while yesterday's top qualifier, Matt Smith, dropped to third in the order and will take on defending world champ Eddie Krawiec in a titan first round race.
In Top Fuel, Kalitta scored his fourth No. 1 of the season and 35th of his career with a 3.795 at 323.97 in his Mac Tools dragster. He will face Canadian Ike Maier in the first round.
"We struggled a little bit today getting down the track," Kalitta said. "We tried this other blower that we have on that second run, and it definitely showed some sign there that it might be OK for us. All in all, I think we should be ready for tomorrow.
"We would have liked to have gotten down the track on that last qualifying run, but it will be alright. We'll just go back to what we know, and go A to B."
Shawn Langdon qualified second in the Al-Anabi Racing dragster with a 3.809 at 321.58 and he will open against Tim Boychuck. Australian David Grubnic qualified third in his Optima Batteries dragster and will face Terry McMillen.
Force scored his 142nd No. 1 in Funny Car and second of the season with his Friday effort of 4.051 at 313.44 in a Castrol GTX Ford Mustang. Force, who posted the two quickest runs on Saturday, will meet Dave Richards in the opening round. Richards, who is making his first Funny Car start at this event, will be the 136th different driver Force has faced in his career.
"It was low every round and all I can say is Mike Neff, Mike Neff, Mike Neff," Force said. "I'm excited. This is an important market for our sponsors so we're happy to give them a No. 1 and it's a good weekend so far."
Force is thrilled with the massive turnout of New England area fans who have greeted him in his pit area during this inaugural event.
"It has been packed all weekend," Force said. "It makes you feel really good. This is awesome. This is a crowd that's hungry for our sport and we need that. What excites me is to see the people. People have lots of options and up here they wanted a drag race. You can't go anywhere around the area without getting approached from people. It's been great to see."
Matt Hagan is second in his Magneti Marelli Dodge Charger with a 4.057 at 317.49 and he will meet fellow Virginian Blake Alexander in the first round. Last season's rookie of the year, Courtney Force, will start third in her Traxxas Ford Mustang with a 4.083 at 313.37 and she will meet rival Alexis DeJoria in the opening round.
Local Funny Car favorite Bob Tasca III, from Hope, R.I., qualified seventh in his Motorcraft/Quick Lane Ford Shelby Mustang with a 4.096 at 312.13 and he will race defending world champion Jack Beckman in round one.
In Pro Stock, Coughlin claimed his second No. 1 of the season and the 19th of his career with a 6.533 at 212.43 in his JEGS.com/Mopar Dodge Avenger.
"I owe a lot to the JEGS.com team and also to the J&J Racing/Mopar team," Coughlin said. "They've done a great job of providing horsepower, and I feel fortunate to have such a great group in my corner. We've had a great season so far. Allen [Johnson, teammate] and I are second and third in the points [respectively], and there is only one team [Edwards] that is doing better than we are.
"We just need to take this momentum and carry it through the summer and hopefully keep the world championship in the J&J camp."
Johnson will start second in his Team Mopar Avenger with a 6.549 at 212.79 and will race John Gaydosh, while series points leader Edwards is third and will race Kenny Delco in the opening round.
(Photos courtesy NHRA/National Dragster; JFR; JEGS; Click to enlarge)
EPPING, N.H. — Sunday's first-round pairings for eliminations for the Inaugural Auto-Plus NHRA New England Nationals at New England Dragway and Motorsports Park, the 11th of 24 events in the NHRA Mello Yello Drag Racing Series.  Pairings based on results in qualifying, which ended Saturday. DNQs listed below pairings.
Top Fuel
1. Doug Kalitta, 3.795 seconds, 323.97 mph  vs. 16. Ike Maier, 5.409, 194.66; 2. Shawn Langdon, 3.809, 321.58  vs. 15. Tim Boychuk, 4.333, 215.13; 3. David Grubnic, 3.817, 321.96  vs. 14. Terry McMillen, 3.927, 317.57; 4. Tony Schumacher, 3.817, 323.35  vs. 13. Brittany Force, 3.917, 316.75; 5. Spencer Massey, 3.818, 323.97  vs. 12. Khalid alBalooshi, 3.896, 319.67; 6. J.R. Todd, 3.831, 319.98  vs. 11. Morgan Lucas, 3.889, 317.57; 7. Bob Vandergriff, 3.833, 323.04 vs. 10. Antron Brown, 3.877, 310.48; 8. Steve Torrence, 3.847, 321.27  vs. 9. Clay Millican, 3.855, 319.60.
Funny Car
1. John Force, Ford Mustang, 4.051, 313.44  vs. 16. Dave Richards, Chevy Monte Carlo, 4.455, 267.32; 2. Matt Hagan, Dodge Charger, 4.057, 317.49  vs. 15. Blake Alexander, Charger, 4.298, 299.33; 3. Courtney Force, Mustang, 4.083, 313.37  vs. 14. Alexis DeJoria, Toyota Camry, 4.288, 297.75; 4. Ron Capps, Charger, 4.083, 309.91  vs. 13. Tony Pedregon, Camry, 4.185, 287.11; 5. Robert Hight, Mustang, 4.088, 313.80  vs. 12. Del Worsham, Camry, 4.151, 305.98; 6. Johnny Gray, Charger, 4.090, 312.64  vs. 11. Tim Wilkerson, Mustang, 4.143, 307.58; 7. Bob Tasca III, Mustang, 4.096, 312.13  vs. 10. Jack Beckman, Charger, 4.119, 308.85; 8. Cruz Pedregon, Camry, 4.107, 307.51  vs. 9. Jeff Arend, Charger, 4.115, 307.30.
Did Not Qualify: 17. Mike Smith, 5.166, 154.33.
Pro Stock
1. Jeg Coughlin, Dodge Avenger, 6.533, 212.43  vs. Bye; 2. Allen Johnson, Avenger, 6.547, 212.26  vs. 15. John Gaydosh Jr, Pontiac GXP, broke; 3. Mike Edwards, Chevy Camaro, 6.549, 212.79  vs. 14. Kenny Delco, Chevy Cobalt, 6.708, 208.23; 4. Shane Gray, Camaro, 6.556, 212.23  vs. 13. Lewis Worden, Ford Mustang, 6.681, 207.72; 5. Jason Line, Camaro, 6.565, 212.49 vs. 12. Larry Morgan, Mustang, 6.665, 209.75; 6. Greg Anderson, Camaro, 6.580, 211.79  vs. 11. Steve Kent, Camaro, 6.646, 209.36; 7. V. Gaines, Avenger, 6.598, 211.20  vs. 10. Tom Martino, GXP, 6.639, 208.26; 8. Vincent Nobile, Avenger, 6.601, 210.57  vs. 9. Rodger Brogdon, Camaro, 6.613, 211.39.
Pro Stock Motorcycle
1. Michael Ray, Buell, 6.832, 197.05  vs. 16. Angie Smith, Buell, 6.975, 192.28; 2. Hector Arana, Buell, 6.838, 195.65  vs. 15. Shawn Gann, Buell, 6.969, 192.82; 3. Matt Smith, Buell, 6.844, 196.02  vs. 14. Eddie Krawiec, Harley-Davidson, 6.961, 192.03; 4. Scotty Pollacheck, Buell, 6.878, 193.18  vs. 13. Steve Johnson, Suzuki, 6.939, 194.04; 5. Adam Arana, Buell, 6.881, 194.69  vs. 12. Jim Underdahl, Suzuki, 6.926, 196.79; 6. John Hall, Buell, 6.884, 194.69  vs. 11. Jerry Savoie, Suzuki, 6.925, 195.87; 7. LE Tonglet, Suzuki, 6.893, 194.88  vs. 10.Andrew Hines, Harley-Davidson, 6.921, 193.99; 8. Hector Arana Jr, Buell, 6.895, 194.69  vs. 9. Mike Berry, Buell, 6.920, 194.55.
Did Not Qualify: 17. Michael Phillips, 7.032, 194.04; 18. Joe DeSantis, 7.032, 190.97; 19. Sam Hurwitz, 7.303, 185.69.