Pro Modified standouts Melanie Salemi and Johnny Camp were set to battle it out in the final round of the Empire Northeast Outlaw Pro Mod Challenge IV Saturday night when rain showers put an early end to the fourth race on the 2023 Northeast Outlaw Pro Mod Association (NEOPMA) schedule. The final round will be contested August 18-19 when NEOPMA returns to Empire Dragway.
"Rain seems to be affecting every racing organization this season, and we were the latest victim this weekend," said John Mazzorana, founder and president, NEOPMA. "Despite rain in the weekend forecast, the enthusiastic fans at Empire showed up and supported us. [Track owner] Jerry Scaccia and his team worked through multiple rain delays to provide our racers with the track conditions they needed to put on a show for the fans. While we weren't able to crown an event champion, we're looking forward to coming back to Empire and handing out two trophies next month."
Salemi, who races out of the nearby Buffalo area, qualified No. 1 after three sessions with a 3.65-second blast in Eddie Whelan's screw-blown '19 Camaro. NEOPMA veteran Derek Ward charged to a 3.671 in his screw-blown '69 Camaro to qualify No. 2. Johnny Camp, who recently returned from a crash earlier in the season, took his new ProCharged "Back in Black" '20 Camaro to the third spot with a 3.68. Multi-time Pro Modified world champion Kenny Lang qualified fourth in his screw-blown '69 Camaro with a 3.689. Two-time and reigning NEOPMA champion Mike Decker Jr. rounded out the top five with his 3.691 in his screw-blown Decker's Salvage Camaro.
Twenty-one cars attempted to qualify for the 16-car show, though a total of 24 Pro Mods were on the grounds before breakage during testing sent three home early. New York's own Dave Texido held the bump spot with a 3.781, one of the quicker bump spots in recent NEOPMA history. Past series champion Andy Jensen just missed the field with his 3.782 in his single-turbo '68 Camaro.
On Salemi's side of the ladder, she started eliminations with a 3.635 to defeat a red-lighting Dave Texido. She then matched that performance with a 3.634 in the second round to drive around Mike "Hollywood" Decker III's holeshot advantage and 3.717 effort. With husband Jon and brother-in-law Jim calling the shots, Salemi then laid down a 3.613 in the semifinals to beat Kevin McCurdy's 3.722 and set a new track record.
"I think every time we went up to make a run, we were low E.T. of the session," said Salemi, who credited team members Mike Stawicki, Jim Salemi, Evan Salemi, Jon Salemi, and Eddie Whelan. "Jon was focused on getting the win at our hometown track at Empire because it seems like every time, we have a really great car at these local races and something keeps us from the winner circle. Unfortunately, Mother Nature was the one that kept us from having the chance to be in the winner's circle this time. All in all, we had a great weekend, we didn't hurt any parts, and we ran extremely well."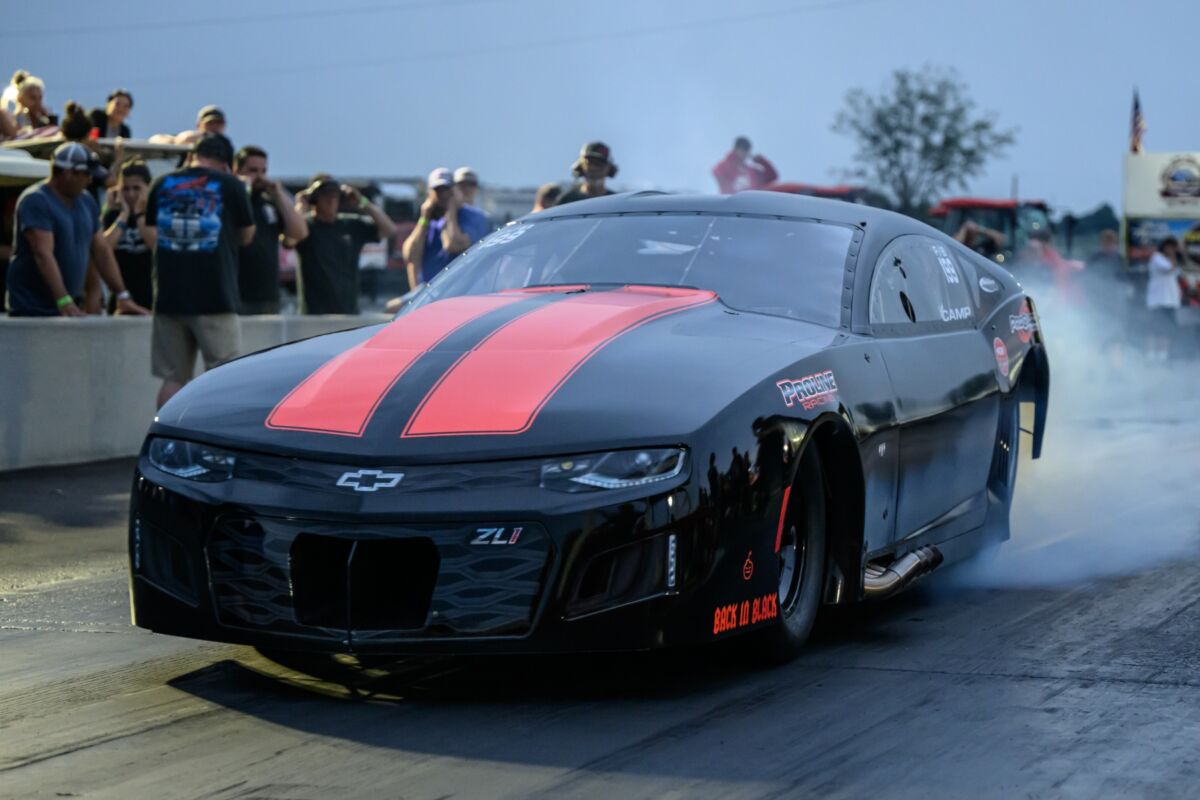 Camp's race day began with a 3.692-second win over Canada's Al Martorino. In the second round, he was first off the starting line against Tommy Gray and won with a 3.679 over Gray's 3.697. The Canonsburg, Pennsylvania-based driver made his best run of the event, a 3.657, to defeat Fredy Scriba and his 3.719 in the semifinals.
"I wanted to give a shoutout to Empire Dragway," Camp said. "Thank you for welcoming us at the NEOPMA event. The facility is beautiful. Plenty of parking and the track conditions were stellar, even with multiple rain showers. Thank you for having us, and we look forward to racing with you again."
Supercharged entries may have made the headlines, but one of the quickest cars on the property was Matt Deitsch Jr.'s nitrous-fed '69 Camaro. His 3.649 was the second-quickest pass of the second round, though Scriba used a holeshot advantage to hold him off.
After dealing with popup showers all weekend, another rain shower hit just before the final round. Between the rain and cool track temperatures, the decision was made to postpone the final round to the next NEOPMA event at Empire, August 18-19.
"Ending the race before the final round obviously wasn't how we hoped to wrap up the weekend, but it was the best decision for the racers and fans," Mazzorana said. "Fortunately, we'll be back at Empire soon, and the fans will get to see what should be a thrilling final round completed during qualifying."
Before returning to Empire, NEOPMA will head to Maryland's Cecil County Dragway for its second of three races there, the July edition of the Strange Engineering Street Car Shootout, July 28-29.