At 36 years old, Chase Driskell has made a name for himself as one of the rising stars of the radial tire tuning world. Despite his relatively young age, Driskell has already lived a life that many could only dream of, and from his home base in Friendswood, Texas, his success continues to grow.
Early on in life, Driskell knew what he wanted to do. He was raised in the aviation and racing communities and the two hobbies ultimately shaped his future. "My uncle, Joe Munsch, took me to the track when I was 13. He'd pick me up on Wednesdays and we'd go to the bracket races, and I knew at that point I was hooked," laughs Driskell with his typical laid-back, casual attitude. By the time he was 17, Driskell's first car, an '83 Mercury Capri, was running in the 8-second zone.
Torn between his two passions, Driskell went to flight school and began working as a corporate pilot. After years of simultaneously flying and racing part time, he realized that racing was becoming more and more important to him. "All I was doing was trying to take off work so we could go racing. I'd get off an airliner from a trip to South America, land in Venezuela where I was living at the time, board a flight to Houston, and get in the rig to drive to a race. It just got to be too much," he explained. With the desire to be more in control of his own schedule, Driskell eventually traded the cockpit and skies for a laptop and pavement.
It was his involvement with "Turbo" Todd Moyer for well over a decade that helped solidify Driskell's professional career in drag racing. Driskell was tasked with crew chief duties for Moyer's multiple cars, and in addition to wrenching and tuning, he often stepped in to drive when Moyer himself was too busy. "There's no way I would have had that opportunity without Todd, and I'm forever grateful for that. It was quite an experience to have access to top-flight equipment and resources," Driskell says.
He also had the opportunity to work with Jerry Bickel Race Cars while having Moyer's brand new Pro Mod built from the ground up. "That's not something a lot of people get to do," Driskell recognizes. "We qualified number one at the PDRA in Michigan in 2015 at one of our first races with it," he proudly adds of the twin turbo '15 Camaro PDRA Pro Boost entry that ran 3.83 at 205.10 mph.
Together, Driskell and Moyer shared some great memories, but as situations change, all good things must come to an end. The two parted ways in December of 2015, and Driskell found himself contemplating his next move.
With Donald "Duck" Long's infamous "Lights Out 7" radial race at South Georgia Motorsports Park quickly approaching in February, Driskell considered going on his own to tune. "I was lining people up to work on X275 cars and other random shit to make a few hundred bucks," Driskell says, "but Andrew Alepa asked if I had plans for Duck's, and we wound up working together."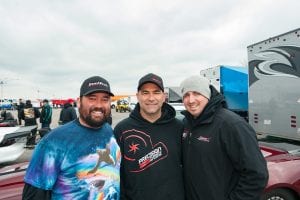 Alepa's car, a stunning radial tire C7 Corvette featuring twin-turbo Proline Racing (PLR) Hemi power driven by Rob "The Gangster" Valden, was a bit of an unknown for Driskell as he wasn't sure how the situation would pan out.
Fortunately, the guys hit it off, personalities clicked, and they've been motoring forward ever since. "It's really awesome working with a professional who only has to focus on driving, a crew that works on the car, and an owner that's extremely understanding and who gives his all with the hope that we'll win," Driskell says. "I left Duck's race thinking 'F*ck yeah, I could do this forever!' We all just work so well together."
Being involved with Alepa's top-tier Radial vs. the World operation means that Driskell also gets to work closely with the team at Proline. "That's been a really new experience for me because we're using more standardized engine combinations. Plus, being able to work with tuners like Steve Petty and Jamie Miller and Josh Ledford is really awesome. Brandon Stroud, who's got an incredible wealth of knowledge, has allowed me to be involved in his maintenance program," says Driskell, who was welcomed into PLR's "red hat mafia" with open arms. "The whole PLR group motivates everyone to strive for the best. Yeah, we race against each other, but we're family and still help each other out."
Although Driskell's primary gig is that of being Alepa's crew chief, his agreement is non-exclusive and he often finds himself working with other racers on his occasional off-weekends. "I enjoy the challenge of tuning and of making all the components work on different combinations," he says. When a well known but not-to-be-named Pro Mod driver made the switch to EFI, Driskell was the one who was instrumental in doing the installation and setup. He's also had a hand in other notable radial tire projects, including working with Philadelphia Eagles defensive tackle Fletcher Cox.
Ironically, one of Driskell's favorite projects that he's ever worked on wasn't a drag car, but rather a '57 Chevy rat rod street car owned by David Strom. "It's cool as f*ck!" he exclaims excitedly. Driskell, who usually doesn't work on street cars, tunes the classic Chevy's Holley EFI system to maximize fuel economy and keep the ProCharged 383 c.i., small-block Chevy engine happy at cruising RPM while also being suitable for drag racing during its stint on the HOT ROD Power Tour. Strom and his son, Casey, picked out the engine together just one day before the teen was killed in an unrelated car accident. "David built the car as a tribute to him. It's really incredible, a full tube frame, and it won best of show at the Tri-Five Nationals out of more than two-thousand cars," boasts Driskell, who is extremely proud of his part in the project. "He's got infinity million dollars in that thing. Now we've got a two-thousand-horsepower engine on order for it and they're gonna' blow it up for his son."
In addition to tuning, Driskell also has enjoyed his fair share of seat time. He's won several X275 events and scored both win and runner-up finishes at PSCA's Street Car Super Nationals in years past. Last July, Driskell was the big winner in X275 at the Sunrise Nationals. "We ran the finals at 8 a.m., and my mom was up until 4 a.m. watching but finally had to go to sleep, so I called her at 7:30 and she turned on the live feed," says Driskell, perhaps more proud of his incredible mother, Jodette, than he is of the win itself. "She watches every single race we're in on the live feeds, she's hardcore," he proudly adds. That same season, while still with Moyer, Driskell and team picked up multiple wins and had a "phenomenal year where the car practically paid for itself."
Having worked with Moyer for so long, one would expect Driskell to be a diehard turbocharger fanatic. "I hate to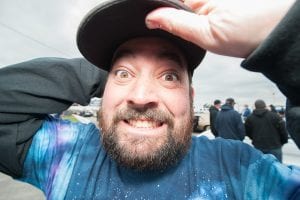 admit it, but deep down, I'm a nitrous guy at heart," he laughs, adding that his first car ran nitrous. However, in today's crazy competitive environment, Driskell simply believes it's not feasible to run nitrous and that turbocharged powerplants are the way to go. "And I'm not just saying that because I get paid to do the turbo stuff; no one would pay me to blow up a nitrous engine!"
Regardless, Driskell says the most important lesson he's gleaned from driving and tuning is "you've got to be out there in the game no matter what, you've got to be learning, and you've got to hustle."
That desire to constantly be learning is what drives Driskell forward. Early on it was Hyperaktive Performance Solutions' Joe Oplawski that made a huge impact in the young man's life. "When I first started, I was thrust into all of this, and Joe was instrumental in helping me grow," Driskell humbly recognizes. "He answered every question that I had, and still does."
Driskell also has developed a friendship over the years with fellow Texan Frankie "The Madman" Taylor. "He gave me the opportunity to learn screw-blown stuff and Hemis, which were new to me," he notes. "I haven't been able to do a lot with Frankie because of my schedule, but he's got a top-notch Pro Extreme team and I love working with him when I can. He's someone that didn't come from a lot but has succeeded with his own willpower and desire to learn."
First impressions often can be deceiving, and Driskell is a perfect example. The likeable crew chief has a reputation for messing around and having fun, but he's fiercely competitive when it comes to racing. "I might walk around in flip flops wearing a tuxedo shirt cracking jokes, but inside, my mind is in the game and don't let that fool you," cautions Driskell, who also admits to conducting this interview over the phone as he sat naked in a Cartersville, Georgia, hotel room while sipping a fine, single-malt scotch.
This story originally appeared in Drag Illustrated Issue No. 113, the Crew Chief Issue, in September of 2016.