With four races remaining in the NHRA Full Throttle Drag Racing Series regular season, many teams will need to add a new tool to their arsenal of wrenches, widgets and gadgets in their pit areas: a trusty calculator. And while each of the four Full Throttle Series classes have some intriguing plots and subplots regarding who will and won't qualify for the Full Throttle Countdown to the Championship playoffs, perhaps the most competitive top-10 battle will be in Funny Car.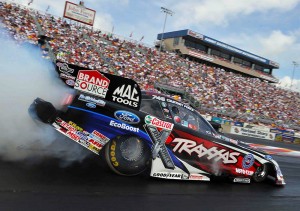 Current points leader Robert Hight (above) has already clinched a Countdown spot, but as many as eight teams, from sixth all the way down to 13th in the points order, will be racing hard to grab one of the final positions in the playoff field over the course of the final four races of the regular season.
Next up for those who are trying to break into the top 10 is the NHRA Sonoma Nationals, July 27-29 in northern California, just north of San Francisco.
Sixth place Courtney Force, who raced to her second Funny Car final-round appearance of the season a week earlier in Denver, sits only 128 points from 11th place Tim Wilkerson in the series standings. Defending world champ Matt Hagan is 13th in his Aaron's/Mopar Dodge Charger, 152 points back of 10th place John Force.
There are a lot of scenarios that teams can work up on paper, but at the end of the day, it will all come down to performance on the track.
For Hagan, his team needs a quick turnaround in that department if he's going to be able to defend his world championship title. So far in 2012, he hasn't advanced past the second round and has suffered eight first round losses and one DNQ.
"We won't give up on the Countdown until somebody tells me it's impossible for us to get into the top 10," Hagan said. "And even then our Aaron's team will never quit trying to get better and win. We have 10 more Full Throttle races left and that means we have a shot at winning 10 trophies. That's our goal. We don't give up; we never will."
Wilkerson, who posted a runner-up finish at Norwalk and surged ahead, knows that 70 points stand between him and the 15-time series champion Force in 10th place . With a great record of success at the four remaining races of the regular season–including multiple wins at Sonoma and Seattle, which is next on the schedule–Wilkerson knows the time is now or never. Of his 30 career final rounds, nine have come at those four races.
"We went from almost out of contention to right back in it, and we have four races left in the regular season to make the playoffs," he said. "I'd rather be the hunted instead of the hunter, though, so our goal is to just keep winning rounds and if we do that we'll jam our way into the top 10, no matter what anybody else does.
"That's the only way to think about it and approach it, because right now there are eight great teams legitimately fighting for the last five spots in the Countdown, and you can do the math. It's going to be a very interesting stretch of racing here, between now and Labor Day."
As we've seen before in the Countdown with current series points leader Robert Hight in 2009 and Hagan last year, if you can qualify for the Countdown, a championship title is certainly within reach. Force hopes he can hang on to have a shot at winning world championship title No. 16.
"We're 10th in points," Force said. "You gotta be in the top 10 (to make the Countdown playoffs). At the end of the day, you know that if you make the Countdown, anything can happen."
(Photos courtesy NHRA/National Dragster & John Force Racing; Click to enlarge)
NHRA Funny Car Points
(as of July 22, 2012)