For the first time ever, Mel Roth's PSCA-brand of drag racing makes its way to the Midwest for the Street Car Supernationals "Anarchy At the Arch" at Gateway Motorsports Park. DRAG ILLUSTRATED Contributing Photographers James Sisk and Jason Dunn are on the scene to provide non-stop photographic updates from what promises to be one of the hottest drag races of the year.
Al Zafiri Smashes Pro Mod Records in Epic PSCA SCSN Final at Gateway
Over the course of the Pacific Street Car Association's Street Car Super Nationals: Anarchy at the Arch at Gateway Motorsports Park, the door slammer world record has been the subject of a tug of war. Frankie "The Madman" Taylor set the ET record with his '04 Corvette at 5.550. Turky Al Zafiri answered with a 5.531 in his '69 Camaro, but Taylor finished qualifying Friday night with a 5.529.
 
Saturday night, those records were destroyed.
 
In a head-to-head matchup that seemed pre-determined, Taylor and Al Zafiri faced off in the Pro Line Racing Outlaw Pro Mods finals, but not before Taylor made another record-shattering pass, this time dipping into the 4s at 5.479 seconds. Al Zafiri answered back with the speed record with a run of 272.83 mph, breaking his own speed record from Friday night.
 
Late Saturday night, under humid condition, Al Zafiri took the victory in what is easily the quickest side-by-side door slammer pass in the history of drag racing. The Q80 racing drive had the last say on the ET record with a 5.461 second pass, very nearly resetting the speed record at 272.50 mph. Taylor made him work for it, though, with his pass of 5.476 seconds at 263.77 mph.
 
"I'm just at a loss for words," said PSCA President Mel Roth. "I literally can't believe what we witnessed here this weekend. Since the 2012 Street Car Super Nationals in Las Vegas, we've seen the ET record fall by nearly a full three-tenths of a second. If this isn't the best door slammer show in drag racing, I don't know what is."
 
In the Hughes Performance Pro Mod class, Canadian Jim Bell topped No. 1 qualifier Kevin Fiscus. Former NHRA Pro Mod champion and two-time defending SCSN winner Troy Coughlin went out early after mechanical issues struck him at the starting line.
 
Other Anarchy at the Arch winners were: Scott Lowery (MagnaFuel 10.5), Justin Martin (MagnaFuel XDR/TT5), Lamar Swindoll (Mickey Thompson Wild Street), Krusty Ramsey (Steve Schmidt Outlaw 8.5), Clay Tyler (Goodyear Open Comp), Greg Cason (Edelbrock Super Index), Dennis Pearson (Ross Racing Triple Index), Corey Landolt (Brodix Bracket 1), and Clay Tyler (Calvert Racing Street Muscle).
 
The next PSCA event on the schedule is the Mickey Thompson West Coast Shootout at Fontana with the season-ending Street Car Super Nationals X scheduled for November 20-23 at The Strip at Las Vegas Motor Speedway. For more information on the PSCA, visit them on the web at PSCARacing.com or at their page on Facebook at Facebook.com/PSCARacing.
---
ELIMINATION ROUNDS PHOTO GALLERY
Invalid Displayed Gallery
Invalid Displayed Gallery
Invalid Displayed Gallery
(Photographs by James Sisk and Jason Dunn)
---
5.47-SECOND DOORSLAMMER RIDE-A-LONG
---
JAMES SISK: FRIDAY PHOTO GALLERY
Invalid Displayed Gallery
---
JASON DUNN: FRIDAY PHOTO GALLERY
Invalid Displayed Gallery
---
FINAL QUALIFYING SHEETS
Invalid Displayed Gallery
---
Q80 RACING'S TURKEY AL ZAFIRI ANSWERS TAYLOR WITH 5.53/262MPH PASS
There was no question that more than one car on the property at Gateway Motorsports Park was capable of challenging Frankie Taylor for rights to the quickest quarter-mile pass of all time, many eyes looking toward Kuwait-based Q80 Racing and their new Bickel-built, Pro Line Racing-powered '69 Camaro driven by Turkey Al Zafiri as the top contender for the crown.
In the opening round of qualifying on Saturday evening, Zafiri, perhaps better known as "Scarface", answered the call, ripping off a straight-and-true, almost effortless 5.53-second, 262mph blast to earn his spot in the drag racing record books.
---
JASON DUNN: THURSDAY PHOTO GALLERY
Invalid Displayed Gallery
(Photographs by Jason Dunn)
---
JAMES SISK: THURSDAY PHOTO GALLERY
Invalid Displayed Gallery
(Photographs by James Sisk)
---
SECOND SESSION QUALIFYING SHEETS
Invalid Displayed Gallery
---
5.550: FRANKIE TAYLOR OBLITERATES QUARTER-MILE PRO MOD RECORD
Following the completion of the first-annual PDRA "Under the Lights" event in Tulsa, Oklahoma, Frankie "Mad Man" Taylor and his crew chief/brother, Paul, found themselves entirely too close to Gateway Motorsports Park to resist continuing north from their home in Dickinson, Texas, to try their hand at the outlaw quarter-mile during Mel Roth's Street Car Supernationals in St. Louis.
Their stated goal for their trip to "Anarchy at the Arch" was to reset the world record for an unrestricted doorslammer, which was currently held by John Stanley with a 5.644-second lap made last fall in Las Vegas. In their very first pass, the Taylor Bros. did exactly what they set out to do, posting a mind-numbing 5.590-second pass in their Larry Jeffers-built Corvette on a planned early shut-off pass that netted only a 250mph trap speed.
World-renowned tuner Billy Stocklin confirmed with DRAG ILLUSTRATED that he believes Frankie Taylor's 5.590 is indicative of 5.40-second potential for a top-tier Pro Extreme-style doorslammer, or possibly even 5.30s given the necessary conditions.
DRAG ILLUSTRATED's James Sisk and Jason Dunn were on hand for the historic pass – their photographs below.
UPDATE: During the second round of qualifying Taylor stepped it up with a 5.550-second, 260mph blast to continue re-writing history.
Invalid Displayed Gallery
---
ANARCHY AT THE ARCH SET TO BEGIN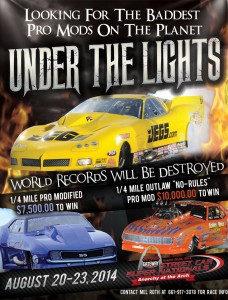 The Pacific Street Car Association has set a high bar over the years. Its regular shows feature some of the best racing in the country. The Street Car Super Nationals, celebrating its 10th anniversary this year, has seen doorslammer world records set and destroyed in the same weekend. But this summer, at Gateway Motorsports Park near St. Louis, the PSCA is kicking out the jams and going for the jugular.
Anarchy at the Arch, the first SCSN to be held outside of Las Vegas, is bringing West Coast racing to the Midwest Aug. 20-23 to fans who, possibly more than any others, truly appreciate Pro Mod and doorslammer racing. The area is home to Jerry Haas, Jerry Bickle, and Tim McAmis, the best Pro Mod/Pro Stock fabricators in the business and their cars figure to be featured prominently under the lights in the Gateway City. Two-time defending SCSN and former NHRA Pro Mod champion Troy Coughlin will be there, as will drivers like Jim Bell and Mike Knowles in his famous "Blown Money" Pro Mod.
The event might just be one of the best-covered drag races in the country this year, featuring full coverage from Competition Plus, Drag Illustrated, Dragzine, DragRacingOnline.com, and a LIVE web feed from Bang Shift.
"If you miss this, you may have missed the best race of the year," said PSCA President Mel Roth. "This is one of those events I don't even have to brag about; it sells itself."
The turbo-charged onslaught is headed by ProLine Racing and Team Q80 with cars like the Tim McAmis' built "Team Moits" Mustang driven by Australian racer Paul Mouhayet. The Stanley & Weiss LJRC Cadillac is sure to wow the fans. In addition, the top tuners in the game like Jon Salemi is turning wrenches on the "Orange Crush" Camaro of John Sullivan.
"Let's not forget about the Midwest teams like Housley and Wooton," Roth said. "And what about the West Coast teams that have made some of the quickest passes in the world? Maggio, Diedrich, Seth-Hunter, Hairston? Do I really have to go on? If you're a drag racing fan, this is heaven. If you're not a drag racing fan, you'll become one."
More info regarding other classes including the "Small Tire Warriors" will be released in the coming weeks.
For more information on the St. Louis Street Car Super Nationals: Anarchy at the Arch Aug. 20-23, click HERE and to join the event page on Facebook, click HERE.